Are you an artist or someone who loves to create art?
You might have heard of DALL-E 2. It's a website where you can make art using artificial intelligence technology. But, did you know that there are other great options too?
In this blog, we'll share 8 amazing alternatives to DALL-E 2 that you can use to create awesome digital art. These tools are perfect for both beginners and pros! So, let's get started and take your art to the next level!
What is DALL-E 2?
DALL-E 2 is launched by OpenAI, the same company that launched ChatGpt. Like other AI art generators, you can feed DALL-E 2 a description and it will create art or an image based on your input.
What's more, the advance editing function of outpainting and inpainting makes it become the most popular AI art generator in the world.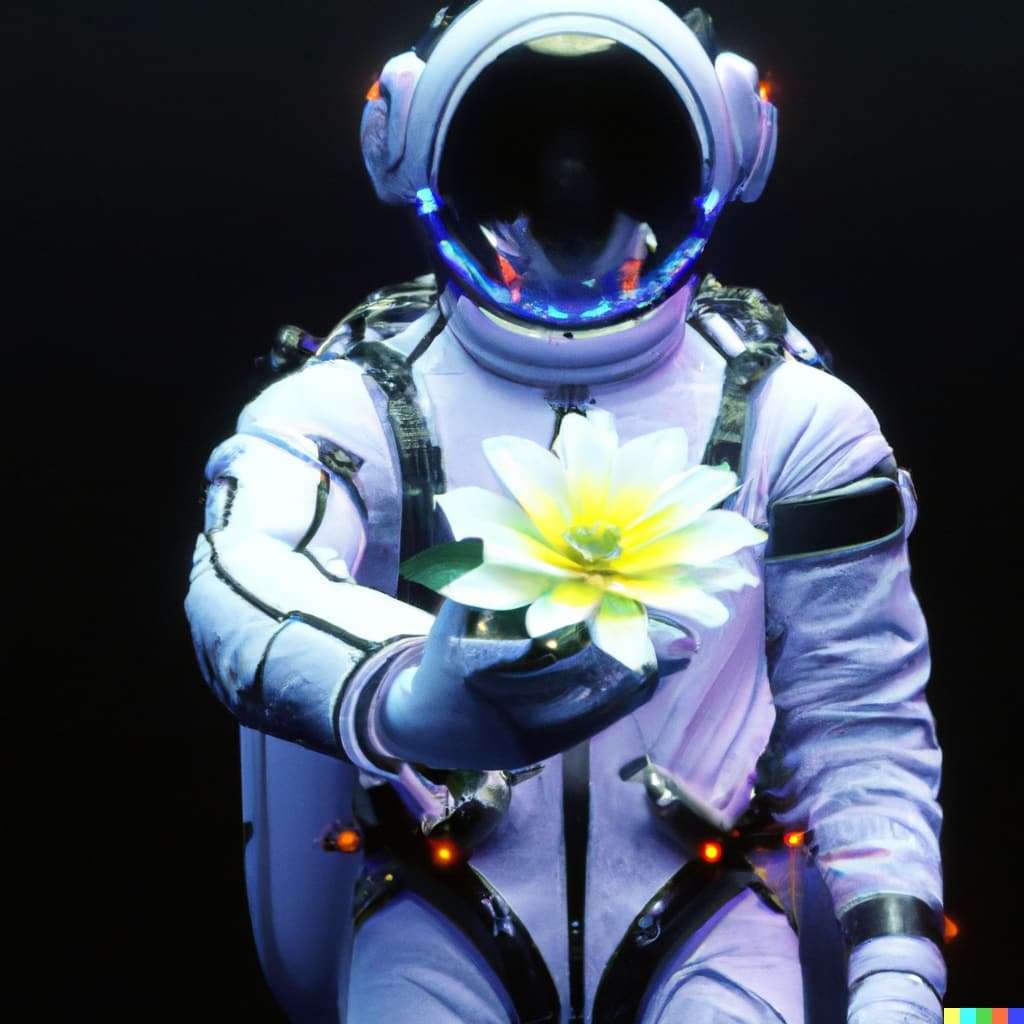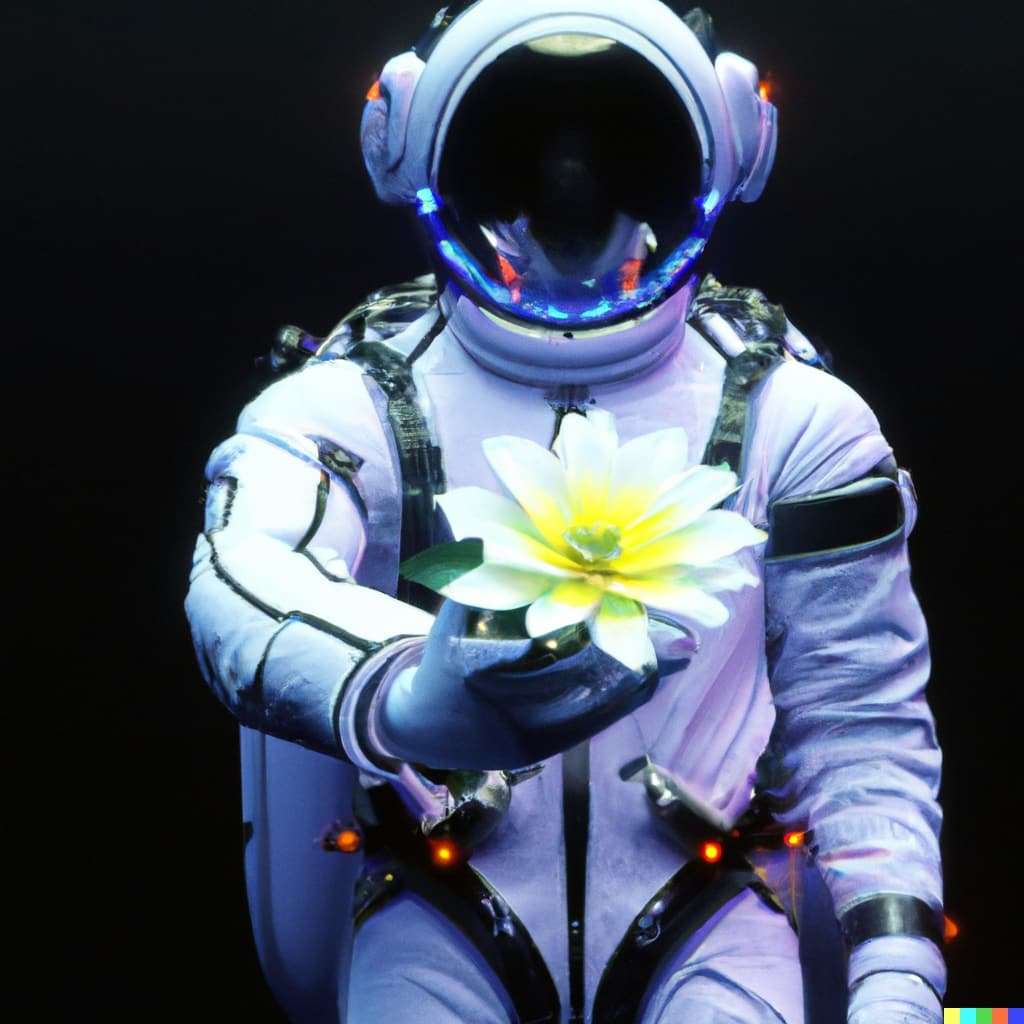 The limitations of DALL-E 2
Whilst DALL-E 2 is quite powerful, it does have its limitations in terms of what it can create.
For instance, if your text description includes sensitive content that matches any words in its sensitive content library, DALL-E 2 will not work.
This library probably contains words that suggest nudity, hate, and violent images, but it is not publicly disclosed. Additionally, DALL-E 2 cannot generate photorealistic faces of public figures, which removes a major use case of the software – creating memes with famous people.
You can find a detailed content policy by DALL-E 2 here.
Now, i gonna introduce 8 top AI image generators that can be an alternative to DALL-E 2.
Best AI art generator for professionals
pros & cons
pros
-parameters are adjustable
-Super high quality final results and resolutions
-No access limited
cons
-No community communication
-Complicated installment
Features
Accurate outputs make great pictures
Open-resource project
Price: Free
This AI generative art model has superior capabilities to the likes of DALL·E 2 and is also available as an open-source project. It means anyone can use it and projects can build it off with few restrictions. But before using it freely, you have to install it on your local computer, which has been the first block for people to use.
My experience in Stable Diffusion
There are some demo versions where you can try this algorithm for free without having to possess technical knowledge.
Here is a stablediffusionweb. I found this for free. You can try searching for "Stable Diffusion Demo" or such to find other free Stable Diffusion demos on the internet that you can experiment with for free.
This AI-generated image demo is super simple to use. All you have to do is type in a prompt. I typed in "anime, pretty girl is eating ramen," and here's what I got: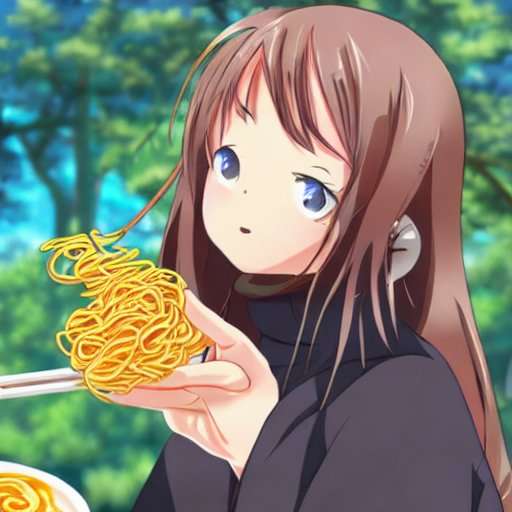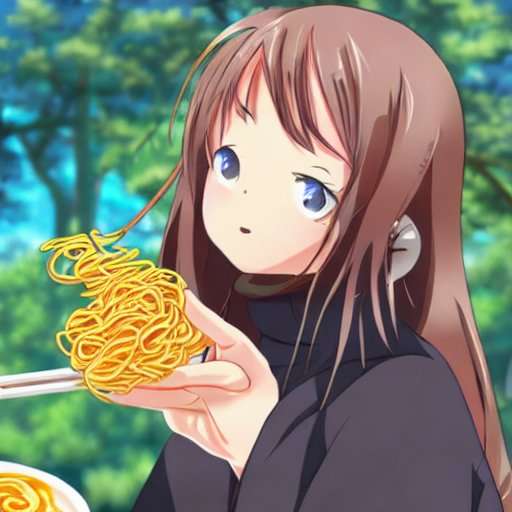 Obviously, it seems this AI model still can not identify noodles. But we can still evaluate its other performance. My advice is to be as specific as possible with your prompt and give more details about the style you're looking for.
Overall, the demo is pretty cool, and with better prompts and style options, it can be even better.
Best AI generator for highest-quality photos
pros & cons
pros
-Super high quality final results and resolutions
-community friendly
-support image reference
-variation and enhance
cons
-complicated access
-no free trial now
Features
Midjourney uses Discord, which is a messaging platform. That means you'd have to adjust to having things running on Discord. And it will take you more time than just searching for an AI and getting an open-access website.
Even though Midjourney takes longer to compose an image than other AI, it allows you to see the process itself. You can watch how the images are coming up together following your text prompt.
Most importantly, you are in the same chat room with people from other countries, where you can see the results and prompts at the same time. To some degree, burying yourselves in Discord of Midjourney is the same thing as swimming in the sea of inspiration.
My experience in Midjourney
When it comes to accessibility, it can be quite inconvenient for users to get started with Midjourney. First off, users must create a Discord account and navigate to the website to select the "join the beta" option before they can begin using the service.
And the generating process is relatively easy if you have previous experience with the service: simply locate the Midjourney bot and enter the appropriate command, and within 30 seconds, the process will be underway.
One of the benefits of using Midjourney is the ability to observe the generation process, which can be quite fulfilling for users who are curious about how it works.
Additionally, due to high demand, Midjourney is currently not offering a free trial, so users will need to subscribe to a plan to access the service's features.
Best AI Art generator overall
pros
-edit function
-easy to get access
-support image reference
-diversity of functions
cons
-limited generation times
ImgCreator.AI is multifunctional AI art generator.
When it comes to creating images, Imgcreator outperforms other AI art generators in illustration, 3D design, and realistic photography. Surprisingly, you can create visuals with both original images and text-based images.
It is worth noting that imgcreator was the first to introduce the AI studio function. It trains an AI model on actual images of a subject to learn how to create photos of that subject. Recently, it can also imitate the gesture of an object and create new roles with the same pose.
Last but not least, with its editing tool, users have the ability to edit any part of their work, expand the canvas, remove the background, and even add and edit text.
My experience in ImgCreator.AI
ImgCreator.AI is an easy-to-use tool. After signing up, you will see the Art view which asks you for an image description. Fortunately, users can choose their favourite styles.
I'm testing ImgCreator.AI with the following prompt: "anime, pretty girl is eating ramen".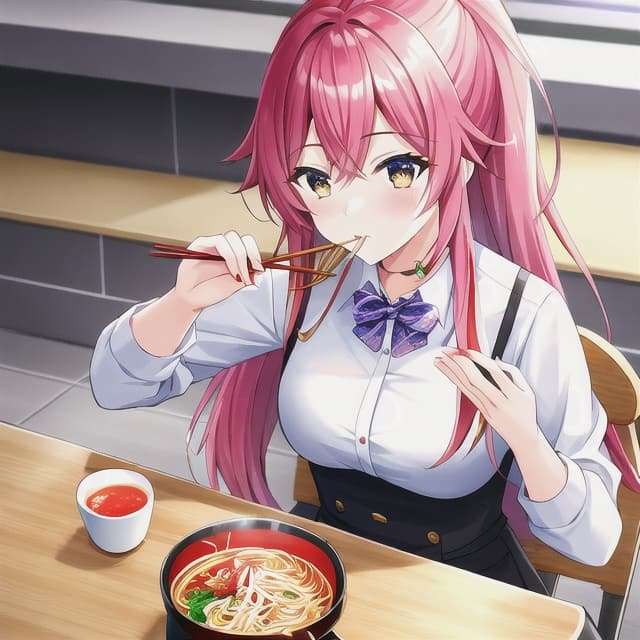 Similarly, AI still can not identify the correct method to eat ramen. However, it's worth noting that with the style selection in ImgCreator.AI, users can clearly see the difference between two distinct pictures.
Moreover, the service offers an excellent guide for producing images, along with a variety of useful presets for changing styles and categories.
Best AI art generator for your phone
pros
-Mobile app
-Not copyrighted
-easy access
cons
-few free credits(5 free credits for new users)
-few styles chosen
My experience with Starry AI
Upon starting a generation with Starry AI, users are presented with a choice between two categories: art or photo. In art, there are 11 distinct styles, such as portrait, argo, anime, and more.
I keep feeding the same prompt again. Common users will get 4 pictures at one time. Here are the results:
During my testing, I found that the service typically generates four pictures at a time for common users. While the results were generally good, the first picture failed to properly depict more than two chopsticks, while the second picture accurately captured the deliciousness of the ramen, complete with hot spring eggs.
Overall, Starry AI is quite user-friendly, as it doesn't require any additional account creation or login with Google email. However, I did encounter some issues with website stability during my experiments. Specifically, the "style" column failed to appear when clicked, and the generation process became stuck, requiring a page refresh, which could take several minutes to complete.
Best AI for multi-use
pros
-Allows publishing to social media directly
-allow you to select models : DALL-E or Stable Diffusion
-All-in-one content creation tool
-support to corp original reference photo
cons
-no upscale
-bug in picture review
My experience with Simplified
Users have the option to select either the DALL-E model or Stable Diffusion to generate images, and can also choose the number of pictures they want. The DALL-E model or Stable Diffusion can be chosen by users, together with the quantity of images they desire, while generating images.
The generator will make recommendations for styles once you submit a question; this functionality is optional. The user can simply provide their preferred style in the prompt if the offered styles do not suit their tastes.
For instance, the generator will create one image and deduct one credit from the user's account if they enter "anime, a pretty girl eating ramen."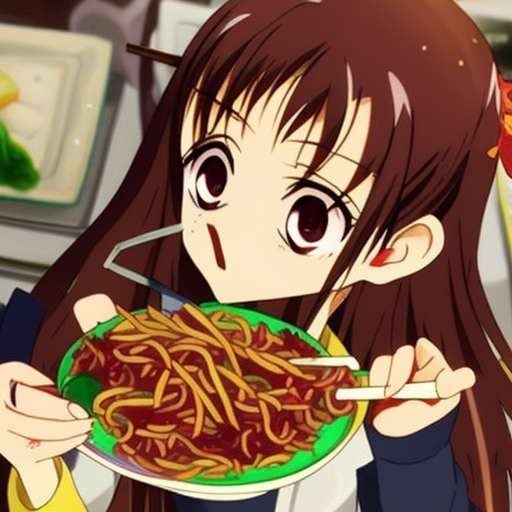 I was surprised to see that Simplified was able to create two regular photos using the DALL-E model. However, one of the photos didn't properly show ramen, although it did show a girl using chopsticks to eat it. The other model, the stable diffusion model, showed both poor overall and detailed features, it didn't impress me and didn't meet my expectations.
However, the image will appear in full-screen mode if a user presses the download button, making it challenging to locate the close button. It might be inconvenient.
Best AI art generator for Photography
pros
-pro in photography
cons
-few free credits
-no community
My experience with Fotor
Fotor is a well-known name in the field of photography editing, offering a wide range of options to users. These include studio lighting, movie lighting, and even reference guides for composition. The unique blend of AI and photography truly makes it an exceptional platform.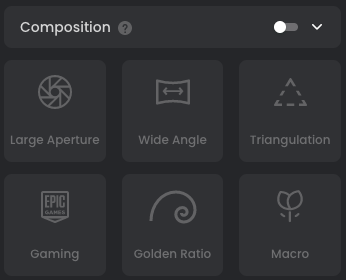 However, there are two aspects where Fotor could improve. Firstly, after filling out the prompt and clicking "generate," the page redirects to another detailed page where users must select various parameters. This can be a bit inconvenient and tedious from my perspective.
Secondly, the free credits offered by Fotor get used up rather quickly, which could be a concern for users who frequently use the platform.
Best for Low budget
pros
-free trial
-no sign up
cons
-few free credits
-no community
My experience with NightCafe
NightCafe, unlike Midjourney, fully utilizes the animated aspect of its images, resulting in vivid and cartoonish outputs. This makes it an ideal choice for parents who want to stimulate their children's imagination using AI.
The platform offers a diverse range of styles, including Anime, Modern Comic, Pop Art, Charcoal, and NightCafe's own unique art style. What sets NightCafe apart is the ability to select from different algorithms. The Stable Diffusion, which is similar to Deep AI, is the most popular among users. The VQGAN+CLIP Guided diffusion focuses on art, while the CLIP-Guided Diffusion emphasizes control and composition. Users can choose the algorithm that best suits their desired output.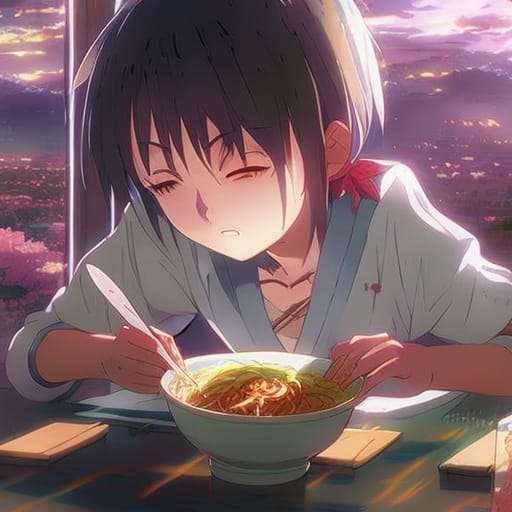 Moreover, NightCafe also allows users to generate videos with their creations, which can be zoomed, panned, and rotated. With all these features, NightCafe is definitely worth exploring.
Best for Multiple Art Styles
pros
-JPG and PNG support
-no need to sign up
cons
-most of the functions are free
-watermark
My experience with Deep Dream Artbreeder
Similar to NightCafe, this software offers users an abundance of options to create unique AI-generated images. However, its AI generator operates a little differently as users provide the color and shape of the desired output.
For instance, users can draw a brown oval on a deep-blue background and add the text prompt "a pretty girl is eating ramen." The AI will then provide multiple images that maintain the shape and color provided. These images can be in various art styles such as anime or 3D render, but they will always feature an oval-shaped pineapple on a deep blue sea. This results in truly unique and personalized outputs.
Additionally, like other AI generators, users can share their images with the community, which complements the Splicer feature. Splicer enables users to mix two different images and edit their components. This means that users can add their own twist to other people's outputs, creating an interactive and collaborative experience.
With these impressive features, Artbreeder delivers on its promise to provide an unparalleled AI image-generation experience. Be sure to check it out!
Related Post
Top 10 Text to Image Generators You Can Use for Free in 2022
Top 6 AI Image Generators You Can Use for Free
The Top 3 Alternatives to Dall-E 2 AI Image Generator