How to change background from image
Upload your photo to ZMO's AI photo editor and ZMO's AI photo editor will remove your background automatically. Click the change background button to change your background. No matter what background you want to change or remove, ZMO will do it rapidly and intelligently.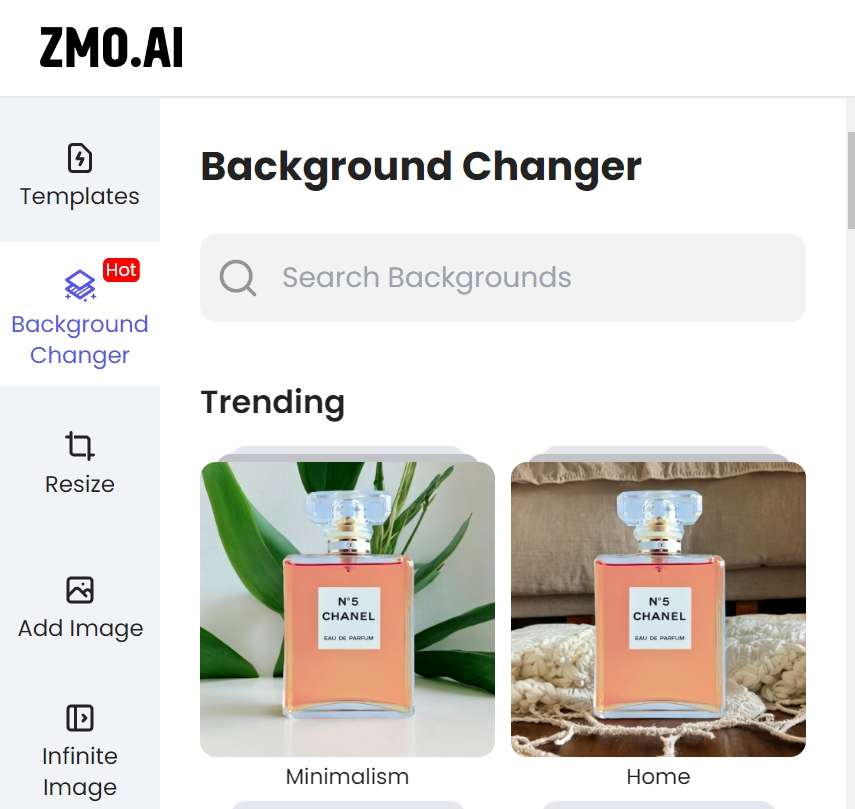 Change background rapidly and automatically
ZMO's background changer, powered by AI, allows you to easily change the background of any photo online. Simply drag and drop your photo into ZMO's background changing tool, and it will quickly detect and remove the background for you. You can then choose any background you like, such as solid colors, patterns, textures, or landscape photos. The whole process is completed in under 5 seconds. It's simple and fast!
Try to give your photo a better performance!
Don't satisfy your image photo background? Open the ZMO's AI photo editor and change background in a short time! Accurate description generation to fit your image main element and you can choose different choice for the same description generation. Different change background option for you decide. What's more! You can also have more edit on the image! Try to give your photo a better performance now!
Choose from a wide range of background pictures
ZMO allows you to change background with your style generation. You just input the content what you want and it will automatically display related picture. After you choosing the most similar scene, the ZMO's AI photo editor will according to your choice and the change the background immediately with the best effect. In the step by step guidance for changing background, it will teach you the detail about the change background.
Try Background Changer On Phone Now!
Now, ZMO's photo studio app is available in app store. You can change background from image and edit your photo anytime and everywhere.Get ready to unlock new possibilities with ZMO's AI photo editor app! Simply download the app and start creating imaginative background images. Give it a try today and discover the endless opportunities it has to offer!
Wow, I can't believe I found ZMO's AI photo editor! It's incredible how easy it is to remove backgrounds from images. This tool is seriously amazing. All I did was upload my picture, select the remove background option, and voila! The outcome was flawless - there wasn't a trace of the unwanted background left.
ZMO's AI photo editor is an exceptional tool that excels at background removal in images. Having recently tested it myself, I must admit that I am thoroughly impressed. Regardless of whether the image contains a complex scene or a simple object, this editor performs its magic flawlessly. The convenience it offers cannot be overstated - saving significant amounts of time and effort compared to traditional manual background erasing techniques in editing software. With ZMO's AI photo editor, you can consistently achieve seamless and professional-looking results every time you use it.
ZMO's AI photo editor completely amazed me! Being someone who isn't very tech-savvy, removing backgrounds from images has always been a challenge for me. However, this tool made it incredibly easy. The AI technology worked like pure magic and effortlessly removed the background from my photos in a matter of seconds. If you're looking for a quick and effortless way to remove backgrounds from your images, I cannot recommend this editor enough!
Guidance for AI photo editor
Introduction Welcome to ZMO's AI Image Editor! In this article, we will explore how to...