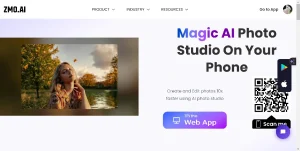 In today's world, there's no need to acquire massive Photoshop skills to perform simple tasks like removing objects from photos. As the world changes, more and more apps designed specifically for this purpose are making an appearance. Remover.app is one example. 
Remover.app is an app designed by ZMO.AI that allows the user to remove nearly any object by simply covering it with the digital brush on the app. This app allows even the most amateur editor to remove objects effortlessly.
Read on to find out more about Remover.app. We'll dive into how the app works, what you can do with it, and learn a bit about the company that produced it. Let's get started! 
Remover.app will allow you to "remove anything unwanted in seconds, for free." The company, which was established in 2019, specializes in creating tools that allow everyday technology users to effortlessly remove objects from photos. 
This goes far beyond only large objects. It includes things like words on a t-shirt, minor skin imperfections, and even small details of paintings. There really is nothing that you can't remove with this technology. What a simple solution to a problem that's been around for ages! 
To use Remover.app, you'll need to access the webpage located in the link above. You can do this through your smartphone or computer. Here's a step-by-step outlook. 
Open Remover.app webpage
Click the blue box to upload your image.
Choose your image to edit.
Using your finger or the computer mouse, highlight the entire area you want to remove. 
Click erase. 
One thing that you should know about this technology is that you will need to go over the object(s) multiple times to fully remove them from the image. While the app does an excellent job at removing objects, since the only option is to use a brush tool, you'll need to ensure that you cover it very well. 
What Can You Use Remover.app For?
This technology can be used to remove objects in nearly any photo. You can use it for any of the following and more: 
Regardless of your ultimate goal, it can nearly always be done with Remover.app. 
It may sometimes present a small challenge to remove tiny objects from photos since the brush size only goes down to a certain size. However, generally, you will find that you can remove nearly anything without an issue. 
Here are some examples of how you can use Remover.app for each of the things we discussed above. 
eCommerce Photos
eCommerce is built for showcasing your products. With Remover.app, you can take this to the extreme, making your product the absolute center of the image. 
When taking eCommerce photos, the product might be surrounded by other objects. With Remover.app, you can rest assured that anything that shouldn't be there isn't there. 
Fashion Photos
Showcasing clothing is a tricky business. One of the best parts of Remover.app is having the ability to remove extra hangers, clothing emblems, and so on with only a simple swipe. 
You can also remove model imperfections as well as make minor changes to patterns in certain clothing. This is huge for fashion designers since getting the perfect picture to display the product can be challenging. 
General Photo Clean-Up
It seems like no matter how skilled a photographer one is, there's always something remaining in the background that you don't want to be seen. Remover.app is the perfect solution for this. 
With Remover.app, you can correct skin imperfections for portraits, remove background objects, and even take care of minor things like a leaf blowing in the wind. 
Real Estate Photos
Real Estate is a huge business in many areas, and getting the perfect photo of the house is essential. One of the major problems that Real Estate photographers face is that the house is usually still lived in when the photos are taken.
As expected, when a house is still lived in, it is enormously difficult to get pictures that fully showcase the home without having some unwanted objects in the photos. With Remover.app, this problem can be almost completely corrected.
Remove background paintings, plants, and even small things like a candle on the kitchen counter. 
Solo Photos
Have you ever been traveling to a popular tourist destination? If so, you know that it's near impossible to get a solo photo. 
While you may not be able to live the dream of being utterly alone in front of the Eiffel Tower, with Remover.app, you can make it look like you did. 
Watermark Removal

Watermarks are a prominent feature of many photos. Until more recently, it was near impossible to remove them. With new technology like Remover.app coming out, however, nothing is impossible.
With just a simple brush over, all traces of the watermark will be removed, and you can move on to using the photo. 
Common Questions About Using Remover.App
After learning about Remover.app I'm sure that you have some questions. While this section may not answer all of your questions about using this technology, it will help to give you a more thorough understanding moving forward. 
Below, we'll address the most common questions asked about using Remover.app. 
Is There a Size Limit on Pictures?
Remover.app doesn't have a size limit on the full version of the app. There are currently two versions of the app – one free and one paid. The free app has a limit of 720 pixels. 
Is There a Limit to How Many Images You Can Edit?
You can edit unlimited images with Remover.app. After editing, you can choose whether or not to download each image or delete it if you don't like the result. One of the better features of this technology is that you can also edit a picture, save it, and then edit it again later. 
Does Remover.app Cost Anything?
As mentioned, there are two versions, one of which is paid. The paid version is expected to come out soon but isn't currently available for purchase.
However, Remover.app offers all of its features on the free site. The advantage of going with the paid version is that there are no size limits to what you can upload. 
How Can You Remove People From Photos? 
You can remove people from images the same way as any other objects. You'll simply select a brush, paint over the person, and let the technology do the rest. Using a larger brush to remove people is suggested, especially when there are also shadows in the picture. 
Can You Keep the Original Image Resolution of Your Picture?
At this time you can't keep the original resolution with the free version. Once the pro version of Remover.app comes out you'll be able to keep the original resolution. This will be especially useful in downloading high-resolution images. 
Does Remover.app Store Edited Images?
Remover.app does not store edited images, at least not in the free version. When the pro version comes out, there will be an option to store edited photos. If you want to store your edited photos at this time, you'll need to save them to your computer or smartphone. 
What Is the Best Way To Erase an Object?
The company suggests the best way to remove objects is to erase them repeatedly. They also suggest using a delicate touch rather than roughly scribbling across the picture. As mentioned previously, this technology does work significantly better when you move over the image multiple times. 
It's also best to play around with different brush sizes to see what fits best with your ultimate goal. The bigger brushes are useful for removing larger objects, such as people. They also provide significantly more coverage the first time you go over the object. The smaller brushes may require you to go over the object many more times. 
How Does Remover.app Remove Unwanted Objects From Photos?
Remover.app uses AI technology to remove unwanted objects from your picture. When you brush over the object that you want to remove, AI technology fills in the space with other similar pixels within the picture. 
This works the same way whether you are removing objects, people, or text.
Creating Images Instead of Removing Objects
While removing objects is the primary objective of Remover.app, the company also offers a similar technology that you can use to create various images with text alone. This technology works together with Remover.app, and is one of the best features to play with. You can even combine your real photos with some AI-generated imagery.
You can navigate to the image creator by scrolling to the bottom of the Remover.app page or by clicking this link. Once on the page, you'll find a ton of fun features. 
The way that this works is that you simply type in whatever comes to mind. You create a picture in your mind, fill in the text, and allow AI technology to create the image. As an example, you may type in something like, "A woman holding an upside-down broom in space." The technology will then create that image to the best of its ability.
You can even create more realistic images by typing in something like "photorealistic," which signals to the app that you want the image to look more like a photograph rather than a drawing. 
Technology like this is a huge win for artists and creators everywhere. All too often, one has a picture in their mind of something they want to create, but the hand doesn't always follow where the mind's eye is. 
However, with technology like the image creator, you don't need to be skilled in art. You can simply type in what you want to generate and allow the technology to do all the work. Of course, you can't edit all the intricate details as you can when you paint by hand. Still, this is an incredible way to start creating art for a beginner. 
As you become more skilled in using AI technology to create images and objects within photos, you'll find that oftentimes it ends up almost the same as drawing it yourself.
One of the benefits to using image creator technology is that it presents you with multiple images that the AI technology has created. Depending on how intricate the drawing is, you can select from as few as three and as many as fifteen images. The more details you include in your command, the fewer selections you'll have.
However, if you leave the commands relatively vague, you'll find a huge selection of images to choose from. One of the cool things is that you can look at some of the images that are created and run with this to create other similar images but with different details.
This is a great way to spark your inner creativity. 
The image creator offered by this company has a limit of 400 characters, so you'll still have to keep it relatively short. However, this is still quite a lot of room to fill in details. Keep in mind that you can change certain things as you go along. 
About the Creators
ZMO.AI specializes in using AI technology to showcase clothing on various fashion models. They've taken this technology and made it applicable in all situations, including removing objects from photos and creating new images from text alone.
The team has extensive experience in computer-generated imagery and brings a new face of creativity to everything they create. 
Final Thoughts
Remover.app is a great option for removing objects in your photos. The technology is enormously easy to use. You'll simply select the image and then move on to which brush you want. Once the brush is selected, it's easy to cover the object thoroughly and select erase. 
Remember, you may have to cover the image multiple times to erase it fully. Also, remember that larger images are best removed with larger brushes.
If you are more interested in creating new images, check out the image creator app instead. 
Sources