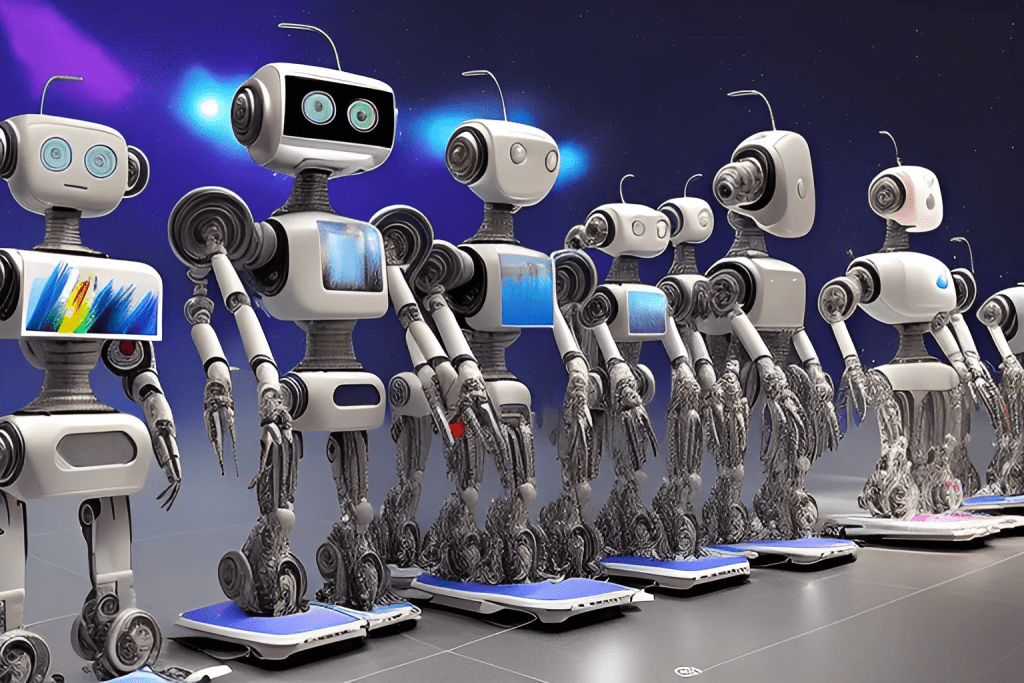 Ever since DALL-E blew up on Twitter, the Internet has been looking for the next out-of-the-box innovation in the text-to-image software industry. More and more people want their wacky ideas to materialize, and luckily for them, there are at least 10 text-to-image generators to play with.
Zmo.AI, DALL-E 2, and Hotpot.AI, among others, are the best text-to-image generators in 2022. The quality output of their AIs, short waiting times, the expansiveness of service, and overall convenience make them stand out among other software promising similar results.
In this article, I'll be listing some of the top text-to-image generators available on the market and explaining what makes them worth a try. I will also discuss the niche that separates each of the generators from their competition so you can get to see what would work best for you. Let's get started!
With just two simple words, you can already create AI magic with Deep AI. The website interface is clean and easy to use, and you're already provided with some sample images of the AI's art style.
However, the website admits that the picture's quality may not be as polished as you might expect it to be yet, and there doesn't seem to be any effort on the admin's end to improve that. They say you need big AI for high-quality pictures, after all.
The style still works, however, as it isn't too realistic for it to be boring. The AI churns out images that are cartoonish enough for them to look like they came from a dream.
Once you have clicked Generate, a blue bar pops out to show the AI's progress in generating the image. In my experience, it took about 15 to 25 seconds per request. I played with several generators and without a doubt, Deep AI is the most straightforward.
Note: Deep AI's model is based on Stable Diffusion.
2. Zmo.AI (Imgcreator)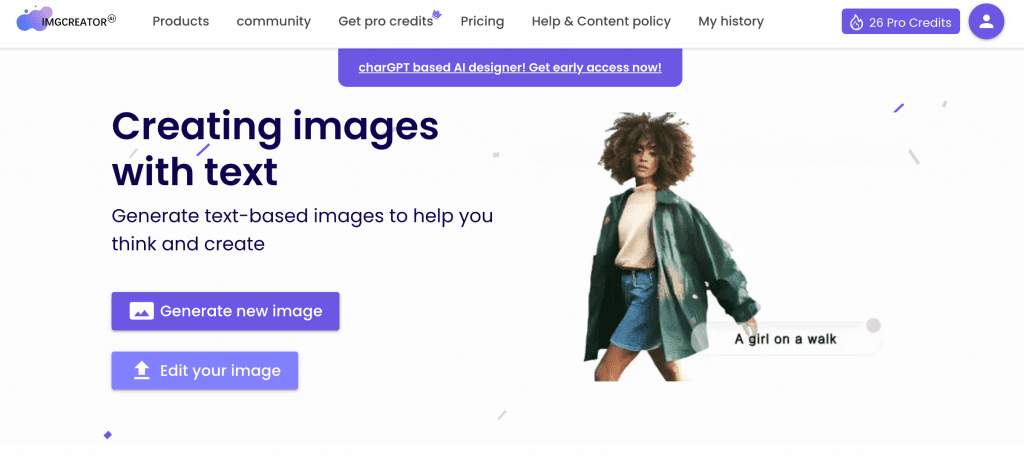 Imgcreator is a clean and easy-to-use generator that allows the creations of its users to be featured on the website. Moreover, aside from the generator, they also allow users to edit an image based solely on text. Super cool, right?
When using Imgcreator, the website instructs you on how to use their software, so the experience is definitely foolproof.
Aside from that, they also allow you to choose the style of your AI's art. It can be anime or artistic in style! You can also get it to be in illustration, 3D render, or realistic styles, but these three options are only available in the Pro version.
Furthermore, Imgcreator allows you to choose the orientation of the art. It can either be a portrait, landscape, or square! So, as you can see, this generator focuses on providing full customization options to the user.
Another element that makes this tool so unique is the Community section, where all users can see what others have generated. Note that you see these images in real-time. So if you want to test whether other people have crazier imaginations than you, then Imgcreator is perfect.
3. Zmo.AI (for Clothing Stores and Clothing Lines)
The same team that operates Imgcreator has also come up with a service that allows clothing store or fashion line owners to produce magazine-quality shots in seconds.
The most significant benefit of this software is it removes the need for users to book photoshoots, hire photographers or organize a set when all of these can be done digitally. All the user has to do is send in a file of their product, and the AI will "dress" it onto a model.
Another advantage is that the user can check how their products look on small-framed or larger-framed people. They can see whether the clothes work for different ethnicities too! Furthermore, several background options are available for the user to see what fits best with the product.
After all, diversity and inclusivity are of the essence. So, if a fashion designer wishes to succeed, they've to take these into consideration. Diversity and inclusivity, however, can be accommodated without having to spend excessive amounts of money in casting a whole group of models through Zmo.AI
Furthermore, the service has up to 80 models available, and even then, these models can still be customized. They also have their own image engine, so you know that you're up for a truly new experience.
With such an advanced mechanism, you would think that churning out the image would be slow, but no! Zmo.AI produces the image within minutes!
Zmo.AI is free software, but you can subscribe to the website if you want to maximize the services fully. Additionally, Zmo.AI has a remover tool that allows you to take out features of an image that you don't like.
Say, for example, you're trying to sell a product, but there are other distracting items in the image. What you can do is use the remover tool to erase these items so that your product stands out. It's all speedy and easy, so make sure to check it out.
4. DALL-E 2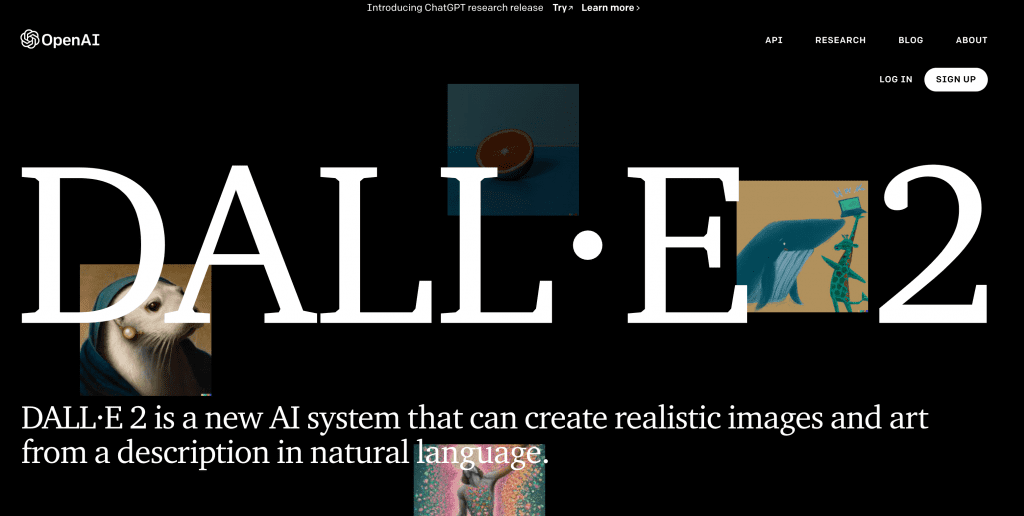 Although DALL-E wasn't the pioneer software for text-to-image generation, it really was the one that started the craze. People were obsessed with it on Twitter, trying to outdo each other for the wackiest DALL-E portrait!
The software continues to be relevant, for it produces high-quality images that are still wacky and faithful to the caption, and users haven't run out of ideas yet. In fact, developers took DALL-E to the next level by releasing DALL-E 2.
This more powerful software is preferred by evaluators in its ability to produce realistic images and match what users want. However, based on experience, DALL-E 2 tends to be slow.
So if Deep AI is more of a straightforward, quick software, DALL-E 2 is more of a software that takes its time but produces outputs worth the wait. There's a reason why it became huge on social media after all.
Before, people were placed on a waitlist to be able to use the product, but now, the waitlist has been lifted. So you can knock yourself out and let your imagination run free!
5. Hotpot.AI

If you use AI generators to create NFTs, then Hotpot.AI is for you. They automate the image generation process and give you the liberty to choose your art style and you can then produce outputs to turn into NFTs.
In fact, Hotpot.AI probably has the most extensive collection of styles available! You can have a Japanese-style output, a Doom-style one that's eerie and devilish, or even one of Hotpot's own style (it's very, very colorful)!
This generator can also emanate from the works of famous painters such as Salvador Dali, Huang Gongwang, and Vincent Van Gogh. So if you wanna prank your friends and pass off an AI work as an actual Van Gogh painting, then this software is for you.
When it comes to the waiting time, Hotpot.AI says that it takes 20 seconds to 2 minutes. However, it can take only a few seconds for those who opt to pay for the service.
Now, if you really fancy how Hotpot.AI works, you can access its API for a price.
6. Pixray
Pixray is an image generator that combines Perception Engines and CLIP-guided GAN imagery to create rather dreary artwork.
Be reminded that using this software entails a bit of understanding of coding, so this may not be the best to use if you are a coding beginner. When you click the Generate button, the software shows the code that makes the magic work! So you truly feel the geekiness behind the AI.
One of the downsides to Pixray, however, is that it takes 6 minutes for them to produce an image. This is a long time compared to other AI generators that only clock as low as 20 seconds of waiting time.
The good thing about it, though, is that the output is worth the wait. The images are all generally dreamy but can be customized according to your preferences by simply dragging the slider.
7. Midjourney
Midjourney continues to take the Internet by storm as it produces probably the most realistic outputs of any AI generator. The first 25 images you make on the software are free, so you should give this app a try when you can.
What made Midjourney popular is its seamless integration into Discord servers. All you have to do is go to Midjourney Beta's website, accept the Discord invite and you're set.
If you're familiar with Discord, you simply have to type out the necessary commands in the proper channels, and you should be generating crisp AI art in no time.
The Discord integration also allows you to try out Midjourney with your friends. You can even try to outdo each other's crazy AI ideas. Be careful, though, as you wouldn't want to burn through those 25 free images, so use them wisely.
8. NightCafe
Unlike Midjourney, NightCafe really capitalizes on the animatedness of its images. The outputs are cartoony and very, very vibrant. This would make it ideal for parents who want to let their kids' imaginations run wild via AI.
The software comes with various styles such as Anime, Modern Comic, Pop Art, and Charcoal, and it even got Nightcafe's art style thrown into the mix.
What makes Nightcafe special is that it allows you to choose the software's algorithm. The first option is Stable Diffusion (same as Deep AI) which is the most popular among users. The second alternative is the VQGAN+CLIP Guided diffusion that focuses on art.
The last one is the CLIP-Guided Diffusion which focuses on control and the overall composition. So if you want it to be as crazy as possible, go with VQGAN+CLIP. However, if you want it to be more coherent and look like a piece with united elements, go with CLIP-Guided.
Furthermore, NightCafe allows you to generate videos with your creation. This video can zoom, pan and rotate too! For all these cool features, NightCafe is definitely worth a try.
9. Dream by WOMBO
Dream by WOMBO is another clean and consistent text-to-image generator that has an app version. This makes it convenient for those who want to see their ideas come to life while on the go.
The generator itself is very straightforward and produces satisfactory outputs. It also comes with art styles such as Ghibli and Pencil drawing. It must be said, however, that the app doesn't come with as many styles as other AI generators.
It also tends to be slow in understanding more complex requests, so try to limit what you type in the text prompt.
However, Dream by WOMBO probably has one of the fastest processing times. So if you know you aren't going to play with all styles anyways, and would rather have your requested output churned out in seconds, then this generator is for you.
Do note that the app isn't technically free. However, there is a trial version, and you can play with the limited free features of the generator as long as you want.
10. Artbreeder
This software, like NightCafe, provides you with plenty of options. Their AI generator works a little differently as you provide the color and shape of the end output.
Let's say, for example, you draw a brown oval on a deep-blue background. You type in "pineapple under the sea" on the text prompt. The AI rolls with this information and gives you several images that retain the shape and color you provided.
It can be an anime version or a 3D render; no matter what art style you choose, you will always get an oval-shaped pineapple on a deep blue sea. Unique, isn't it?
Like with other AI generators, you can also share your images with the community and this complements the Splicer feature that Artbreeder also came up with.
Splicer allows users to mix two different images and edit their components. This means that you can see other people's outputs on Artbreeder while, at the same time, putting your own spin on their output. It's a truly interactive experience.
As you can see from these features, Artbreeder lives up to the promise of giving an AI image-generation experience like no other, so you should definitely check it out.
Sources