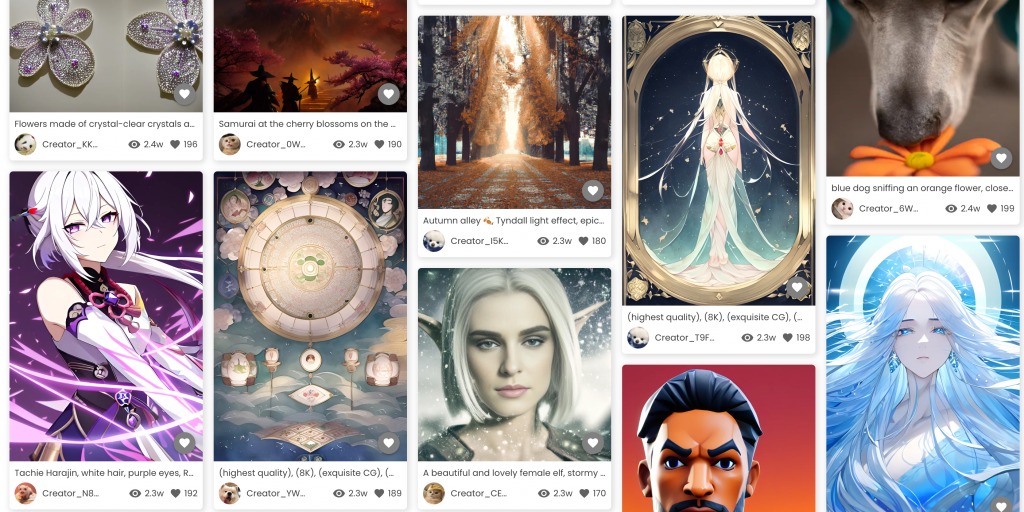 Creating art and images was a challenge only a few could accomplish. However, the advent of AI image generators is overturning this notion. There are many AI image generators in the market today, but which ones can you use for free?
An AI image generator you can use for free is Craiyon. Ads help maintain free usage of the platform. Other free AI image generators include DALL-E2, ImgCreator, and Dream by Wombo. These are easy to use as you only need to input your target image's description.
Although AI image generators are yet to fully exceed the capabilities of human artists, they can provide creative works that are convenient and great for non-artistic users. If you need a free AI image generator, keep reading for more information!
1. Craiyon (Dall-E Mini)
First on our list is Craiyon, formerly known as DALL-E Mini. You can access this AI image generator through this link.
For context, DALL-E is another famous line of AI image generators from OpenAI. Craiyon was named after it because it was molded after DALL-E. However, DALL-E's developer, OpenAI, requested a name change. Hence, DALL-E Mini became Craiyon.
Like other AI image generators, Craiyon is easy to use. However, it is crucial to be as specific as possible with your target image descriptions. This way, the images released by the platform will be closer to your expectations.
In 2022, Craiyon trended on Twitter after Matt Laming posted a series of funny images he made using their AI image generator.
Pros
Free: Craiyon is free to use, but there are a lot of ads to compensate for that. If you're interested in paid, premium access, Craiyon encourages signing up for their newsletter to get the latest news.
Easy and open to use: What made Craiyon popular is its simplicity – just input words, and voila, you have an image. It's fantastic that anyone can use it, whereas other popular AI image generators aren't publicly available yet, like Imagen from Google.
Quick: Within 2 minutes, you are presented with a series of images that match your description.
Images are free to use: If you're planning to use Craiyon images for your products, etc., then you're good to go, as long as you don't violate the personal use and commercial licenses sections of the Terms of Use.
Mobile app: Craiyon is also available as an Android app through Google Play Store! Unfortunately, there's no mobile app yet for iPhone users.
Cons
Harmful stereotypes: Craiyon produces images by "learning" through unfiltered data on the Internet. Because of that, it's prone to absorbing harmful stereotypes and biases, which may reflect on some produced images.
Weird faces: The platform isn't good yet at drawing or creating faces.
Ads: If you're icky about ads, there are many of them on this platform, but they're what keeps Craiyon free.
Small-size images: The model isn't yet developed to produce large images. You can click on the pictures to enlarge them, but the quality is too blurry.
Traffic: There can be too many users at certain times. Therefore, you may have to retry some of your prompts to produce images.
Under development: Craiyon's developers are still actively working to improve it. Therefore, there may still be a lot of flaws and bugs for users. However, you can relay your observations to them to help improve future experiences.
2. DALL-E2
A play on WALL-E (the robot) and Salvador Dali (the painter) led to the moniker DALL-E, an AI image generator created by OpenAI.
DALL-E2 is DALL-E's improved successor, which was opened to the public only in July 2022. You can check out DALL-E2 through this link.
There have been several other AI image generators that were influenced or developed after DALL-E. These include Craiyon, which I discussed above, and Stable Diffusion.
Like Craiyon, users of DALL-E2 are presented with various image options. These options are created by the AI model based on the provided description. Thus, the more specific the prompt, the better.
Unlike Craiyon, though, DALL-E2's images and capabilities are far more developed. For instance, you can request pictures in different styles – for example, watercolor art, cartoons, etc.
Pros
Creative images: DALL-E2 is capable of producing images in different styles. You may request photorealistic work, pencil drawings, a specific artist's style (such as Andy Warhol), and more.
Realistic edits: The model allows you to insert or remove elements from an image. When doing so, DALL-E2 considers shadows, reflections, and other factors to make the resulting image as realistic as possible.
Better resolution images: Images produced by AI generators can be of poor quality, but DALL-E2 was specially improved to create more realistic and accurate works.
Filtered data: DALL-E2's training data was filtered to prevent the production of images that depict harmful stereotypes, violence, hate, and deepfake. Therefore, it can't be used to create modified images of famous personalities or art with harmful messages.
Cons
Bias: DALL-E2's data was filtered, which inadvertently led to some biases in the images it produced. For instance, because sexualized images were banned from its data, the model generated fewer images containing women.
Limited free use: Users are provided with $18 worth of free credits they can use within three months. After that, you will have to pay for tokens to use the model. However, it is not a subscription, so you can buy only what you need.
Under development: Like other AI models, DALL-E2 is still under development. Thus, there may still be bugs, and the model might be confused with specific prompts.
3. Midjourney
Like DALL-E2, Midjourney was opened to the public in July 2022. It is a new and independent research lab created by a team of developers led by David Holz.
You can check out this link to join the beta of Midjourney. But if you want to know more about the model, you can also read their guide at this link.
What makes Midjourney unique is that it works using Discord commands. Thus, you must know how Discord works or be willing to learn how it works.
There are guides on Midjourney's site on the use of Discord and the Midjourney bot, but it can be a learning curve, especially for those who aren't technologically inclined.
Pros
Accepts image prompts or inspiration: Unlike Craiyon and other AI image generators, Midjourney does not rely solely on text descriptions. It allows you to upload image inspirations through Discord.
Allows upscaling and variations: Some commands upscale your image to 1024×1024 pixels. However, upscaling leads to additional details inserted into the new image. The developers are yet to create an upscale command that just resizes the output without adding details.
Web app: Although you need Discord to use Midjourney, they have a web app where you can see your latest creations and other users'. You can check out what prompts were used and even nominate the best works, including yourself. There are rewards for the winners.
Cons
Limited free use: Like DALL-E2, the free use of Midjourney is limited. However, unlike DALL-E2, the 25 free uses of its /imagine command is non-expiring. But once you use up those 25 free uses, you'll have to subscribe to a membership plan, the cheapest of which is $10/month.
Learning Discord: To use Midjourney, you must interact with its Discord bot and send commands through Discord channels. It can be overwhelming to learn at first, but over time you'll get the hang of it. You can even invite the Midjourney bot to your server.
4. Dream by Wombo
If you want to create the most surreal images using only your phone, you will love Dream by Wombo. Wombo is an AI entertainment company that developed Dream, an application capable of generating pictures and artworks of varying styles.
Dream was released to the public last November 2021. Since then, millions of images have been produced, and the Dream by Wombo community has grown significantly. You can check those out through its website.
Pros
Free to use: Unlike Midjourney or DALL-E2, there are no limited credits. However, features are limited.
Mobile apps: You can use Dream by Wombo through its website, which you can visit at this link. However, if you're not fond of sites, you can download the mobile apps on Google Play Store and App Store.
Accepts image prompts: Like Midjourney, you can upload pictures the application can use as inspiration.
Cons
Limited features for free users: Not all of the app's features are available for free use. For instance, certain art styles are available for premium access only. The production of multiple AI images is also for premium users only.
Trading card: If you're a free user making images through the website, you can download the resulting image as a trading card version. This trading card contains credits to Dream. Although you can crop or edit that out after downloading, some may find it a hassle.
5. ImgCreator
An emerging AI image generator is ImgCreator by ZMO. It was developed to help site owners produce high-quality and original SEO images.
You can visit ImgCreator through this link. Once you open it, you'll be greeted by two options – basic and freeform.
Basic is the free version, but it requires you to input multiple details besides the text prompt.
You'll be asked for a category, such as illustration or anime/gaming. Depending on the chosen category, more inputs are needed, like angle, artist, usage context, etc.
For Freeform, you'll only input a text description.
Pros
Free basic version: You'll be fine using the free basic version if you're not after specific styles. However, they provide 12 free Pro Credits upon signup, which you can use to try features available to Pro users only.
Specific categories: You can specify certain styles, such as landscape photos or illustrations. Each type requires inputs to help narrow down the style and quality of the result.
Quality images: Upon opening the downloaded photos, you'll see they are of excellent quality and resolution.
Free Pro Credits from referrals: You can invite your friends to use ImgCreator so both of you will get 4 Pro Credits. You can also post your referral code on social media.
Cons
Watermark: Even with the Pro Credits, the images will contain a watermark on the bottom-right side.
Limited free features: You'll have to choose from their monthly or yearly subscriptions if you want access to more styles and categories.
Need to sign up: Before using either basic or pro features, you must sign up and verify with an email.
ZMO Remover
If the image you got from ImgCreator (or any other platform) has some elements you wish to remove, ZMO also has a product for that! Check out the ZMO Remover on this link.
It's free to use, and you can upload any image size. However, the download size will be limited.
6. ZMO.AI
This application is from the developer of ImgCreator and ZMO Remover. However, it's more specific to the fashion industry. How so?
The ZMO.AI application allows you to generate high-quality model images wearing your designs. You can visit this link to see the application.
The application benefits fashion brands that want to save time and money, as there's no need to hire models or schedule photoshoots. It's quick and easy!
Pros
Easy to use: You can produce your model images in just a few steps. First, upload a picture of your design or clothing. Then, pick a model and wait until the image is generated.
Quick: Unlike photoshoots (which can take hours), it only takes a few minutes to generate model images through ZMO.AI.
Diversity: ZMO.AI promotes diversity by letting you choose a model that matches your brand. You can customize their body shape, facial features, and ethnicities.
Customizable background: You can also choose what kind of background you want your model to be featured in.
Free credits from referrals: Like the ImgCreator, you can earn free credits for you and your friend when you refer them to the application. You'll receive as many as 20 free credits depending on your subscription.
Cons
Limited free use: Upon signup, you'll receive 10 free credits and 3 Models. However, if the chosen model is free, you can add them to your gallery. Once you use up all your credits, you can subscribe to monthly or annual plans.
Need to sign up: Before using either basic or pro features, you must sign up and verify with an email.
Under development: ZMO.AI is still being improved, so certain product types are unavailable.
Sources