As we move swiftly into the future, AI image has emerged as one of the most talked-about topics in recent times. With a staggering 49,500 monthly searches on Google for "AI Image," it's safe to say that this trend is here to stay. In fact, the interest in AI image has seen a significant spike since June 2022.
When we talk about AI Image Generators, most people usually would come up with Midjourney, Stable Diffusion. But in fact, there are plenty of AI Image Creator that worthy to explore.
In this blog, I'll be outlining 9 easy-to-use AI image Creators for creating a diverse range of pictures.
Whether you're looking to fulfill a specific artistic vision or simply exploring the exciting world of art, these creators are sure to inspire and guide you along the way.
Top 9 AI Image Creators
Bing Image Creator
ImgCreator.AI
DALL-E-2
Deep AI
NightCafe
Artbreeder
Fotor
Lensa
Crypko AI
1. Bing Image Creator
Since the lauch of ChatGPT, a trend that communicate with AI chatbot has ravaged the world. Each AI technology companies has absorbed into the study of how users can get comfortable, knowledge and entertainment. Microsoft launched Bing chatbot.
Surprisingly, Bing has updated its basic function and release their image creator, which is powered by DALL-E. In my opinion, which is more advanced than DALL-E: there's no waitlist, and you don't even need to use Edge to access it.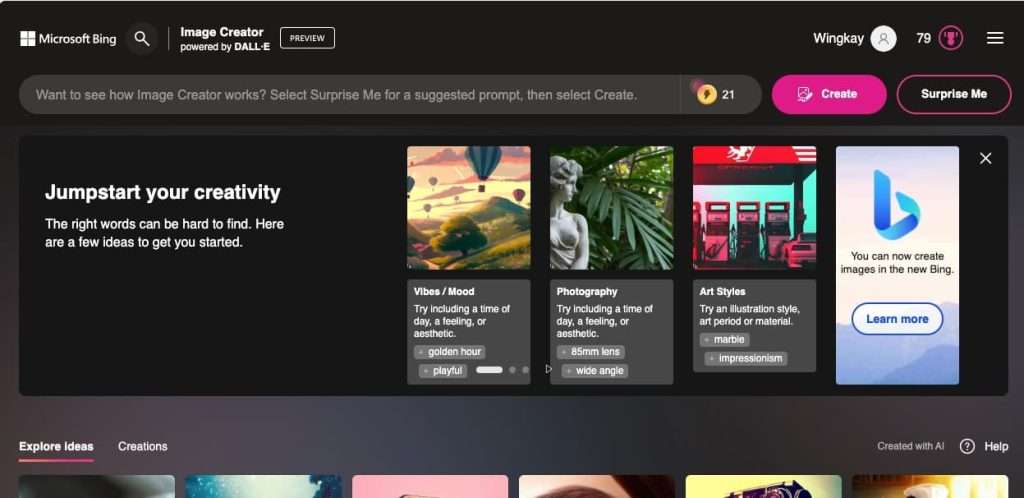 Notably, Bing's image creator delivers more realistic photos compared to DALL-E-2. The textures in Bing's images are smoother, resulting in a polished look rather than a raw or illustrative appearance.
To illustrate this, I fed the same prompt into both creators, and you can compare the results from these two tools below:
Prompt: realistic photo, analog style, analog style, middle shot, beautiful, short hair, black hair, perfect face, intense look, hazel eyes, big lips, closed lips, perfect nose, short hair, UHD, intricate details, sharp focus, depth of field, bokeh, volumetric lighting, film grain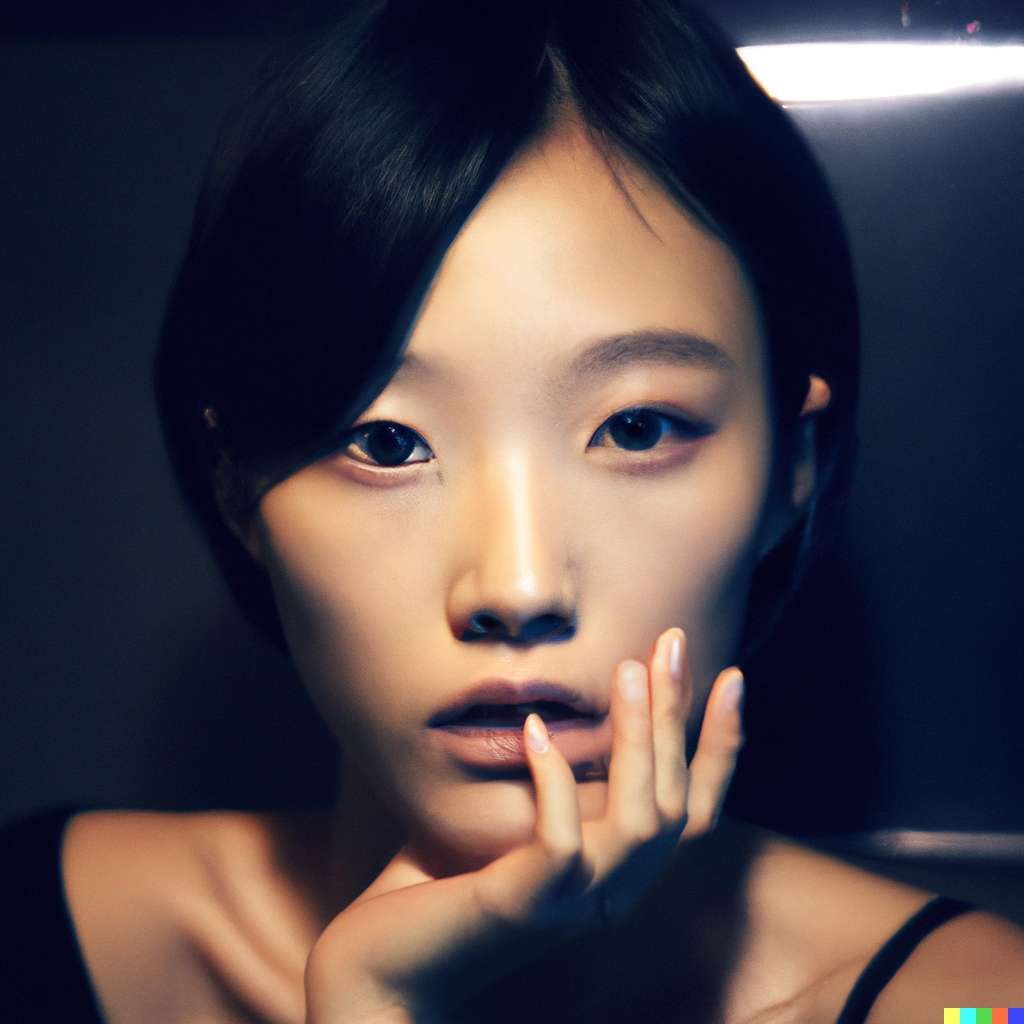 Currently, Bing's Image Creator is free, but if you run out of boosts, you may purchase more. Each request you give it to create an image will cost one of your boosters, much like credits do. When using the Bing Image Creator for the first time, users used to get 25 boosts for free.
2. ImgCreator.AI
ImgCreator.AI is multifunctional AI art generator.
When it comes to creating images, Imgcreator outperforms other AI art generators in illustration, 3D design, and realistic photography. Surprisingly, you can create visuals with both original images and text-based images.
It is worth noting that imgcreator was the first to introduce the AI studio function. It trains an AI model on actual images of a subject to learn how to create photos of that subject. Recently, it can also imitate the gesture of an object and create new roles with the same pose.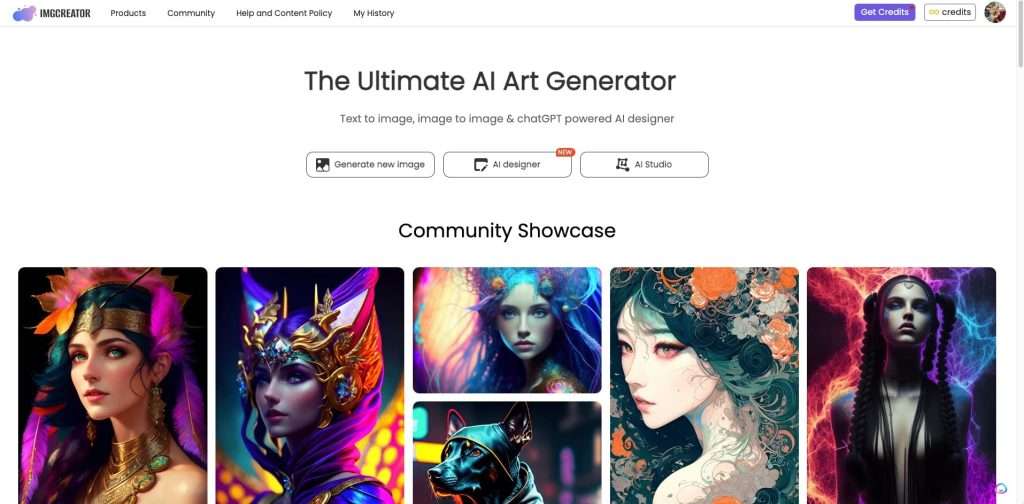 Last but not least, with its editing tool, users have the ability to edit any part of their work, expand the canvas, remove the background, and even add and edit text.
How to use ImgCreator.AI ?
Text To Image:
Step 1: Start by providing a detailed description of what you envision.
Step 2: Review and select the suggested categories and style for additional direction. If you prefer greater flexibility, freeform mode is also available.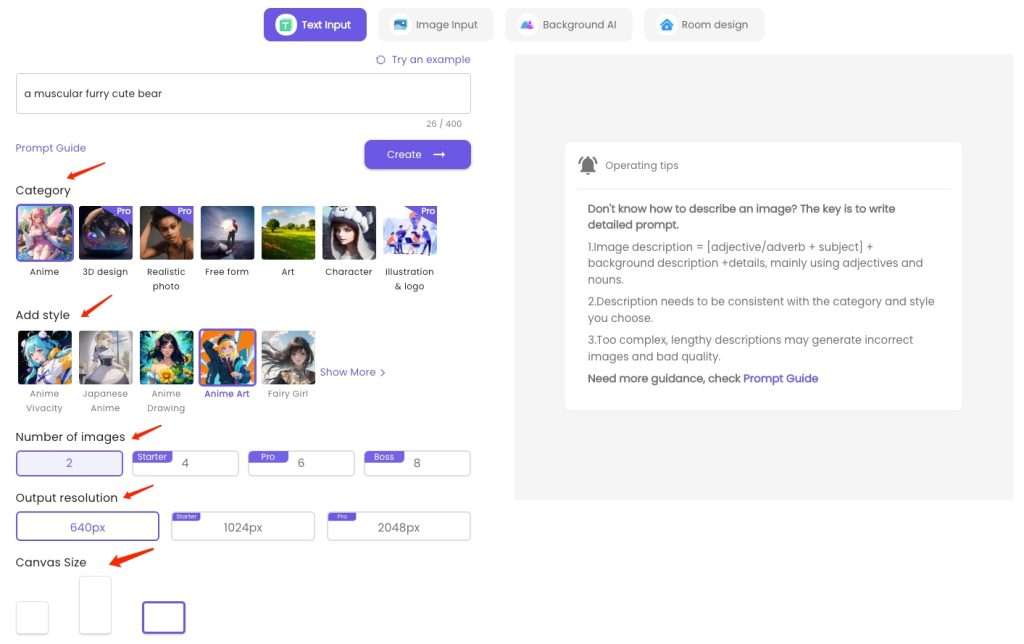 Step 3: Choose preferred canvas size, resolution, and number of images, two amazing pictures based on your specifications will be generated.
Image To Image:
Step 1: To achieve a result that is tailored to your exact specifications, begin by uploading a reference image.
Step 2: Adjust the strength number of the reference image to determine how close the outcomes resemble the original image.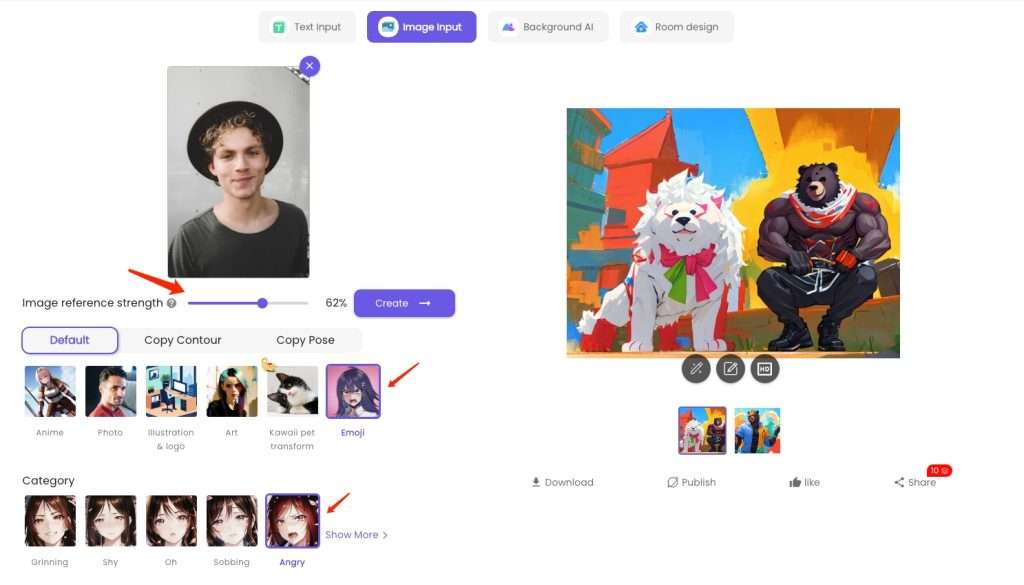 Step 3: Select categories and styles relevant to your desired look or explore freeform mode for more unrestricted options. Once a preferred canvas size, resolution and number of resulting images are settled, the artwork pieces meeting your specific requirements will be generated.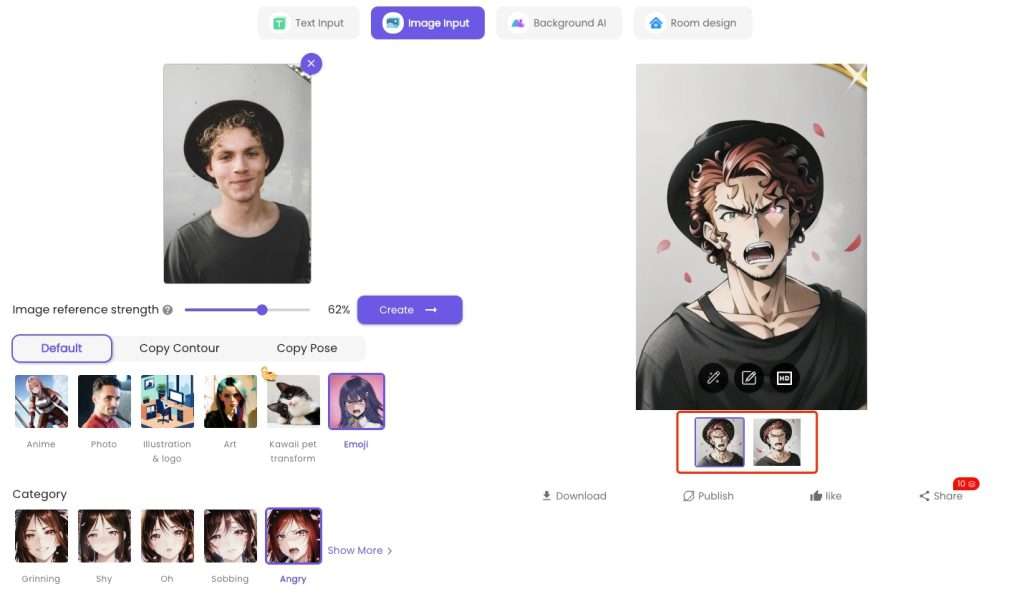 Pros and Cons
Pros:
Editing function: It has an editing feature.AI makes it simple to edit created photos, enabling users to customize and enhance their visuals.
Easy access: It is readily available and easily accessible, making them convenient for users to use.
Image reference support: ImgCreator.AI often support image references, allowing users to provide precise examples or guidance for their desired output.
Diverse styles: ImgCreator.AI allow users to explore different styles, themes, and artistic elements.
Cons:
Limited generation times: However, there may be limitations on the number of images that can be generated within a specific time frame. Users may face restrictions when generating a large volume of images consecutively.
3. DALL-E-2
DALL-E-2 is the best AI image generator, offering 50 and 15 free credits in the first and second months. You can use text prompts, edits, and variations to generate and modify images on the web and mobile. You will be the accredited artist unless the images are downloaded. 
DALL-E-2 uses text descriptions to create images.
For example, a fashion brand might design outfits in different colors and get models to try different variations of those outfits. This process can end up wasting thousands of dollars worth of fabric and human resources.
DALL-E-2 allows you to use text prompts, such as a purple shirt with a leather jacket, to see how the outfit will look before you purchase the fabrics and the labor to make it.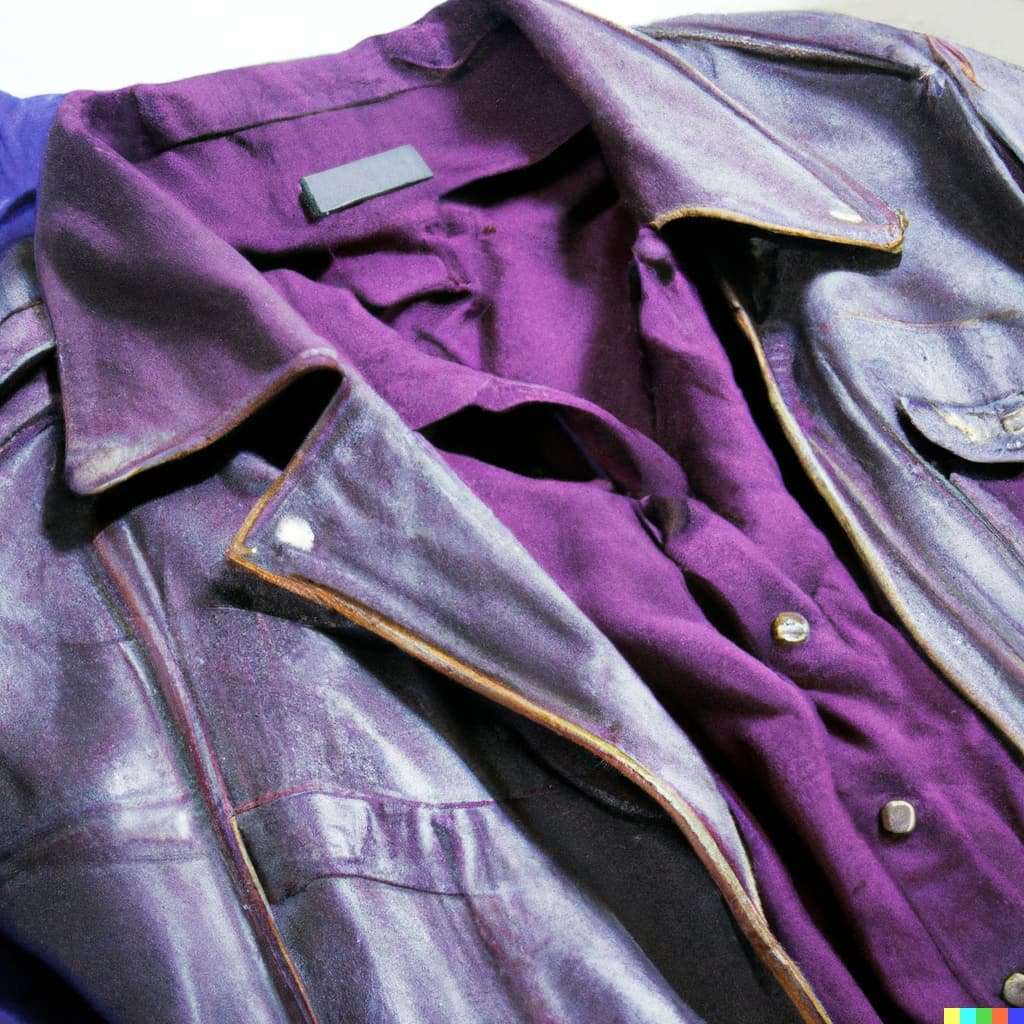 Dall-E-2 Allows You To Edit Existing Images
If you already have an image, you can upload it on DALL-E-2 and make the changes. You can quickly create multiple variations of the same image.
Unfortunately, you cannot directly use prompts when creating variations in images. Instead, DALL-E-2 uses internal descriptions and overtones to generate prompts to create multiple images from the original.
Alternatively, you can use a text description to instruct DALL-E-2 to make changes to your images. You can also use the eraser to eliminate parts of the image. For example, you can erase the background and add a description text asking DALL-E-2 to use a different one.
4. Deep AI
With just two simple words, you can already create AI magic with Deep AI. The website interface is clean and easy to use, and you're already provided with some sample images of the AI's art style.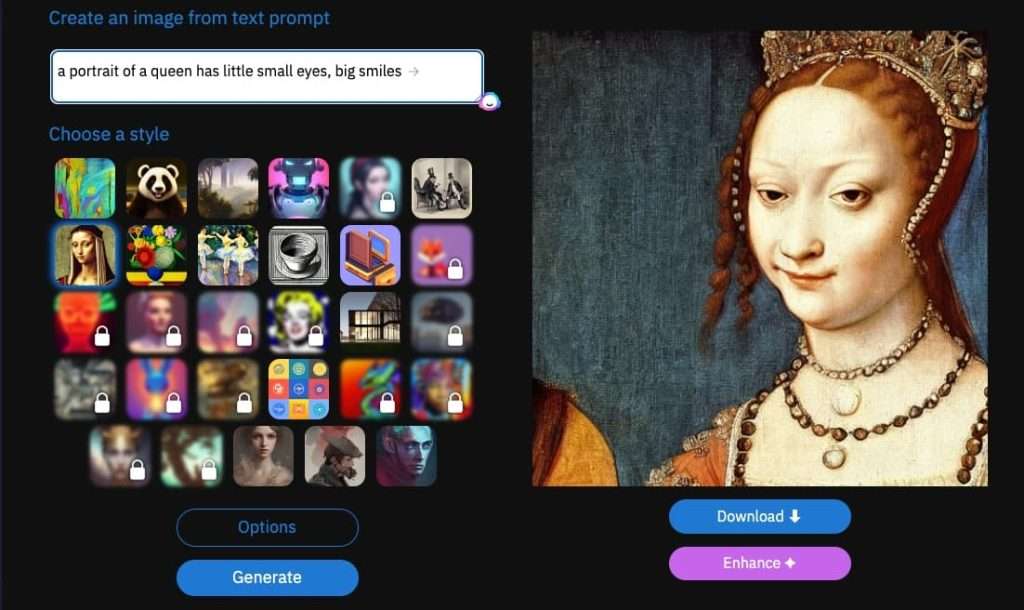 However, the website admits that the picture's quality may not be as polished as you might expect it to be yet, and there doesn't seem to be any effort on the admin's end to improve that. They say you need big AI for high-quality pictures, after all.
The style still works, however, as it isn't too realistic for it to be boring. The AI churns out images that are cartoonish enough for them to look like they came from a dream.
Once you have clicked Generate, a blue bar pops out to show the AI's progress in generating the image. In my experience, it took about 15 to 25 seconds per request. I played with several generators and without a doubt, Deep AI is the most straightforward.
Note: Deep AI's model is based on Stable Diffusion.
5. NightCafe
NightCafe, unlike Midjourney, fully utilizes the animated aspect of its images, resulting in vivid and cartoonish outputs. This makes it an ideal choice for parents who want to stimulate their children's imagination using AI.
The platform offers a diverse range of styles, including Anime, Modern Comic, Pop Art, Charcoal, and NightCafe's own unique art style. What sets NightCafe apart is the ability to select from different algorithms.
It takes 5–10 minutes longer than other online programs to process the image.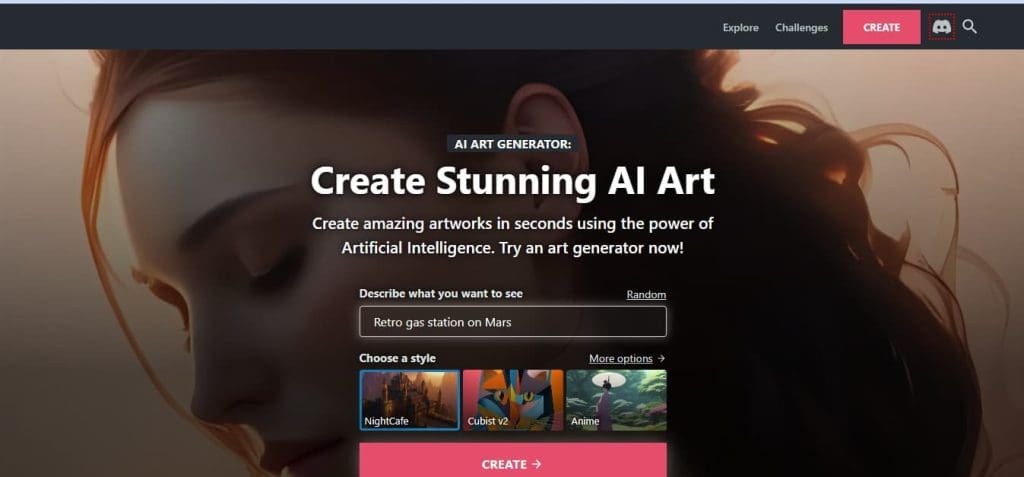 The last one is the CLIP-Guided Diffusion which focuses on control and the overall composition. So if you want it to be as crazy as possible, go with VQGAN+CLIP. However, if you want it to be more coherent and look like a piece with united elements, go with CLIP-Guided. 
Furthermore, NightCafe allows you to generate videos with your creation. This video can zoom, pan and rotate too! For all these cool features, NightCafe is definitely worth a try.
Key features:
More than 50 filters created by well-known artists.
Many artistic styles.
Use is free.
6. Artbreeder
Similar to NightCafe, Artbreeder offers users an abundance of options to create unique AI-generated images. However, its AI generator operates a little differently as users provide the color and shape of the desired output.
Additionally, like other AI generators, users can share their images with the community, which complements the Splicer feature.
Splicer enables users to mix two different images and edit their components. This means that users can add their own twist to other people's outputs, creating an interactive and collaborative experience.You can blend character, objects, landscape, and so on! Oh you can also add "gene" to your generated images!
You don't need to sign up to start using this tool right away, Artbreeder is a free software, with lots of great perks. To get access to premium features, you need to subscribe to a paid plan that costs $8.99/month.
7. Fotor
Best AI art generator for Photography
Fotor is a well-known name in the field of photography editing, offering a wide range of options to users. These include studio lighting, movie lighting, and even reference guides for composition. The unique blend of AI and photography truly makes it an exceptional platform.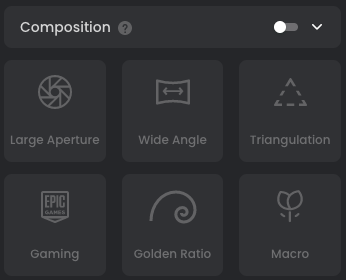 However, there are two aspects where Fotor could improve. Firstly, after filling out the prompt and clicking "generate," the page redirects to another detailed page where users must select various parameters. This can be a bit inconvenient and tedious from my perspective.
Secondly, the free credits offered by Fotor get used up rather quickly, which could be a concern for users who frequently use the platform.
8. Lensa
Lensa is an image editing app. It can maintain you perfect face skin, adjust the background and make your pictures dreamy by adding a fade effect. What's more surprising is its magic avatar function, which had made Lensa go viral in the virtual world.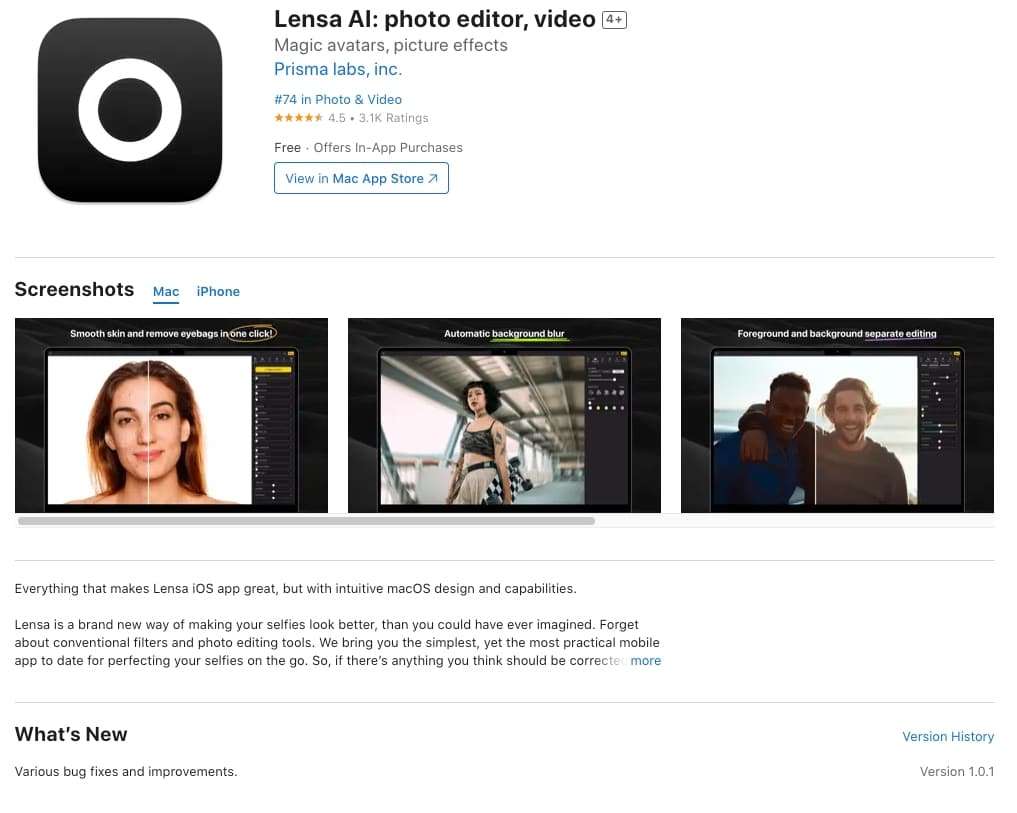 It allows users to upload selfies and turn them into avatars.Magic avatars come in 10 styles. These are cosmic, focus, anime, pop, iridescent, kawaii (Japanese popular culture), light, stylish, fairy princess/prince, and fantasy. These styles may differ from user to user.
Pros
-You can take advantage of the 7-day free trial to explore the app before committing to a subscription
-edit supported
-never get the same avatar results
-Avaliable for iOS and Android smartphones
Cons
-receive may not look like you
Price:
– Annual for $29.99/year
– Monthly for $7.99/month
9. Crypko AI
Crypko AI has created an anime character generation platform homepage that is supported by the generative adversarial network (GAN).
With this platform, users can modify the hairstyle, facial features, clothing and more of their anime characters. It provides a virtual dressing experience for those interested in designing their anime dolls.
The manga character generator of Crypko can be obtained through special codes, and individuals can create and sell their anime characters as NFTs using Crypko's AI Mega Anime Avatar Creator.
Blockchain technology supports this platform. Key features of Crypko AI include powerful GAN technology, free anime avatar generation credits, and the option to buy paid Crypko cards for more anime character creation.
Key features:
Free anime avatar generation credits
Paid Crypko cards for more anime character creation
Powerful GAN technology
How to Choose the Right AI Image Creator?
When choosing an AI Image Creator, consider factors such as ease of use, customization options, and output quality. Look for a tool that aligns with your artistic goals and offers the features you need to create the desired artwork.
Tips for Using AI Image Creators
Experiment with different styles and settings to achieve the desired look.
Use high-resolution images for better results.
Combine AI-generated art with manual editing for a unique touch.
Always respect copyright and intellectual property rights when using AI-generated art.
The Future of AI Image Creators
The future of anime AI generators is promising, with advancements in AI technology expected to enhance their capabilities. We may see tools that offer more realistic animations, improved customization options, and seamless integration with other art software.
Conclusion
AI Image Creator have revolutionized the way artists create anime art. With their ability to generate high-quality artwork in a matter of seconds, these tools have become indispensable for both professionals and enthusiasts. Whether you're a seasoned artist or just starting out, AI Image Creator offer endless possibilities for creativity and experimentation.
Related Post
Top 10 Text to Image Generators You Can Use for Free in 2022
Top 6 AI Image Generators You Can Use for Free
The Top 3 Alternatives to Dall-E 2 AI Image Generator