Images are an essential part of any website or blog post. They help break up the text, make your content more visually appealing, and can even help improve your search engine optimization (SEO).
People spend a lot of time trying to improve their site SEO, but often, they over look the importance of the images they use in their sites.
Google has long been able to read text within images, but in recent years the company has also developed the ability to understand the content of images. This means that Google can now determine the subject of an image and use that information to help rank your website in search results.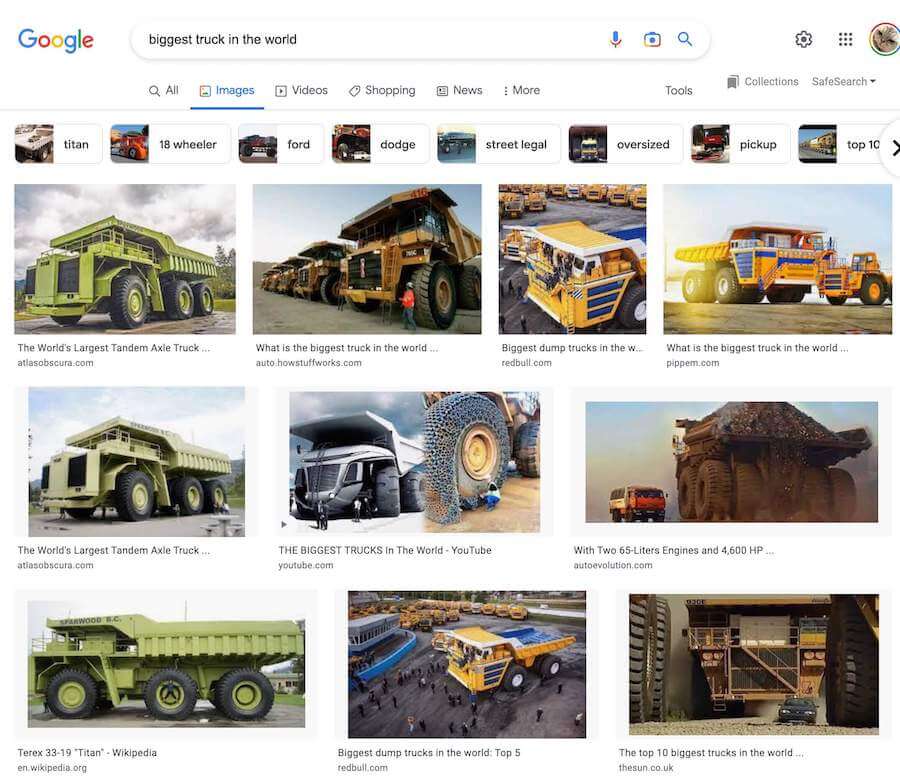 One way to take advantage of Google's image recognition capabilities is to use original, high-quality images on your website. This can help improve your SEO by giving your site an edge over competitors using generic images.
Additionally, if you include keywords in the file name and alt text of your images, Google will be more likely to rank your site for those keywords.
But finding the perfect image to use on your site can be challenging, especially if you want to avoid using generic stock photos. That's where ImgCreator.ai comes in.
How ImgCreator.ai can help with Image SEO
ImgCreator.ai is a new AI-powered tool that allows you to create original, high-quality images for your website or blog posts easily and quickly.
With ImgCreator.ai, you do not need to worry about copyright infringement or paying for expensive stock photos. Plus, since all of the images created with ImgCreator.ai are unique, they can help improve your SEO by giving you an edge over your competitors using generic images.
ImgCreator.ai is very easy to use. Simply enter a keyword related to the topic of your website or blog post, and ImgCreator.ai will generate a list of potential images for you to choose from.
Once you're happy with the results, simply download the image and upload it to your website or blog post. It's that easy!
Use AI Image For Fashion eCommerce Websites
You would understand the importance of having good visual appeal on your fashion website if you are in the industry. As well as showing the standard garment showcase images, unique lifestyle photos would be a great way to increase SEO ranking. 
Using ImgCreator.ai, you can combine existing product photos with a lifestyle background of your choice.
Just start describing the kind of lifestyle background you want, then choose the "Photo background" category, and pick usage content accordingly – I chose "indoor" and "studio lighting" to make it look more professional.
Then once you click generate – voila, a perfect photo background is generated.
You can also use ZMO.AI, another AI image tool from us, to generate customized fashion models.
Use AI Image Generator For Blogging Websites
It doesn't matter which niche you are in; ImgCreator.ai can be used to create original images that match the content.
An easy way to generate relatable images using ImgCreator.ai is to use the section heading as the text description for image generation.
Tips for Generating High-Quality Images with ImgCreator.ai
When using ImgCreator.ai, there are a few things to keep in mind to generate high-quality images:
Be specific with your keywords.
The more specific you are, the more accurate the results will be.
When generating images, be as specific as possible. You can use commas to add more keywords instead of entering a long-form sentence.
If you just enter a simple description such as "a bullfrog," the result will be very random and might not be the one you want.
Instead, typing in "a realistic photo of a green bullfrog, sitting on a rock, close up, by the creek, 4:3, 4K" will create a much more controlled and accurate image.
Try to generate things that are common on the internet
Given that ImgCreator.ai is trained with data found on the internet, this should be a no-brainer. It is most familiar with items well documented or discussed on the internet.
However, this also means that if the particular object or topic you are trying to generate or create is not widely available or has a little date on the internet, the results might also be less than desirable.
But as long as the object you requested is somewhat common and contemporary (for example, legos, smartphones, cars, bridges, tall buildings), you will be in good hands.
Prompt "toilet lego set"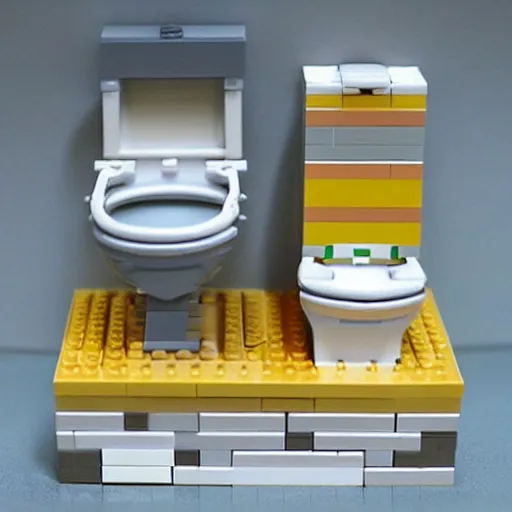 Use exact number if multiple objects need to be created
If you want to generate multiple objects in your scene or image, use an exact number. For example, if you want a photo of 3 dogs playing in the park, type in "3 dogs playing fetch in the green park".
However, using only the plural modifier, "dogs playing fetch in the green park," could generate 2 or 3 dogs or even a pack of dogs. If you don't specify the details, you leave them to chance, and the chance of receiving an image with good quality is, unfortunately, low.
Use famous artists as a reference for style
If you like a particular artist's style, you can include the artist's name in the prompt to generate an image with a similar style.
A prompt with "Cyberpunk art by Pablo Picasso" generates the following image that is similar to Pablo Picasso's style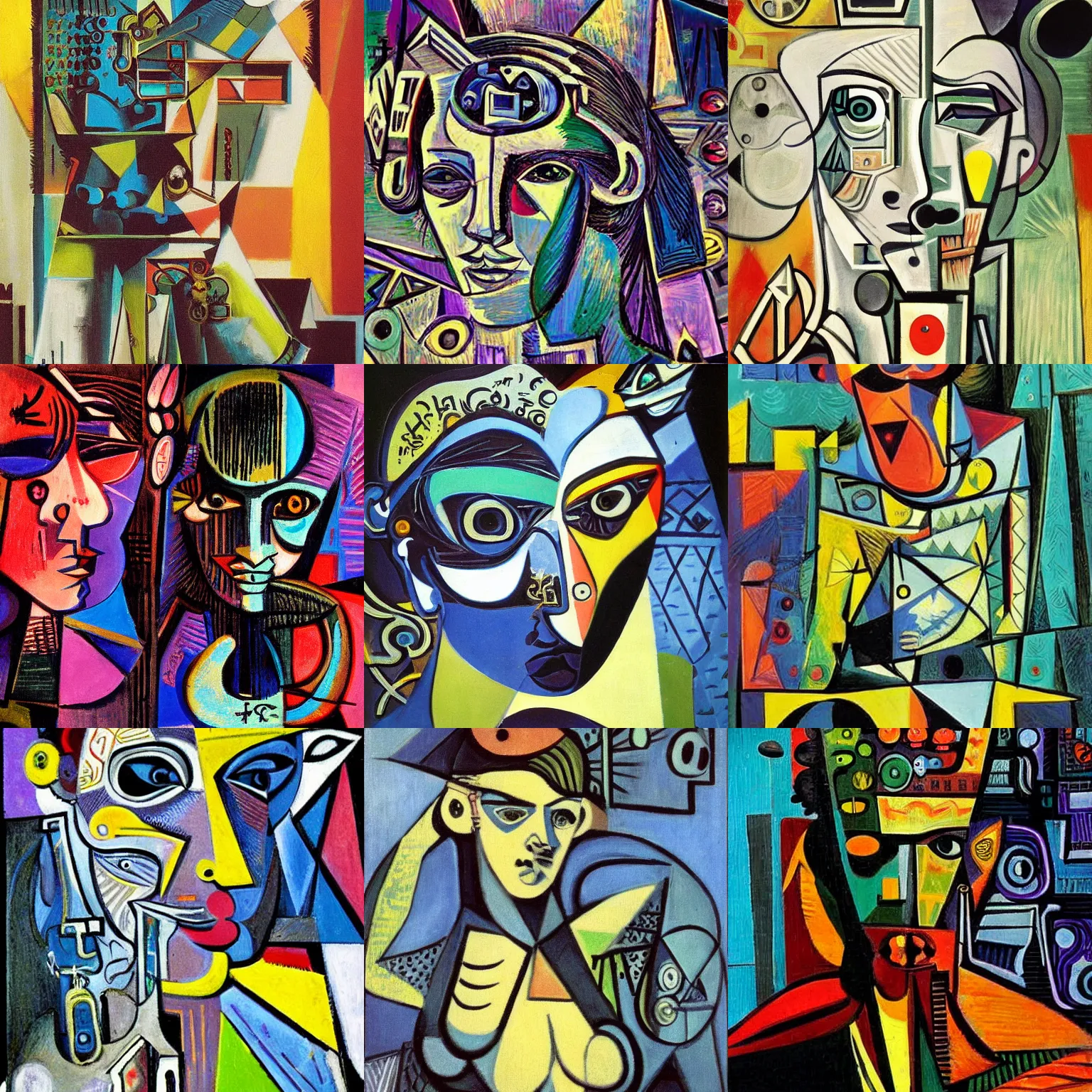 If you're a fan of Claude Monet or are interested in impressionism, adding famous impressionist painters' names like "Edgar Degas, Pierre-Auguste Renoir, and Mary Cassatt" can result in some fascinating results.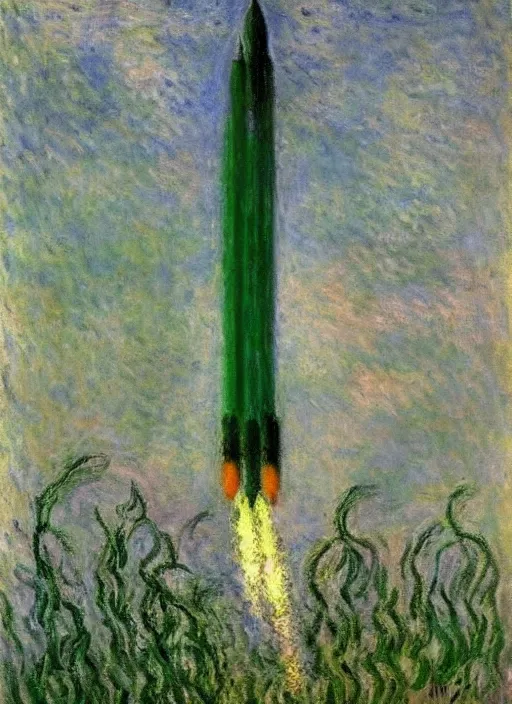 Prompt "a hyper-detailed oil painting of Robert DeNiro by Claude Monet; anatomically correct; trending on artstation"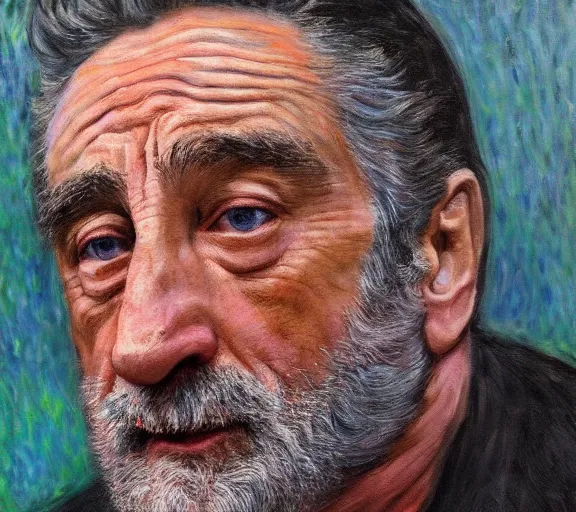 Use photography terms to customize generated images further
Because ImgCreator.ai learns from photographers posting all kinds of photographs online, you can get similar results by adding specific photography terminologies in the prompt.
Think in terms of focal length, type of lens, camera angle, resolution, etc. You can generate a full range of possibilities by including the following :
framing
close-up, wide shot, macro, portrait
film time
black & white, sepia
shoot context
studio, outdoors
lighting conditions
sunset, morning, golden hour, cloudy
device
Nikon D810, iPhone 13 Pro Max
Lens & Configuration
Sigma 85mm F/1.4, Sigma 24mm F/8
note: the bigger the aperture number, the clear your background will be
You can even specify shutter speed :
Sigma 24mm f/8, 1/10 sec shutter – this would generate motion blur commonly seen on slow shutter speed photography
If you are familiar with camera photography, you can create a photo-realistic shot with the camera settings you want.
Here is an example for the prompt " Dancing people in the evening, seen from the back, sunset, Canon EOS 1000D, ƒ/3.5, Focal length: 18.0 mm, Exposure time: 1/5, ISO 400, Flash on"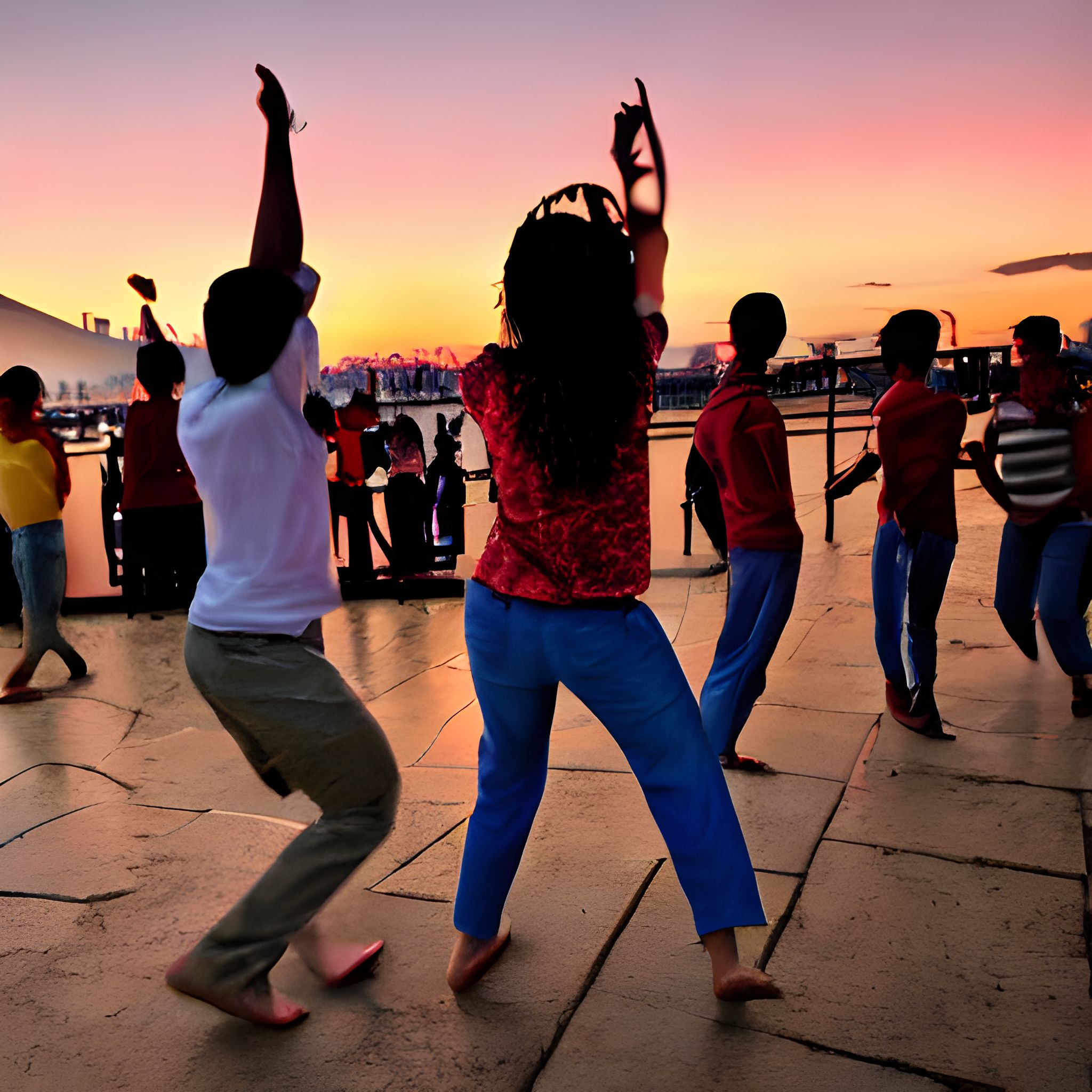 Prompt "vfx movie couple in a train station flat color profile low – key lighting cinematography atmospheric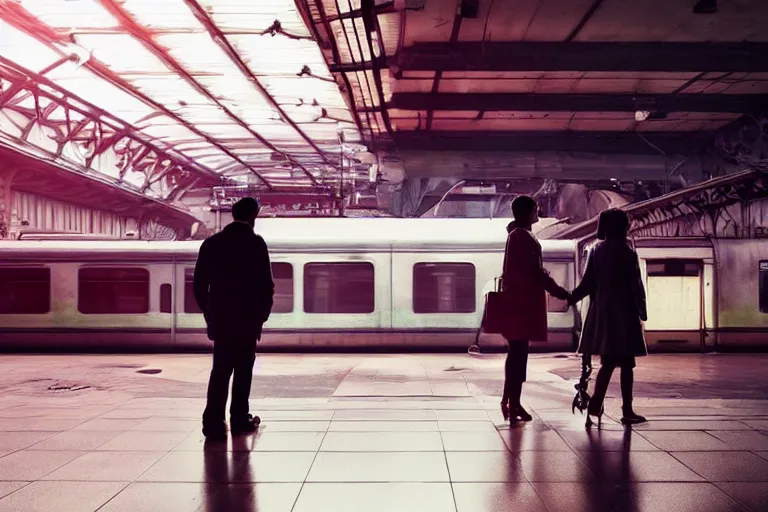 Conclusion
If you're looking for an easy and affordable way to create original and high-quality images for your website or blog posts, look no further than ImgCreator.ai! With this AI-powered tool, you can create unique images that will help improve your SEO and give you an edge over your competition—without worrying about copyright infringement or expensive stock photos. So what are you waiting for? Try ImgCreator today!