Introduction to Anime AI Generators
As a child, did you ever find yourself captivated by the colorful and dynamic world of anime, wishing that you could create your very own character to join in on the action? Well, dream no more!
With the advancement of technology, Anime AI generators have made it possible for you to bring your wildest anime character ideas to life. It utilizes artificial intelligence algorithms to generate anime-style characters. These generators offer users a range of initiative options, allowing users to adjust everything from facial features to clothing style only using text.
The Rise of AI in Anime Art Generation
Ever since the advent of AI art generators, the world has been captivated by the wonder of AI anime. Its popularity has only continued to grow, as evidenced by the latest tweet about AI anime garnering a staggering 29.6 million views on Twitter.
Thanks to cutting-edge AI art generators, the possibilities for anime creation have expanded beyond text-based Japanese animation. In fact, these generators are now capable of transforming photographs of people and pets into anime-style images, as well as inventing entirely new anime characters based on specific movements or poses.
Top 10 Anime AI Generators
1. ImgCreator.ai
Imgcreator.ai is a widely-used tool that enables users to create captivating anime art. One of its key features is the diverse range of styles available, making it especially helpful for beginners.
Users can choose from various options like anime drawing, anime vivacity, makoto shinkai, miyazaki, etc. Additionally, it supports image input in addition to generating via text, which means that you can upload your own selfie and transform into an anime character.
What sets it apart is that users can also edit the image in imgcreator.ai, providing ample space for creativity and allowing you to create your own anime story!
The free version allows two image generations at a time, but you can create up to thirty times a day. However, once you upgrade to the premium version, there are no such limits.
2. Waifu Labs
If you are an ardent fan of the anime world, then Waifu Labs is a website that will captivate you. With just four simple steps, this website can generate anime images for you. You don't even have to type in the description, you can select your favorite character just by using your eyes.
Now, it's possible to craft and customize your anime character using Waifu Lab's four easy steps:
Choose your initial portrait
Tune the color palette
Fine tune the details and…
Finish with your favorite pose!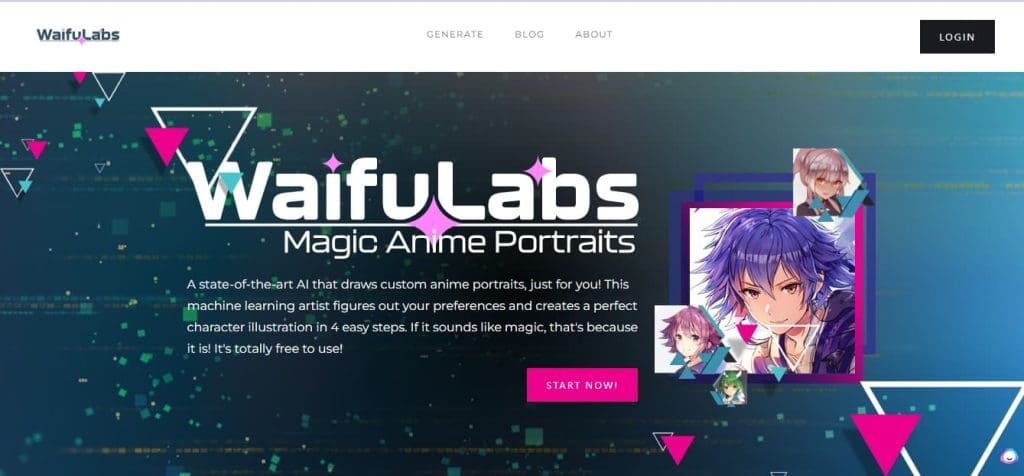 3. Artbreeder
Similar to NightCafe, this software offers users an abundance of options to create unique AI-generated images. However, its AI generator operates a little differently as users provide the color and shape of the desired output.
Additionally, like other AI generators, users can share their images with the community, which complements the Splicer feature.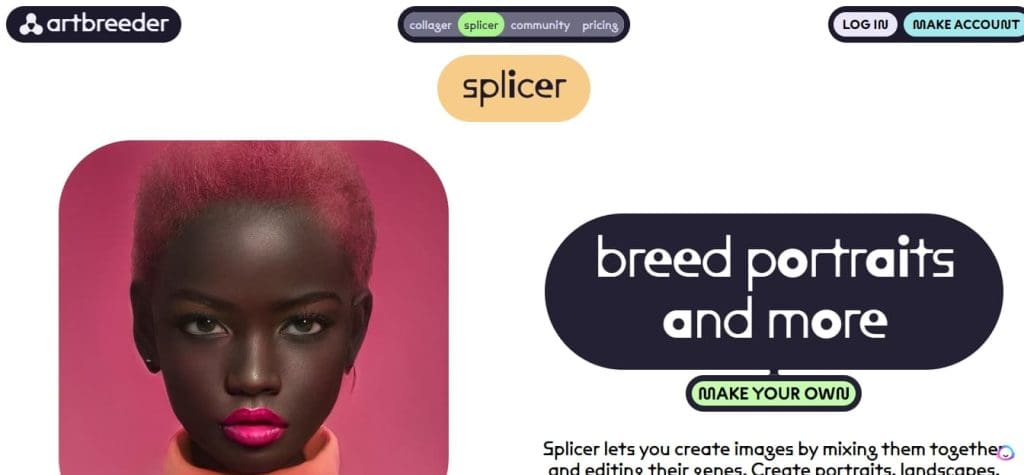 Splicer enables users to mix two different images and edit their components. This means that users can add their own twist to other people's outputs, creating an interactive and collaborative experience.You can blend character, objects, landscape, and so on! Oh you can also add "gene" to your generated images!
You don't need to sign up to start using this tool right away, Artbreeder is a free software, with lots of great perks. To get access to premium features, you need to subscribe to a paid plan that costs $8.99/month.
4. Crypko AI
Crypko AI has created an anime character generation platform homepage that is supported by the generative adversarial network (GAN).
With this platform, users can modify the hairstyle, facial features, clothing and more of their anime characters. It provides a virtual dressing experience for those interested in designing their anime dolls.
The manga character generator of Crypko can be obtained through special codes, and individuals can create and sell their anime characters as NFTs using Crypko's AI Mega Anime Avatar Creator.
Blockchain technology supports this platform. Key features of Crypko AI include powerful GAN technology, free anime avatar generation credits, and the option to buy paid Crypko cards for more anime character creation.
Key features:
Free anime avatar generation credits
Paid Crypko cards for more anime character creation
Powerful GAN technology
4. DeepArt.io
Deepart.io is a well-known AI art generator that utilizes machine learning algorithms to create unique and stunning artwork. Using a user-friendly interface, users can easily transform their photographs into anime-style creations.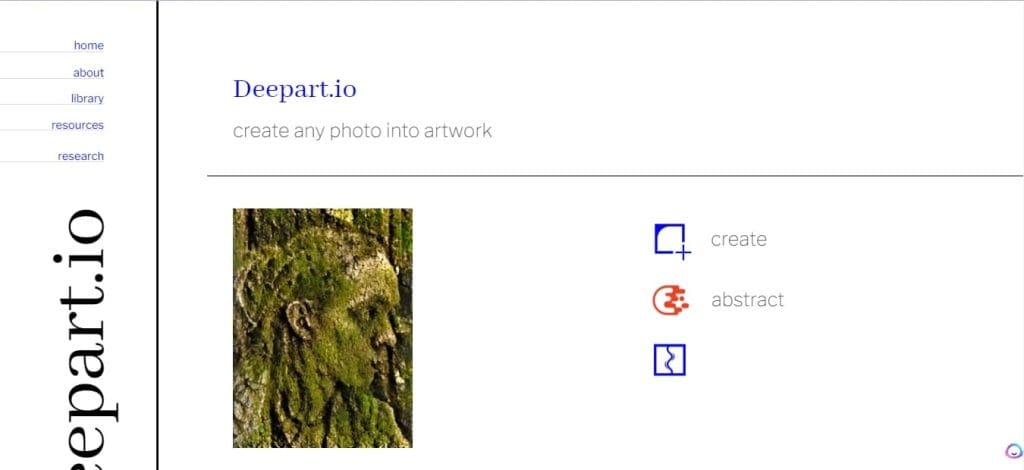 Additionally, deepart.io offers a variety of pre-made themes and styles, simplifying the process of producing exquisite anime art.
Key Features:
The capacity to create artworks in the manner of anime from pictures.
A variety of pre-designed layouts and styles are available.
There are 18 distinct painting styles included in this AI program.
5. MakeGirlsMoe
If you're someone who enjoys exploring different options and delving into the nitty-gritty details, then you'll surely appreciate the features offered by this anime character generator–MakeGirlsMoe
When it comes to creating your own anime avatar, the possibilities are endless. However, it's understandable to feel overwhelmed at first.
To start, you get to choose from four presents, and from there, you have the freedom to customize details such as hair color, style, skin tone, and accessories. Once you're satisfied with your design, simply click the "Generate" button and ta-da! Your brand new anime avatar is complete.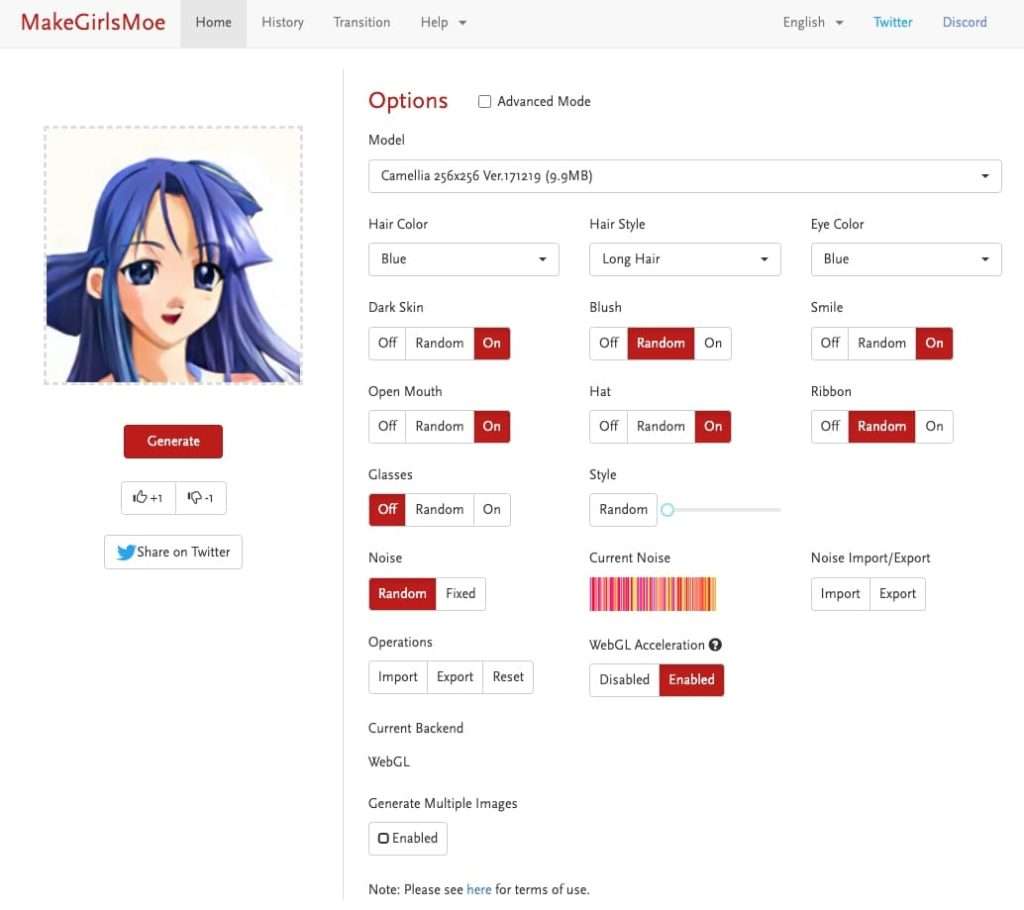 6. NightCafe
NightCafe, unlike Midjourney, fully utilizes the animated aspect of its images, resulting in vivid and cartoonish outputs. This makes it an ideal choice for parents who want to stimulate their children's imagination using AI.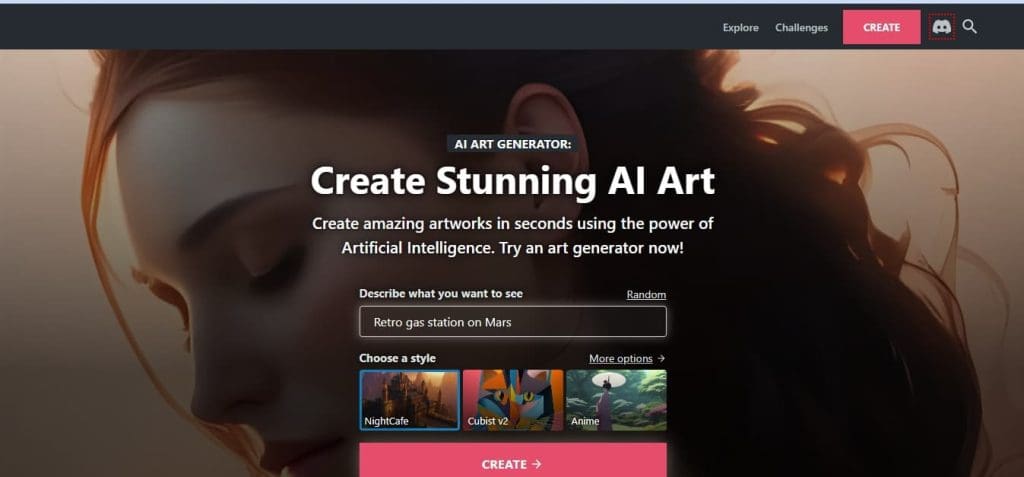 The platform offers a diverse range of styles, including Anime, Modern Comic, Pop Art, Charcoal, and NightCafe's own unique art style. What sets NightCafe apart is the ability to select from different algorithms.
It takes 5–10 minutes longer than other online programs to process the image.
Key Features:
More than 50 filters created by well-known artists.
Many artistic styles.
Use is free.
7. PaintsChainer
Petalica is a web application that enables its users to generate personalized anime-style characters with ease.
Its distinguishing feature is the abundance of customization options available, which allows individuals to choose precise facial features, hairstyles, and clothing items, leading to character designs that are truly unique.
In addition, it offers the functionality of transforming a female portrait into an anime character. Petalica also incorporates deep learning technology to automatically add colors to a sketch image. Furthermore, for those seeking more control over the colorization process, it offers the option of adding color hints.
The advantage of the software is that it automatically adds color to sketch images posted on social media sites. However, generating an anime character based on your uploaded image may not result in high-quality output.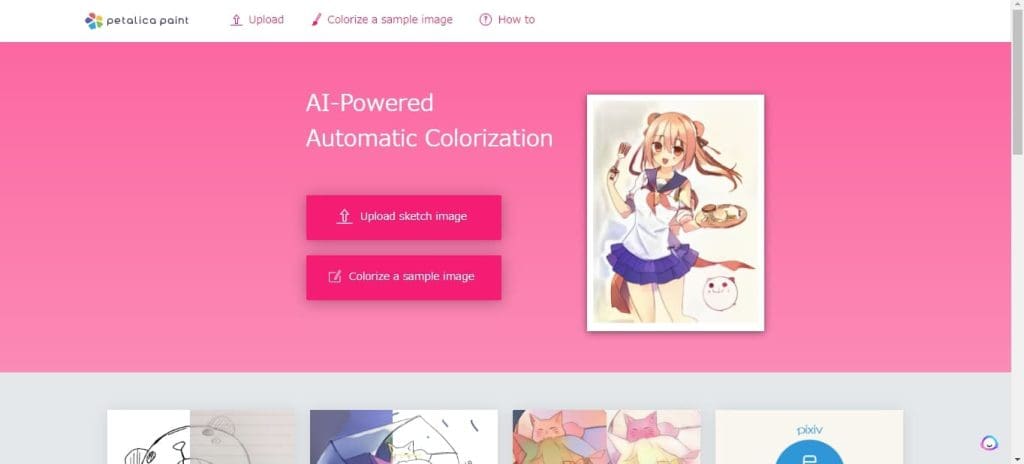 8. DeepAnime
Deep Anime is an AI-powered art generator that has been created to produce outstanding artwork in the Anime style.
It functions with the help of Convolutional Neural Networks (CNNs) and Generative Adversarial Networks (GANs) to produce exceptionally detailed and realistic artwork.
The AI-based generator has been trained on a database of over 10,000 actual Anime images which has enabled it to analyze and learn from the nuances of the art style, culminating in the creation of unique and distinct art pieces. With a few clicks, users can produce beautiful and intricately-designed artwork to showcase their creativity and share it with the world.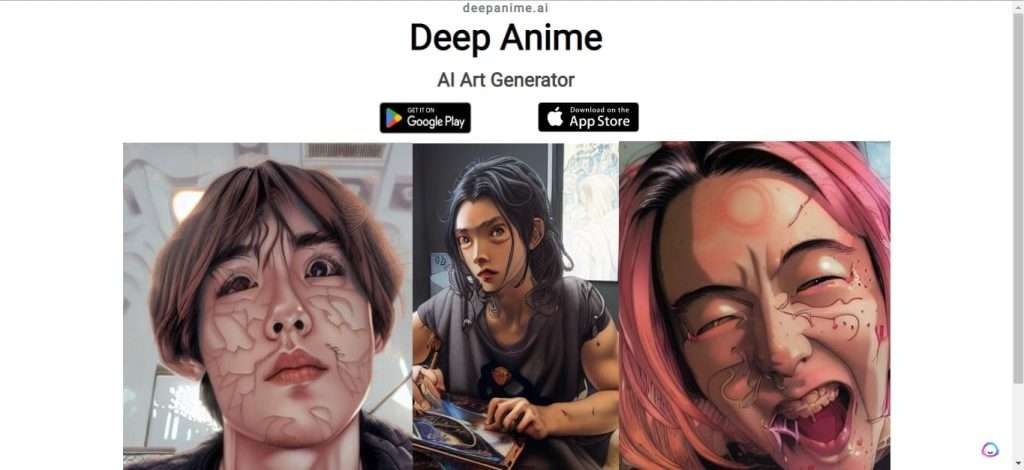 9. Runway ML
Runway ML is a tool for generating virtual images based on machine learning models. You develop models that generate realistic image styles in various ways with the software. In addition, Runway ML can be used to create animations and 3D models.
Most recently, RunwayML has shifted to generating videos based on text input. Currently, it is the only product that can create videos from this list.
Runway ML includes a video editor tool that allows you to replace video backgrounds.
Runway ML uses relative motion analysis and out-of-the-box object recognition tools to help you analyze images or videos for specific objects.
10. This Anime Does Not Exist
That's quite a fitting name for a website that randomly generates anime characters from thin air. Well, sort of. This Anime Does Not Exist uses machine learning to create characters that look like they're from an anime. Except they're not. The algorithm's way of mashing up characteristics means that you'll come across weird and wonderful images in equal measure.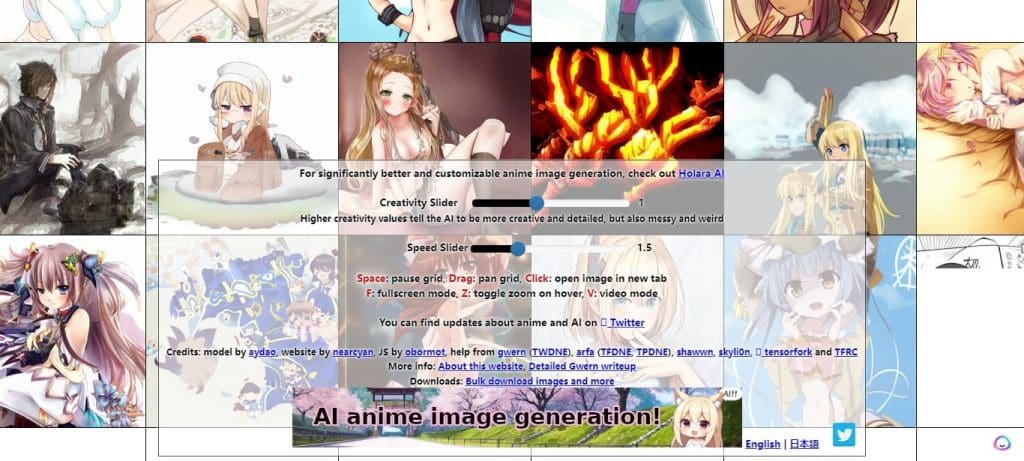 Upon visiting the website you may feel a bit overwhelmed by how fast everything is moving, but you can use the space bar and the mouse to slow things down and take in the view. There are two sliders you can use to adjust the speed and creativity level. Don't hesitate to experiment.
How to Choose the Right Anime AI Generator
When choosing an anime AI generator, consider factors such as ease of use, customization options, and output quality. Look for a tool that aligns with your artistic goals and offers the features you need to create the desired artwork.
Tips for Using Anime AI Generators
Experiment with different styles and settings to achieve the desired look.
Use high-resolution images for better results.
Combine AI-generated art with manual editing for a unique touch.
Always respect copyright and intellectual property rights when using AI-generated art.
The Future of Anime AI Generators
The future of anime AI generators is promising, with advancements in AI technology expected to enhance their capabilities. We may see tools that offer more realistic animations, improved customization options, and seamless integration with other art software.
Conclusion
Anime AI generators have revolutionized the way artists create anime art. With their ability to generate high-quality artwork in a matter of seconds, these tools have become indispensable for both professionals and enthusiasts. Whether you're a seasoned artist or just starting out, anime AI generators offer endless possibilities for creativity and experimentation.
FAQs
Q1: Are anime AI generators free to use?
A1: Some anime AI generators are free to use, while others offer premium features for a fee.
Q2: Can I use AI-generated anime art for commercial purposes?
A2: It depends on the terms and conditions of the AI generator. Always check the usage rights before using AI-generated art for commercial purposes.
Q3: Do I need any special software to use anime AI generators?
A3: Most anime AI generators are web-based and can be accessed through a browser. No special software is required.
Q4: Can I create my own anime characters with AI generators?
A4: Yes, many anime AI generators allow users to create and customize their own anime characters.
Q5: Are anime AI generators suitable for beginners?
A5: Yes, anime AI generators are user-friendly and suitable for users of all skill levels.