A professional-looking photo can give authority to a person's profile, establishing connections between users who have similar interests or work in the same field. An eye-catching avatar can help to grab users' attention and encourage engagement with posts or messages.
A good portrait is in high demand. Have you had enough of spending hours creating magical portraits from your selfies? Say goodbye to bad filters、complicated apps and hello to AI portrait generators!
What is AI Portrait Generators?
Before we dive into our top 10 lists, let's understand how AI portrait generators work. AI portrait generators are tools that use AI algorithms to produce digital figures or avatars that appear realistic and human-like.
They offer a range of customization options, allowing users to create a unique avatar that reflects their personality, style, and preferences.
The benefits of using AI Portrait Generators
Firstly, they save time and effort, allowing users to create a unique portrait in just a few clicks. They are also cost-effective, offering individuals an affordable solution for those on a budget.
Most importantly, using an AI portrait generator enhances privacy and security, enabling users to create an avatar that does not reveal their identity.
Top 10 AI Portrait Generators
I'll introduce the best 10 AI portrait generators in this section, list their features, and provide you access to them.
1. Lensa
Lensa is an image editing app. It can maintain you perfect face skin, adjust the background and make your pictures dreamy by adding a fade effect. What's more surprising is its magic avatar function, which had made Lensa go viral in the virtual world.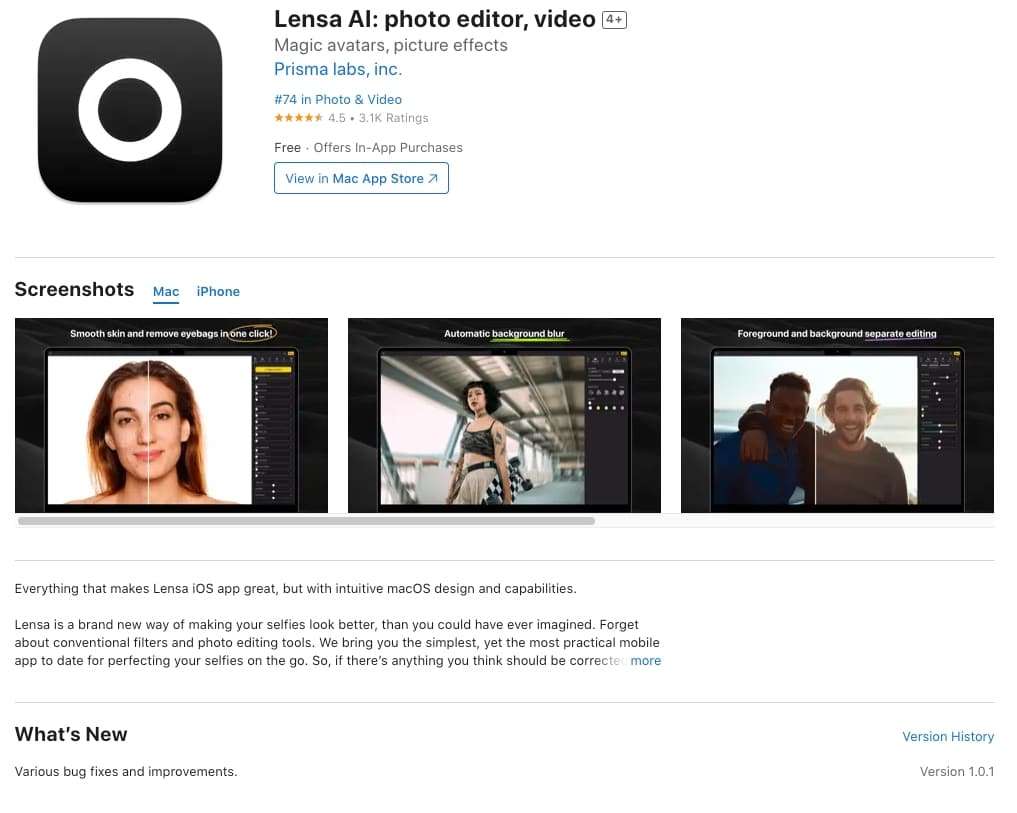 It allows users to upload selfies and turn them into avatars.Magic avatars come in 10 styles. These are cosmic, focus, anime, pop, iridescent, kawaii (Japanese popular culture), light, stylish, fairy princess/prince, and fantasy. These styles may differ from user to user.
Pros
-You can take advantage of the 7-day free trial to explore the app before committing to a subscription
-edit supported
-never get the same avatar results
-Avaliable for iOS and Android smartphones
Cons
-receive may not look like you
Price:
– Annual for $29.99/year
– Monthly for $7.99/month
2. Dawn AI
Dawn is focused on building AI avatars employing the most latest artificial intelligence technologies. By using cultural prompts or adding your own photos, you may do this quickly.
In Dawn, you can apply a wide range of AI filters and effects, such as Disney, anime, cinematic lighting, Kodak film, and others.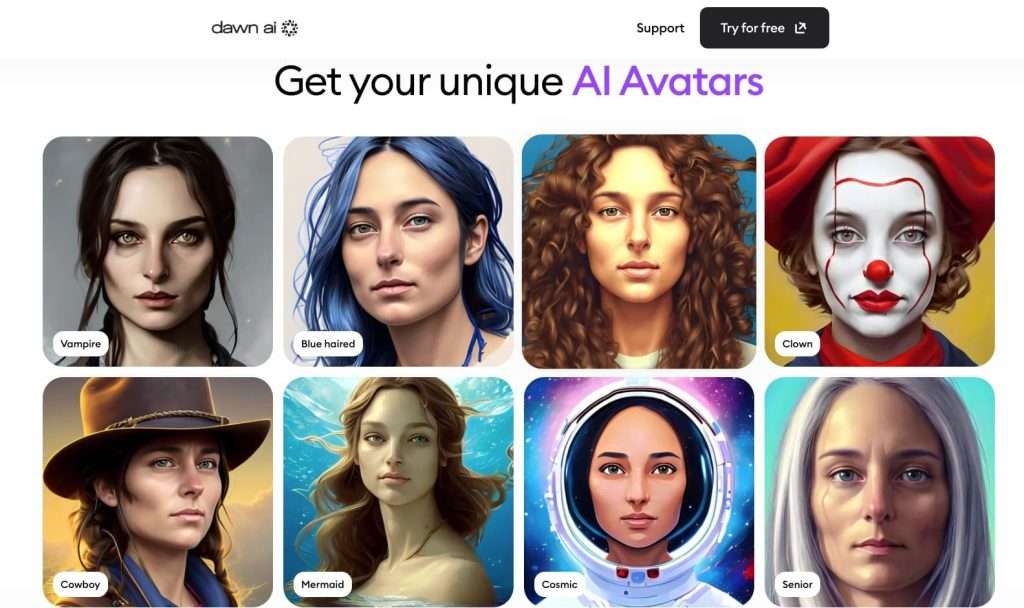 Pros
-Free edition
-Vast AI effects and filters.
-Text-to-text and image-to-image modes of generating AI images.
-Face swap with celebrities.
Cons
-Watermark for free edition
3. Avatar AI
An artificial intelligence technology called Avatar AI uses real photographs uploaded by users to create digital representations of individuals called avatars.
To create an avatar that is remarkably similar to a human or animal, you must upload 15 to 20 photographs of that type. These avatars can also be modified for various circumstances and occasions.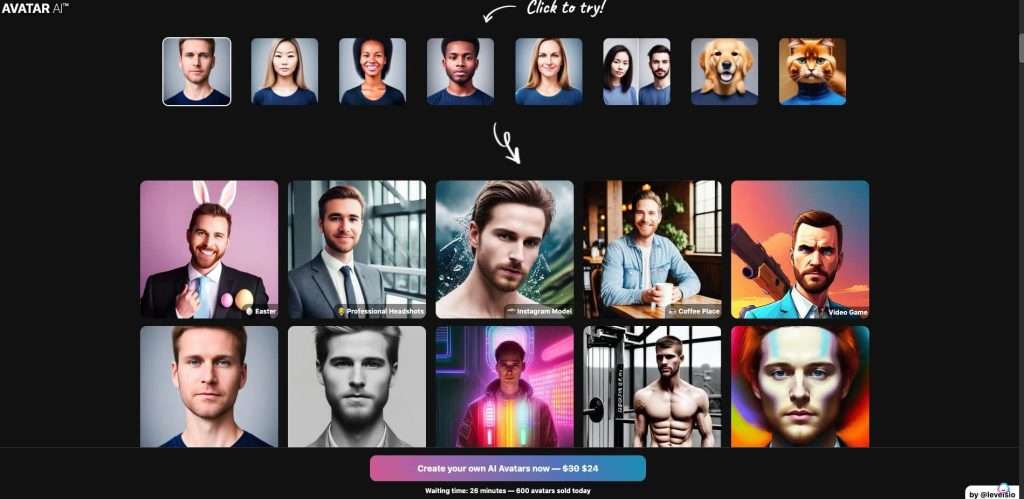 Your raw photo can be enhanced with flair and creativity by selecting one of its 112+ unique template designs. It helps in creating and attaining outstanding profiles.
It also emphasizes privacy. Your images are removed 24 hours after you post them and receive your avatars.
4. Portraitai
PortraitAI is undeniably a useful website for users to transform their selfies into specific styles effortlessly. It stands out for its user-friendly approach, as it doesn't require any login or authorization process.
Compared to other Portrait Generators, it's relatively fast in generating results. All you need to do is upload your selfie, and within seconds, PortraitAI will give you eight different results of your transformed selfie.

However, the website's simplicity comes with some limitations. The absence of an edit function or community communication and prompt typing and history tracking can be restricting. Additionally, the results are mostly vintage styles with a watermark, which a few users may not prefer.
Nonetheless, it remains an excellent option for people who want to transpose their selfies into different, unique styles.
5. Portret.ai
Portret AI is an expert AI portrait generator that has a lot to offer its users. The generator produces super high-quality portrait results with excellent resolutions. By default every avatar is 512x512px. But you can upscale it in our dashboard up to 2048x2048px (included)!
Additionally, the generator offers around 200 avatars to pick from, making it easy for users to find an avatar that suits their needs. The outpainting ability of the generator is particularly noteworthy, as it allows users to generate beautiful portrait images with customized artistic background effects.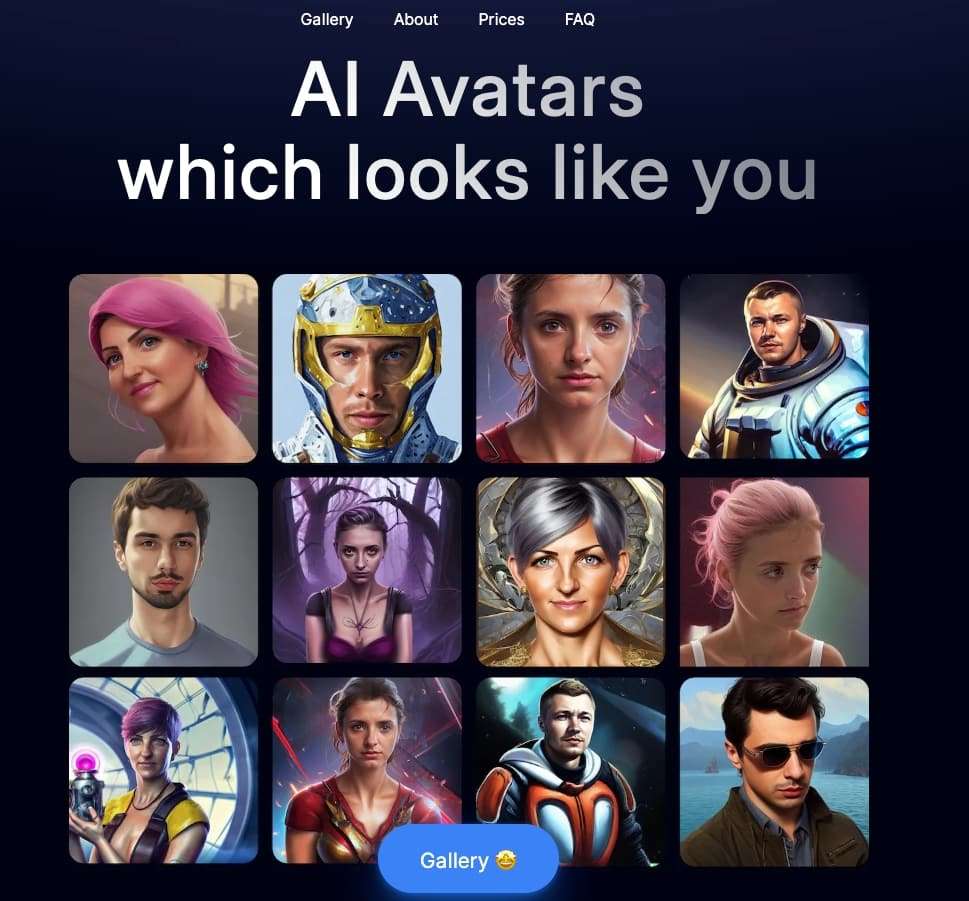 However, it's also important to note that the generator can take almost 2 hours to complete generating the portrait images. Overall, if you're in need of beautiful, high-quality portraits and can afford to wait a bit for the generator to complete its work, Portret AI is an excellent choice.
-Basic for 19$, you can get 200 avatars and 1 training.
-Standard for 39$, you can get 200 avatars, 200 prompts, 1 training and 5 images outpainting.
-Standard for 99$, you can get 200 avatars, 1000 prompts, 4 training and 25 images outpainting.
6. ImgCreator.AI
If you're looking for a fast and affordable way to generate portraits, I highly recommend ImgCreator.AI.
Out of ten different portrait generators I've tried, this one has proven to be the fastest, only 20 minutes, making it a great choice for those who want to save time.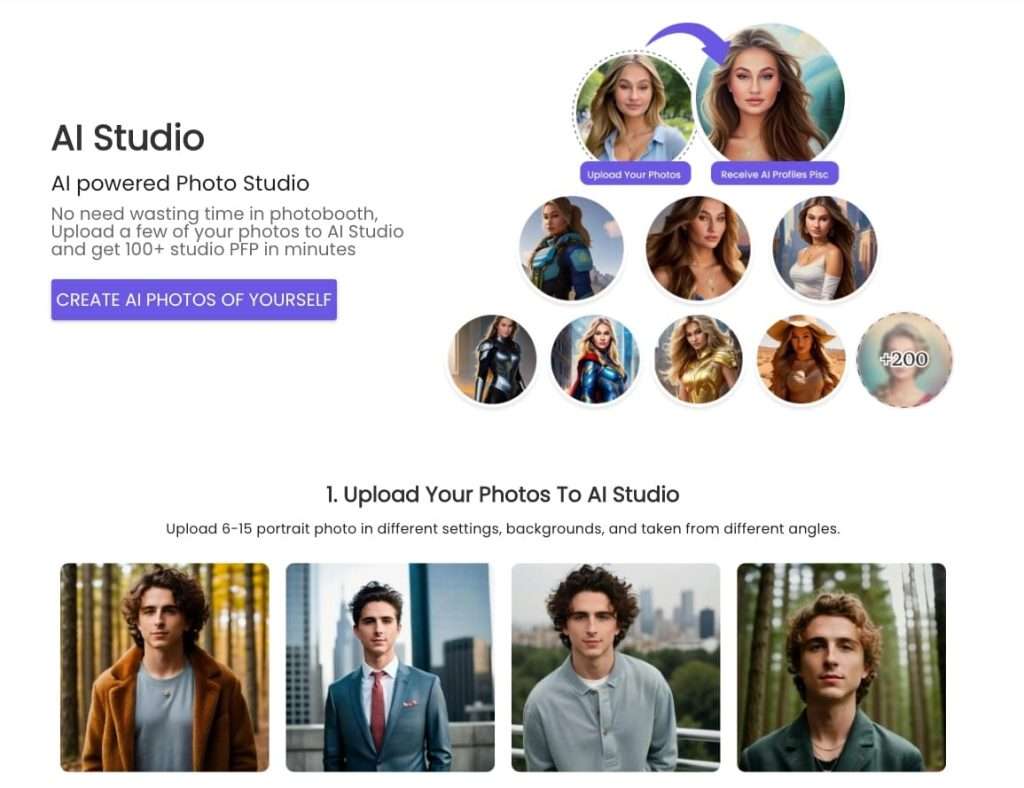 Additionally, the styles are fashionable and there are at least 50 pictures to choose from. It's also affordable, making it accessible for those who want to try portrait generation without investing too much money.
Most importantly, It's also affordable, making it accessible for those who want to try portrait generation without investing too much money. Each plan comes with its own unique set of fabulous styles. Here are the details.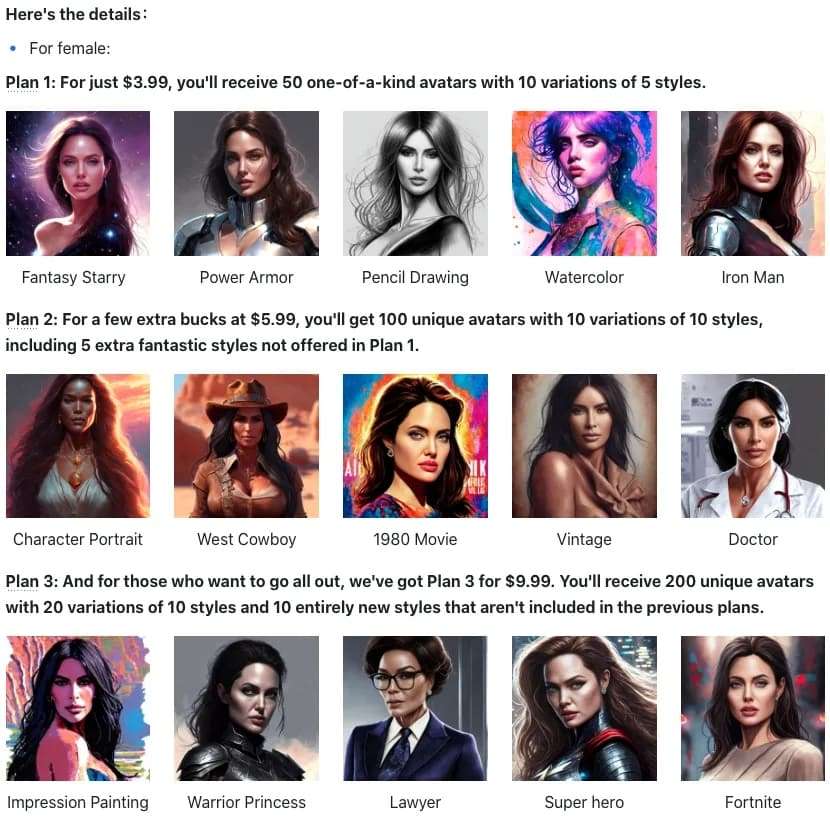 7. Epic Avatar
One of the significant advantages of Epic Avatar is that it allows users to take group photos with celebrities. For example, you can take selfie with famous politician or movie stars.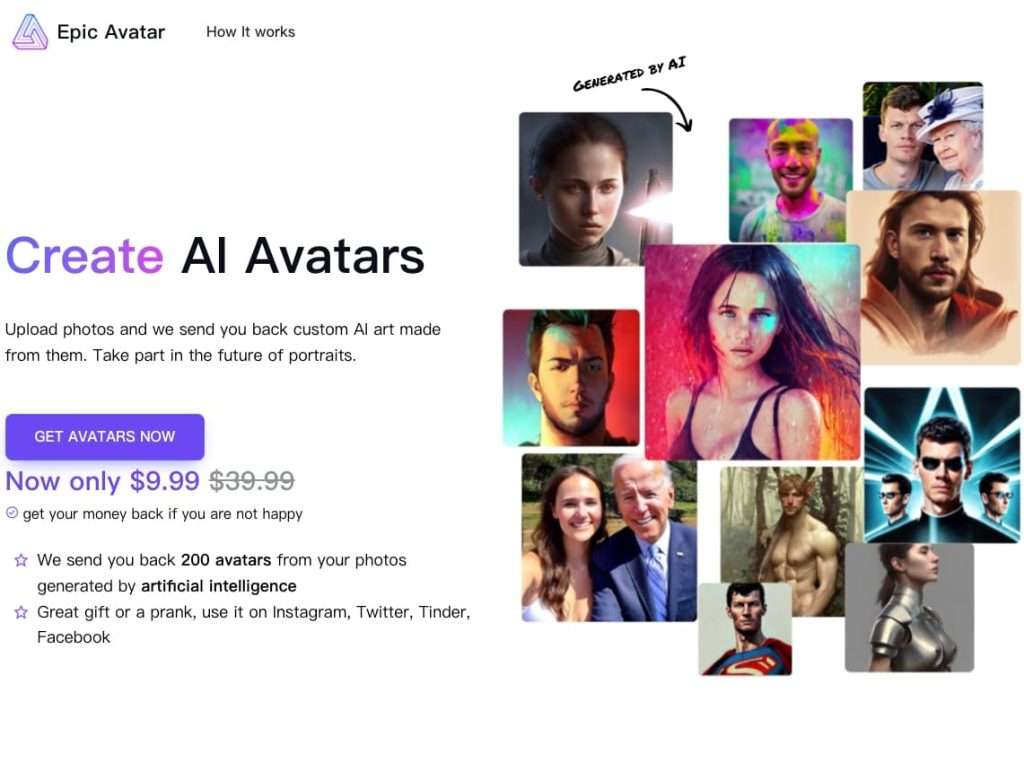 Additionally, Epic Avatar provides over 200 avatars, ensuring users have a variety of options to choose from. Epic Avatar's refund policy is also great; if users is not satisfied with the results, they can ask for their money back.
However, the platform has some drawbacks. One of them is that users cannot select a style when creating an avatar. This could be frustrating, especially if you have a specific preference. Also, another disadvantage is that it is not possible to exit from the payment page if you want to modify the images, which can be a block to finish the process.
Overall, Epic Avatar is a useful platform because it offers helpful features, but there is a need to improve its functionality.
8. Neural.love
Netural Love is truly an all-in-one website that offers an array of features to enhance your photos, including AI photo restoration, AI Image Sharper and AI Colorize Photo.
Its AI Avatar function support you to edit over 100 pre-built prompts so that you can customize to suit your specific preferences. What's more, it is free to use after training is finished.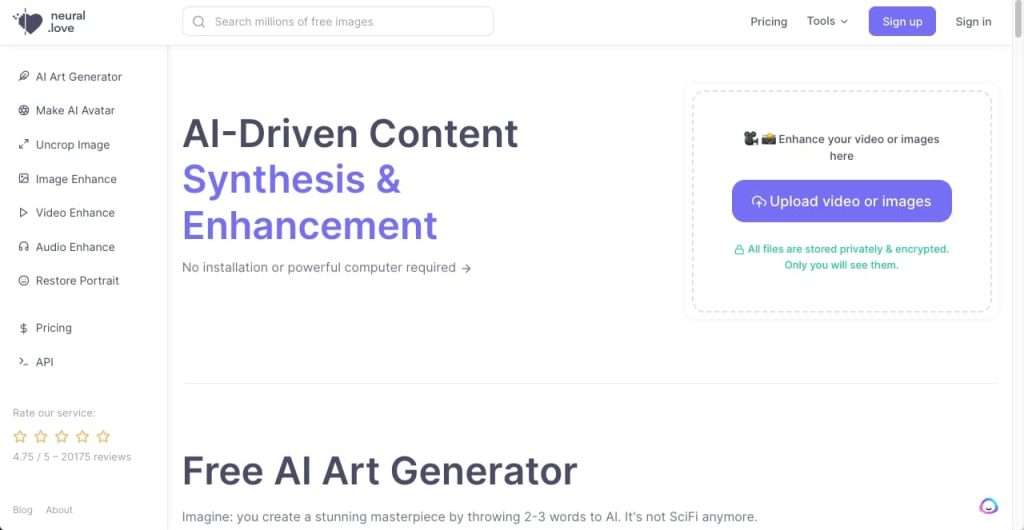 However, one drawback is that it takes around 90 minutes to train. Despite this, the multitude of functions that Netural Love delivers make it an excellent platform for content creators looking to enhance their work without having to switch between different applications.
9. Pfpmaker
One of the options for creating a profile picture is PFPmaker, also known as profile pic maker.
Profile pictures carry significant weight in a profile nowadays. According to their website, profiles with a profile picture receive 14 times more views than those without one.
Furthermore, with a professional profile picture, the likelihood of receiving a message increases 36 times.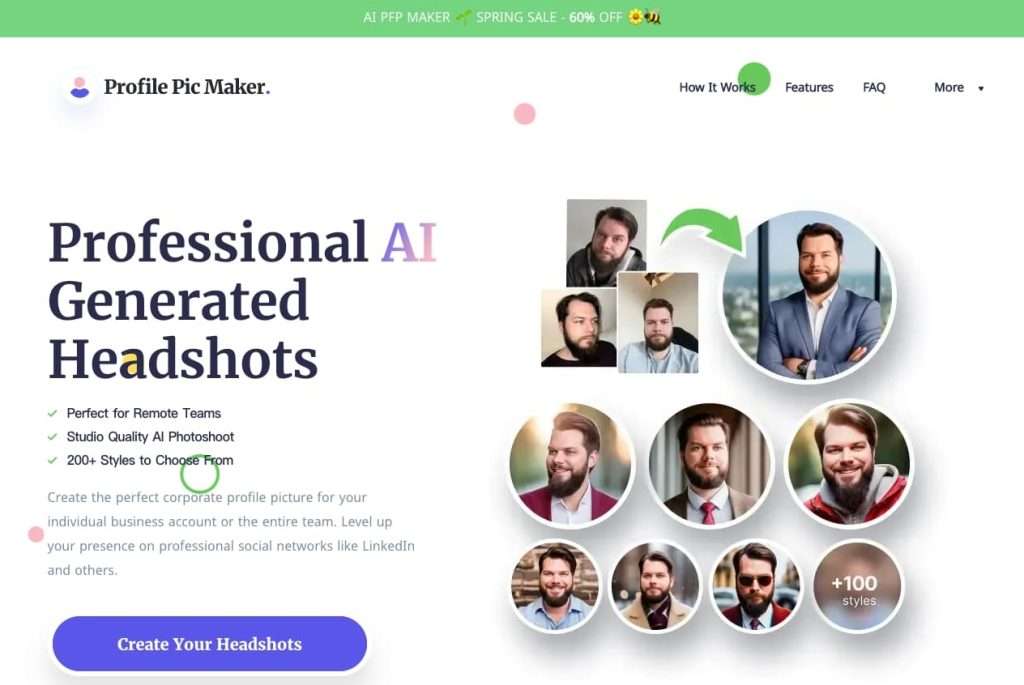 This generator offers more than 200 styles options and over 100 AI-generated avatars. However, it requires one hour to create. It can be used for social media profile photos and professional business headshots as well.
10. Petportrait.ai
Perportrait.ai is a distinctive generator that specializes in creating 20 exclusive portraits of users' pets in a diverse range of styles. This generator generates fast results in 25 selected styles. It provides an option to choose from 10 different pet types and allows transferring of pets with ease.
Although a bit expensive, charging around $24 for 20 resulting pictures, the service ensures high resolution and captivating portraits. The generator may take some time to upload and has a slow loading speed, but it guarantees the delivery of the final product in a maximum of 24 hours.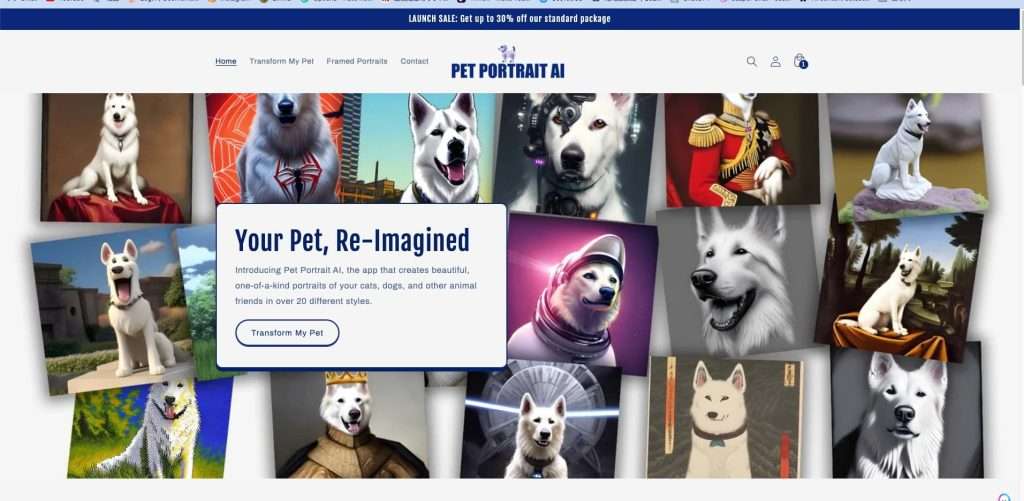 Conclusion
In conclusion, we conducted a thorough overview of the leading 10 AI Portrait Generators. These user-friendly AI tools enable you to promptly acquire high-quality display images of your preference.
From my perspective, I will evaluate an tool for generating AI Portrait from the following aspects: Platforms Supported、Pricing、styles and editing function. You can try to take these cateria as the reference and find your favarite generators.
Whether you're a seasoned artist or just starting out, AI portrait generators offer endless possibilities for creativity and experimentation.
FAQs
Q1: Are AI portrait generators free to use?
A1: Few AI portrait generators are free to use, they mostly offer premium features for a fee.
Q2:Can I use AI-generated portrait for commercial purposes?
A2: It depends on the terms and conditions of the AI generator. Always check the usage rights before using AI-generated portrait for commerical purposes.
Q3:Do I need any special software to use AI portrait generators?
A3: Most AI portrait generators are web-based and can be accessed through a browser. At the same time, there are other generators supported mobile app.
Q4: Are AI portrait generators suitable for beginners?
A4:Yes, AI portrait generators are user-friendly and suitable for users of all skill levels.