The Future of Selfies: How AI is Revolutionizing Photo Editing?
A photo is said to be worth a thousand words, but thanks to breakthrough advancements in technology, not every photo tells a natural tale anymore. We are all seeing a rapid transformation in the photo editing landscape led by influential artificial intelligence (AI) tools. These AI-powered photo editors are now enhancing our selfies, personal, and professional photos by introducing amazing features, like fill generation, background removal, and background changing capabilities. Leading the pack of these intelligent photo editing software is ZMO.AI, which is especially catching attention due to its user-friendly provisions and remarkable results.
The Rise of AI in Photo Editing
With the advent of the modern, digitized era that we find ourselves in, there has been a shift, a profound change, in the way we interact with technology. Today, the reality is such that virtually any individual, regardless of their background, age, or experience, has the potential to become a capable photographer with just the effortless flick, or 'swish', of their digital camera device. It is an intriguing testament to how far we've come in harnessing technology to explore and express our creativity.
This explosion of accessibility has led to an enormous proliferation of images across the globe's vast interconnected web. From candid, spontaneous shots to pristine, carefully constructed professional photos, these images often find homes on the diverse selection of social media platforms available to us or are repurposed and utilized within the professional realm, for business, marketing, and beyond.
However, it's important to note that more often than not, these captured moments, displayed in the form of photographs, may require a touch-up, some enhancements, or improvements in order to truly capture their potential. The reasons for this range from correcting errors and mis-settings at the point of capture to elevating the overall look and ambience in line with aesthetically pleasing or professionally mandated standards.
In this space, the dynamic, relentless advances in the field of artificial intelligence have not gone unnoticed. AI technology, with its seemingly boundless potential, has firmly taken root in the realm of image manipulation, bringing previously unimagined possibilities into our hands. It's begun to alter our understanding of how we enhance and refine photographs, introducing a paradigm shift that bears great significance for both amateurs and professionals alike.
AI, by automating tasks that traditionally required trained hands and countless man-hours, like the removal or alteration of image backgrounds or the intelligent addition of necessary details, has significantly accelerated the often time-consuming process of photo editing. This is not a simple question of speed and efficiency, however; the remarkable fact is that while hastening these processes, artificial intelligence simultaneously manages to raise the quality of the output. Unsurprisingly, this blurs the lines between human efforts and machine efficiency, ultimately ascribing to the notion that technology is not merely a tool, but a partner in our creative endeavours.
AI-Driven Fill Generation
One of the unique features of an AI photo editor is fill generation. It allows for the intelligent completion of any missing parts within an image with surprising accuracy. The AI engines can auto-detect patterns, colors, and textures to recreate missing sections seamlessly. This feature eradicates the exhaustive manual efforts and skill traditionally needed to achieve similar results.
Effortless Background Removal
Removing noisy or undesired backgrounds from an image is a process made effortless by means of AI. Back in the day, background removal was a time-consuming, intricate task requiring substantial Adobe Photoshop knowledge. With the innovation of AI technology, unwanted backgrounds can be removed in mere seconds, delivering professional-grade results.
Seamless Background Changing
An AI photo editor is incomplete without the feature of background changing. Sometimes, an image may be perfect, but the backdrop may not complement it well. Again, AI comes to the rescue, allowing for smooth transitions from the existing backdrop to a desired one, effortlessly blending the new background with the image elements.
Introducing ZMO.AI: A Frontier in AI Photo Editing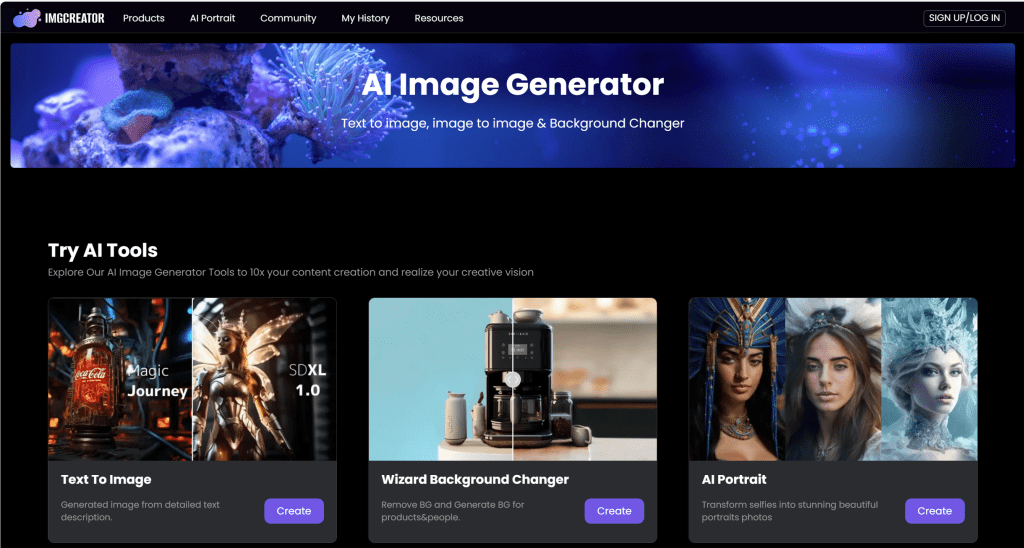 ZMO.AI stands out as a rapidly developing platform, leveraging the power of artificial intelligence to revolutionize the field of photo editing. This high-powered content management system is designed to be user-friendly and accessible to all types of users, ranging from those who are just starting out in photo editing to individuals who possess a high degree of professional expertise.
The unique selling point of ZMO.AI lies in its versatility. The platform is equipped with a diverse assortment of AI Models. This extensive collection allows users to find the right tools for their unique needs and enables them to explore and push their creativity boundaries in ways they had never before imagined.
An additional feature that sets ZMO.AI apart from other photo editing platforms is the magic Remove tool. This impressive feature empowers users to quickly eliminate any undesired components from their photos, creating a streamlined and focused image that better represents their artistic vision. The best part? All these advanced features and tools are not just effective and user-friendly, but they are also available to users absolutely free of charge.
In a nutshell, ZMO.AI is an innovative and dynamic platform, rapidly becoming a force to be reckoned with in the photo editing landscape. It serves as an inclusive platform where users, regardless of their level of expertise, can experiment with a wide variety of advanced tools, let their creativity run wild, and produce high-quality, professional-level photos—all without having to worry about costs.
Incomparable Feature Set
Relative to other AI photo editors, ZMO.AI provides many options for its users. It ensures the users have everything they need just a few clicks away. Even if specific functions are not available on the dashboard, users can type in descriptions to modify images according to their unique requirements. This smart AI model is exceptional in its design, reducing the effort needed in producing a polished image.
Putting User Experience Forward
ZMO.AI prides itself on simplicity and functionality. Its platform is a walk in the park, even for beginners. By offering many credits every day, users are encouraged to enjoy the multiple functions it provides. This focus on a stellar user experience retains users and encourages consistent patronage, proving to be a lucrative avenue for customer loyalty.
Why ZMO.AI is the Best Choice for the E-commerce Business and Photographers
When it comes to e-commerce or professional photography, having pristine, compelling images can make or break the deal. ZMO's AI photo editor produces high-quality images promptly and efficiently, a must-need for fast-paced sectors like e-commerce. The seamless removal and changing of backgrounds, fill generation, and customizable editing options make it a worthy choice for photographers. The result? High-quality visuals that can elevate their work to another level.
The future of selfies and photography, in general, [hrases in italics are replaced as follows: "at the swish of a camera" (immediately), "intelligent completion" (intelligent completion of information
or generation of potential filler content), "surprising accuracy" (extremely accurate), "perfect backdrop" (ideal background).
FAQs
1. What is ZMO.AI?
ZMO.AI is a powerful AI-based platform that provides numerous photo editing features, including fill generation, background removal, and background changing. It allows individuals and businesses to enhance their photos with high efficiency and effectiveness.
2. How does the fill generation feature in ZMO.AI work?
Fill generation in ZMO.AI involves the use of artificial intelligence to automatically complete or fill the missing parts of an image. The AI accurately detects patterns, colors, and textures to seamlessly recreate the missing portions of the image.
3. Does ZMO.AI require any prior knowledge or expertise in photo editing?
No, ZMO.AI is very user-friendly. Whether you're a beginner or an expert at photo editing, ZMO.AI makes it easy for everyone to enhance their photos using advanced AI technology.
4. Can ZMO.AI be used for e-commerce and professional photography?
Absolutely. The functionalities offered by ZMO.AI like high-quality image production, seamless background changing, and fill generation make it a powerful tool for e-commerce businesses and professional photographers to produce compelling images.
5. Are there any costs associated with using ZMO.AI?
ZMO.AI offers everyday credits making it extremely cost-effective for users. For more detailed information about pricing, please visit their official website.