Have you tired of spending too much time for editing image or removing unwanted item from the image and you want to get the effect which you want you have to cost too much on hiring employee? With the artificial intelligence development, now there is a unique AI editing tool comes for the e-commerce people and photo editors. In this article, we will explore the incredible capabilities of AI photo editor that it can fulfill the requirement of generative fill, background changing and removing the item from the image.
Have you ever contemplated that just a few clicks can replace or remove a background in hardly any time at all?? This advanced technology is revolutionizing the world of photo editing, allowing photographers and enthusiasts to achieve stunning results in a fraction of the time. Say goodbye to tedious manual editing tasks and hello to effortless perfection as we guide you through the fascinating features and endless possibilities provided by this cutting-edge technology. In this post, we will guide you how to access your satisfied image step by step. No matter who you are, you can become the pro photo editor by using the imgcreator.ai. So, let's get started!
Why choose the Imgcreator of ZMO.AI
ZMO's AI photo editor is reforming the photo editing to a new level. Unlike traditional Photoshop editing, which requires hours of tedious work and miscellaneous tools and skill for editing image. ZMO' s AI powered photo editor can marvelously completely your assignment in the matter of seconds. No matter who you are, it is no need to waste endless to search the method for photo editing. With the ZMO's AI photo editor, you can also achieve the professional-level edits with extraordinary speed and efficiency.
The beauty of ZMO's AI photo editor lies in its ability to analyze images and make intelligent decisions on how to enhance them. Powered by advanced algorithms, this cutting-edge technology automatically adjusts color balance, sharpness, and exposure levels to bring out the best in your photos. With just a click or two, you can transform a dull image into a vibrant masterpiece that captures attention.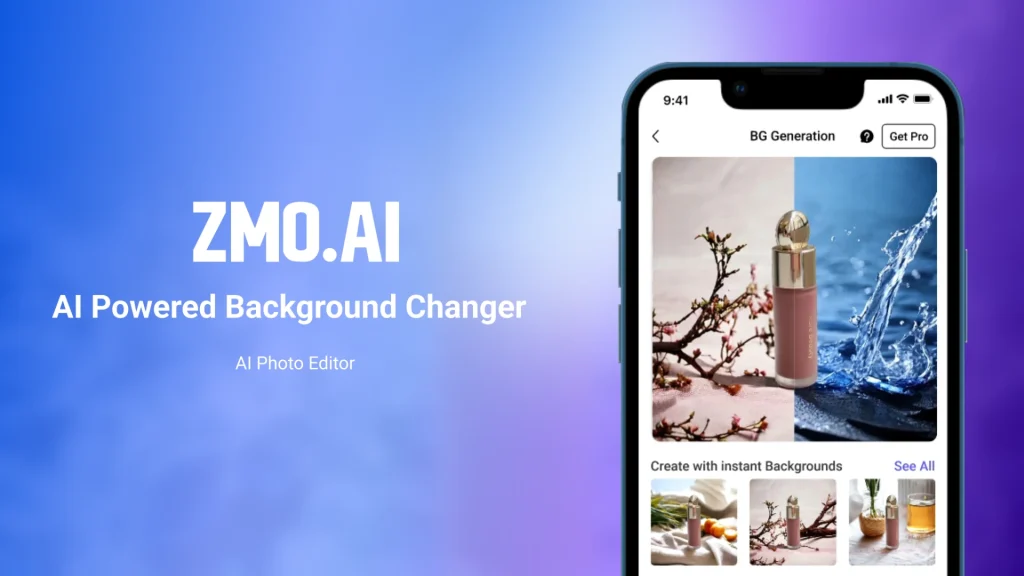 Whether you're a professional photographer or an amateur looking up to your race, we believe that the ZMO's AI photo editor can be your trust friend and it can provide a level playing field for all. Not only the function you may like, you can also choose it for its friendly interface.  Now anyone can achieve outstanding results without investing countless hours or breaking the bank on expensive software alternatives. 
Considering all user's experience for AI photo editing, ease of use becomes the most important factor. Therefore, with a user friendly interface and obvious function array,even those with limited technical skills can navigate through its various features effortlessly. Whether you are a beginner or an experienced designer, AI photo editor caters to all levels of expertise, making it convenient for anyone to create stunning visuals.Embrace the future of photo editing with ZMO's AI photo editor – your secret weapon for stunning visuals in seconds!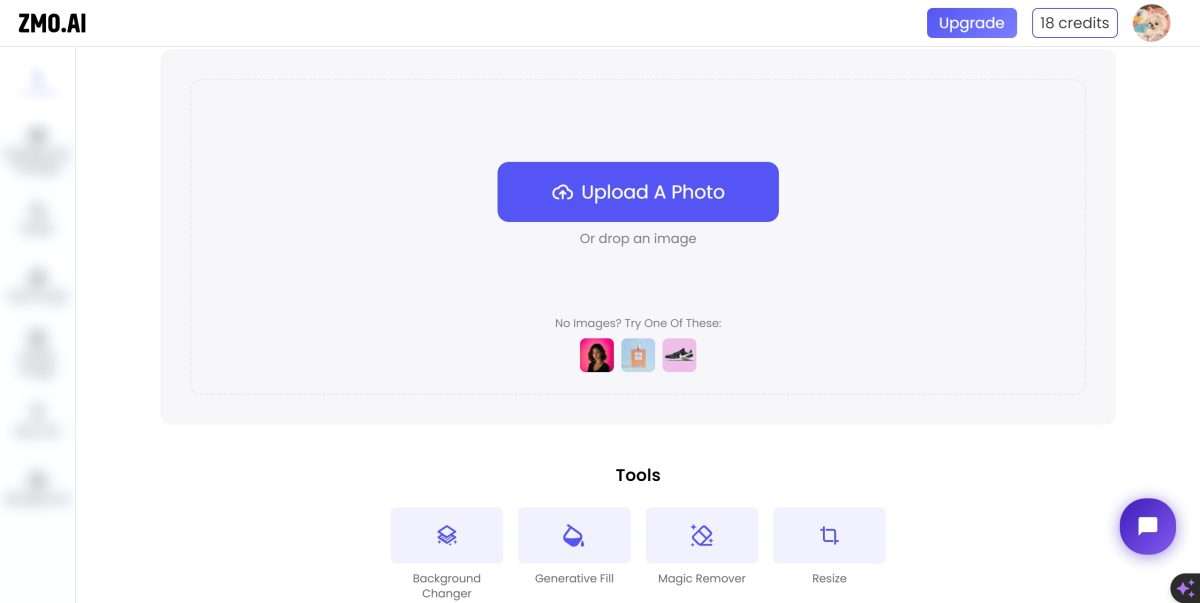 Another advantage of using ZMO's AI photo editor is the convenience it offers in adjusting images. With just a few clicks, you can crop, resize, rotate, and apply various filters to enhance your images. And for the E-commerce business and others social media photos requirement Imgcreator also can meet. The tools provided are not only easy to understand but also allow for precise adjustments when needed. This convenience ensures that you can quickly customize your images as per your requirements and save valuable time in the process.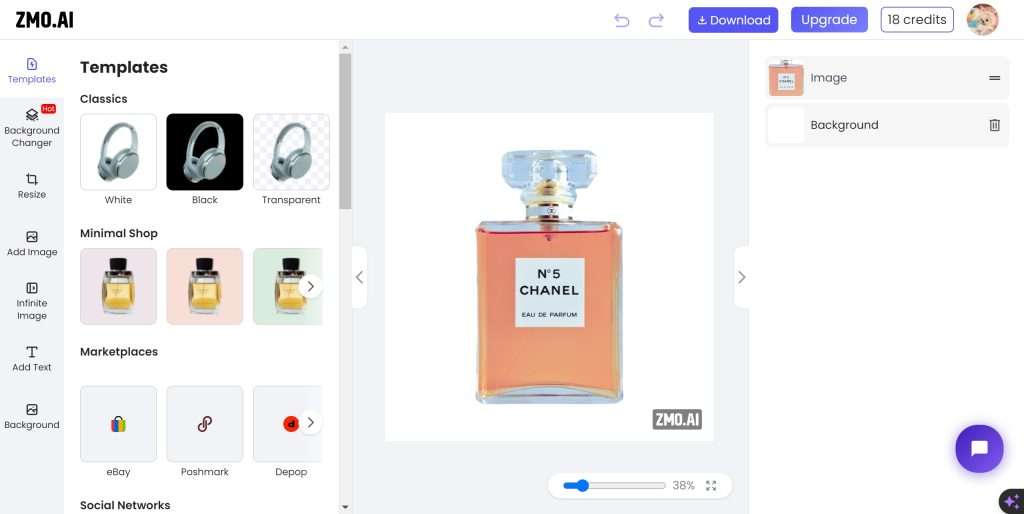 In the realm of image editing platforms packed full of features, imgcreator notably shines due to its inherent user-friendly nature, coupled with an array of convenient and versatile editing options at the tip of your fingers. This unique advantage stems from its user-focused approach, ensuring that every customer interaction is as smooth and efficient as possible. But what truly makes imgcreator stand out in a sea of competition is its comprehensive system of credits, effectively addressing the aged problem most users face with online image editors.
Regrettably, the issue has always been that while a significant number of online image editors do offer a free version, they often choose to impose a multitude of limitations or restrictions on the usage and the quality of the ultimate product. This compromises the integrity of the creative process and produces a sub-optimal experience for the end-user. It is in these areas that imgcreator proves its superiority by ensuring that these frustrations aren't a part of the equation. Ascending beyond the norm, it presents users with an abundance of credits that essentially enrich their overall experience. As you navigate your way around imgcreator, you'll notice the significant amount of credits at your disposal, which allows you ample freedom to explore the varied facets and functions of this platform thoroughly.
Nevertheless, the user-oriented convenience and the beneficial credit system are just a glimpse of what imgcreator has to offer. Its true potential lies far beyond, in the form of ZMO AI photo editor services, which users can enjoy to their fullest extent. These advanced features truly go the extra mile in terms of their functionality and potential, offering unlimited and unhindered access to a variety of high-caliber features.
But that's not all as the features of ZMO AI photo editor extend far beyond what was covered here. It hosts a wider range of functionalities that are yet to be discovered and understood fully by its users. Now, without further delay, we're poised to delve into some of its key features. So, brace yourself, and get ready to unravel the mystery of what ZMO AI photo editor truly brings to the table. The journey ahead is a captivating one where every moment is an opportunity to enhance your abilities and produce stunning visuals by using the ZMO AI photo editor.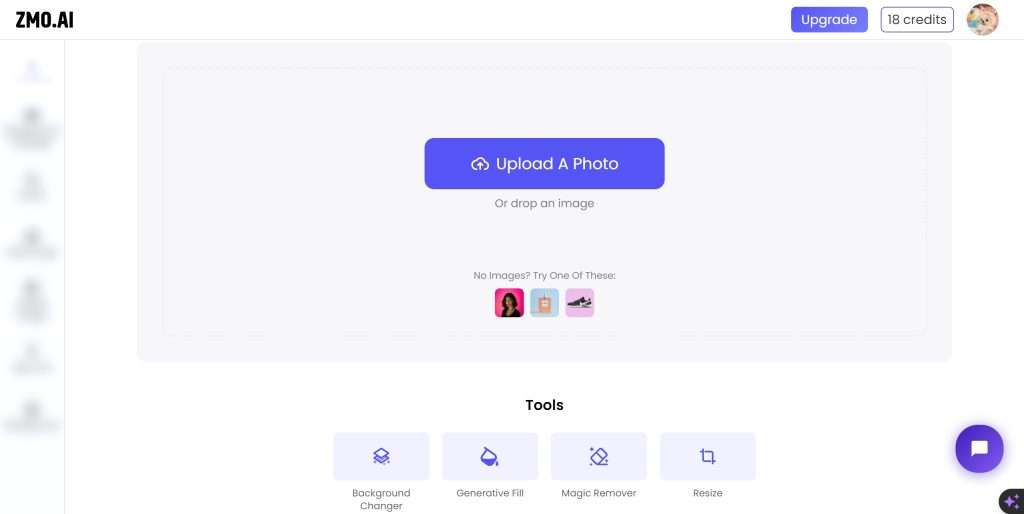 Step 1 : Upload Your Photo
For the first step, you need to upload your photo. If you are using for the first time and it is no need to worry. We have prepared the sample to you.
Step 2: Click The Background Changer Icon
After you upload or choosing the sample image and click the background changer icon, it will display many project for you selecting. If you have no idea about what background is suitable for your website, just slide and choose your style background!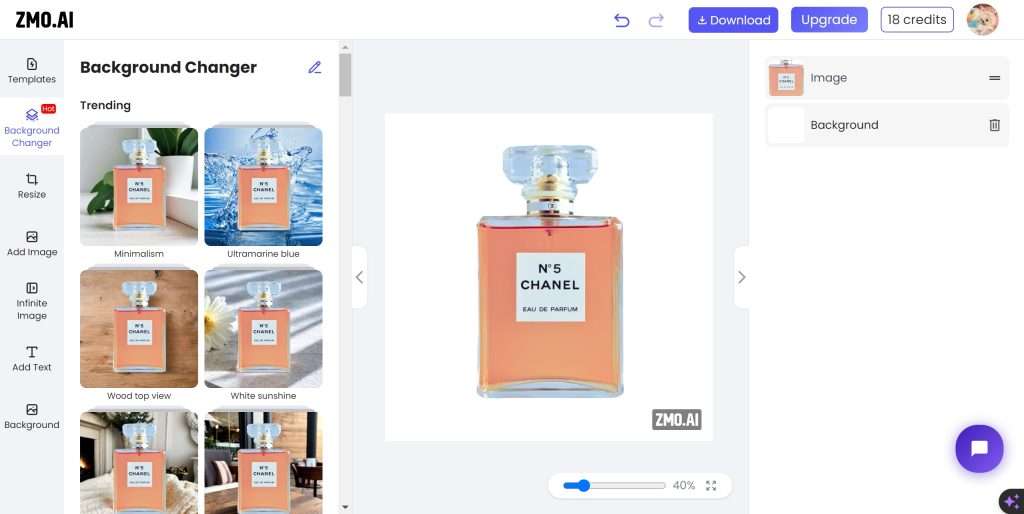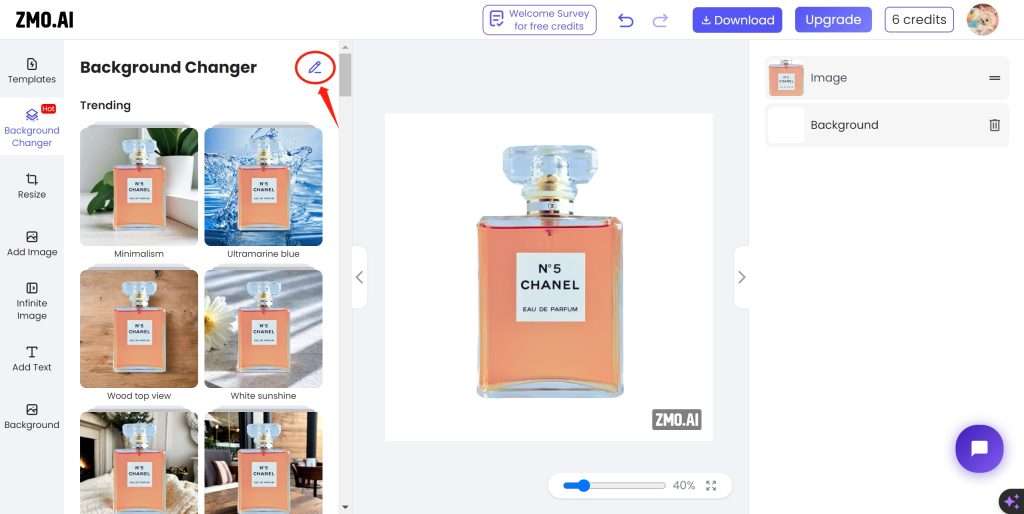 No Satisfied Background? Try this!
No wanted background for your image or product? Try this button and get the entirely new exploration. Just type the background you require and ZMO.AI generator will satisfy your imagination!
Transform your images with our powerful magic remover! Witness its remarkable ability to repeatedly erase items for unmatched performance.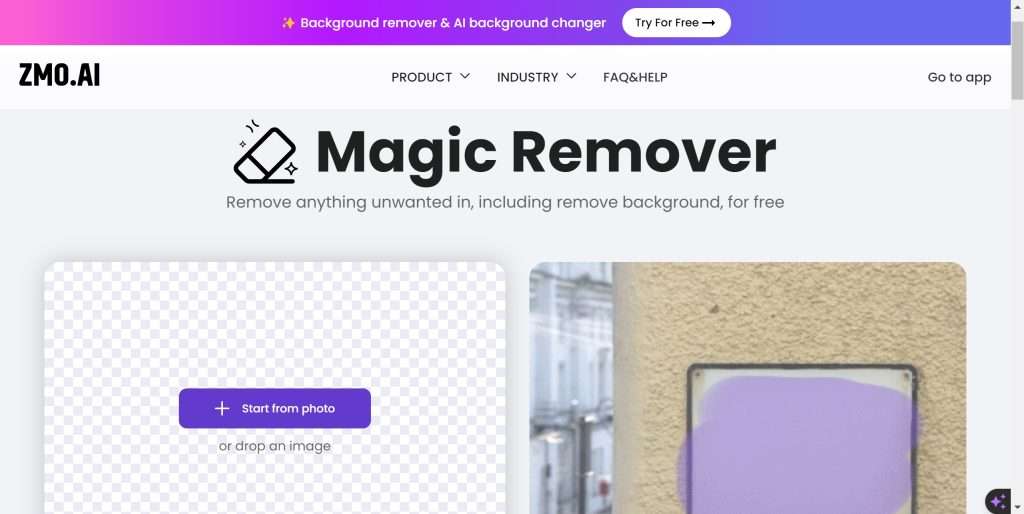 Step 1:Click To Start the Journey
Find magic remover on the ZMO's AI photo editor homepage and upload  your image to use.
Step 2: Choose Your Eraser Size And Item You Want To Remove
Select the brush size and then choose the items you want to erase and click the erase button. Just few seconds and the image finished!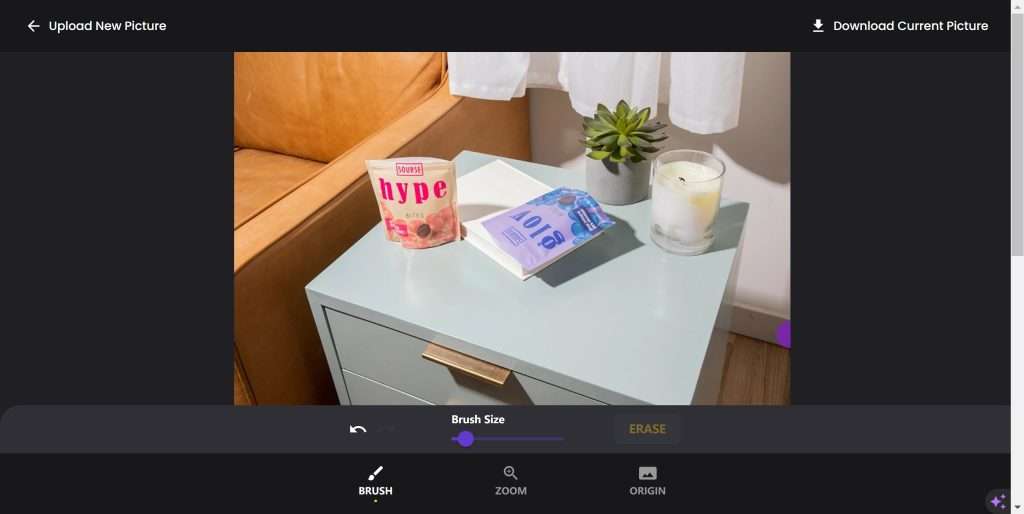 Only spend few seconds and two steps to reach the effect you want!
Effortlessly transform specific parts of an image by simply masking out the area and providing detailed instructions, resulting in a seamless and precise change.
Step 1:View The Website And Upload The Image
Click here or picture to enter the generative fill page and upload your image or choose sample for the next step.
Step 2:Select Mask To Change Area
Select the mask area and write the content in the description table. You can choose style for the your image. One of ZMO.AI photo editor is that you can select the mask area precisely. After confirmation you can click the mask confirm to generate the image.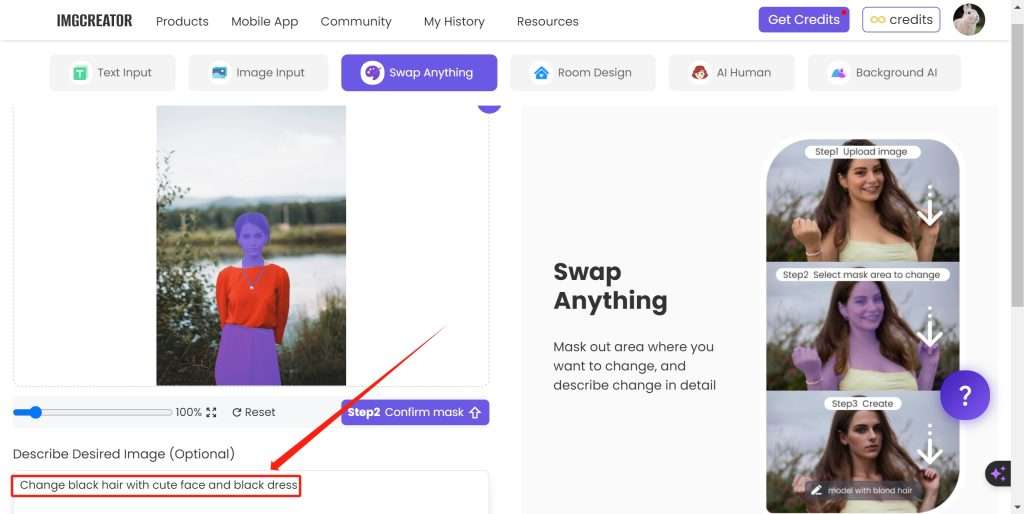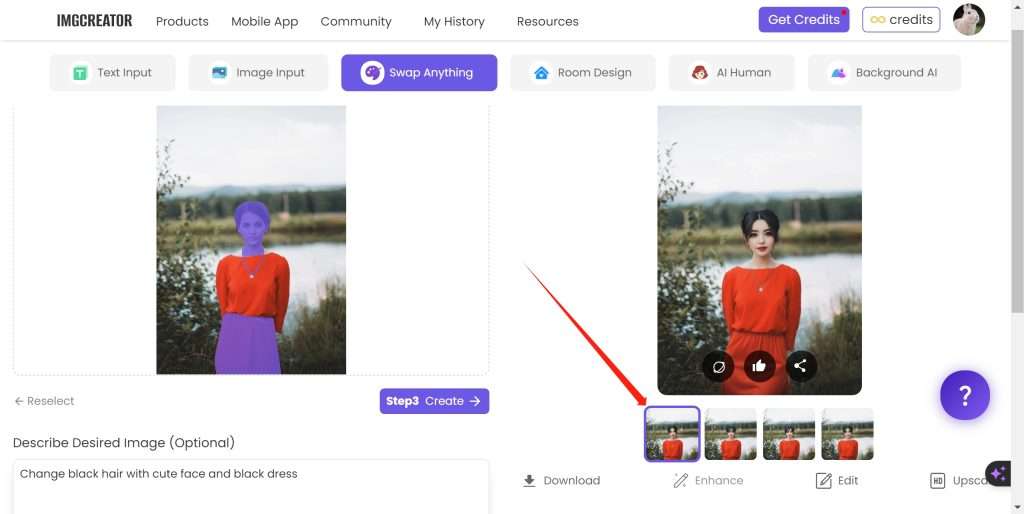 As the image shown, the image was generated successfully. For the others function you also can choose reference strength, category, output resolution and other function you can try.
How To Use AI Photo Editor On Mobile Phones?
ZMO.AI AI photo editor is also available on mobile phones (iOS and Android) for photo editing.
You can change your photo backgrounds on your phone, including transparent options and editing features such as text, stickers, filters, etc.
For more information, please check out this blog post.
In conclusion, the ZMO.AI AI photo editor has the potential to revolutionize the way we edit photos and propel us into a new era of creativity and efficiency. By leveraging advanced artificial intelligence technology, this innovative tool can perform complex tasks with remarkable accuracy, saving both time and resources. In addition, its cost-effectiveness makes it an attractive option for photographers, graphic designers, and businesses alike. As we continue to embrace automation and AI in various industries, it is clear that the ZMO.AI AI photo editor is at the forefront of this technological advancement. Embrace this new era of photo editing by incorporating the ZMO.AI AI photo editor into your workflow today.