In the past, removing backgrounds from a photograph was a complex process that often required professional cameras and sophisticated editing software. Photographers had to meticulously crop out elements, relying heavily on their skills and the power of high-end computers. This ordeal often made the task tedious and inaccessible to casual photographers, putting an artistic limit on mobile photography.
The advent of modern mobile editing, however, is dramatically changing this landscape. Powerful applications are now available that can deftly remove and replace backgrounds at a fraction of the time and without any professional equipment. These apps harness the processing prowess of modern smartphones, bringing the power of advanced photo editing into the pockets of users around the world. This technological breakthrough makes it possible for anyone, professional or novice, to express their creativity with ease and convenience.
ARTICLE OUTLINE
Picture-Perfect Snapshots in Seconds
The Need to Go Background-Free
The Convenience of Mobile Editing
Which Tools Can I Use to Remove Backgrounds?
Introduction to Mobile Photo Editing Apps
App Highlight: Zmo.ai – Convenient and Professional Photo Editing
Detailed Guide: Removing Backgrounds with Zmo.ai
Getting Started with Zmo.ai
Background Removal Step by Step
Uploading Your Picture
Selecting the Area to Delete
Fine-Tuning and Saving the Processed Picture
Other Helpful Mobile Photo Editing Apps For Background Removal
Video Tutorials Vs. Written Instructions: What Works Best For Me?
Pros and Cons of Each Method
Best Resources for Video and Written Guides
Best Practices for Mobile Photo Editing
Lighting, Angles, and Composition
Post-Processing Tips and Tricks
Wrapping Up: Embrace the World of Background Removal
---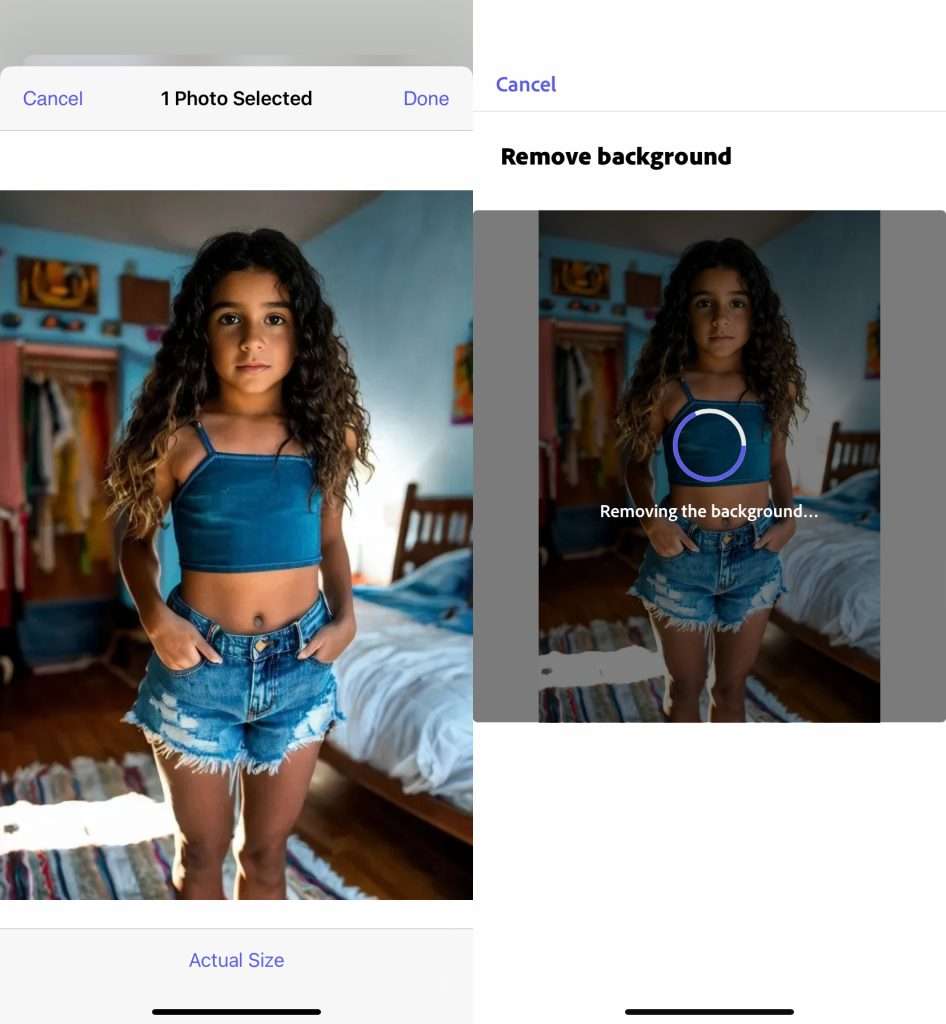 How Do I Remove the Background From
The Need to Go Background-Free
Think about those Instagram-worthy pictures gone wrong because some stranger photobombed at the wrong moment. Or the product images on your e-commerce site that would look so much better without the cluttered background. That's where the magic of background removal comes into play!
H3: The Convenience of Mobile Editing
Let's talk about convenience. Who has time to transfer photos from our smartphones to our computers? It's so much easier and faster to edit right on our mobile device. And the results? Stunning and professional.
Which Tools Can I Use to Remove Backgrounds?
The market is flooded with several intuitive mobile applications that can help you with this task. But we've got a special one to bring into the spotlight.
Introduction to Mobile Photo Editing Apps
Photo editing on mobile has become as simple as click, edit, and post. And it's not just about filters and basic crop anymore. Complex edits like removing backgrounds can also be done on your phone.
App Highlight: Zmo.ai – Convenient and Professional Photo Editing
Are you familiar with Zmo.ai? It's an innovative technology platform, harnessing the power of artificial intelligence to redefine the limitations of photo-editing tools. Zmo.ai represents a remarkable transformation in the visuals creation process, with its highly efficient algorithms and deep learning models enabling specialized capabilities not available in many comparable tools. 
The standout feature of Zmo.ai is its ability to convert your everyday mobile device into a fully functional graphic design studio. This transformation is not just about gaining access to complex design tools on the go, but rather about enabling users to create, alter, and visualize their creative ideas with a user-friendly and intuitive interface. Zmo.ai's groundbreaking technology ensures that high quality graphic design is readily accessible to all, regardless of location or professional expertise.
Detailed Guide: Removing Backgrounds with Zmo.ai
Get ready to master background removal with Zmo.ai with our step-by-step guide.
Getting Started with Zmo.ai
The initial step to begin your journey is to procure the Zmo.ai program. This involves visiting the app store available on your device, whether it be Apple's App Store or Google's Play Store. Browse through the array of applications and locate Zmo.ai. Once found, download it – an easy and quick process given the optimized nature of these app stores. Having downloaded the app, the next critical step is to sign up. This involves creating a unique username and password, providing an active email address, and agreeing to the application's terms and conditions. This entire process is designed to be extremely user-friendly and ensures that you can begin utilizing Zmo.ai as soon as possible.
Background Removal Step by Step
Upon launching the app, find and click the "Upload Image" button to select your desired image from the gallery.
Selecting the Area to Delete
Next, select the "Background Removal" tool. Use your finger to outline the area you want to erase.
Fine-Tuning and Saving the Processed Picture
Remember, practice makes perfect! It might take some time to get your selection just right. When you're done, just hit "Save," and your professional-looking photo is ready to be shared with the world.
Other Helpful Mobile Photo Editing Apps For Background Removal
Indeed, it's important to point out that Zmo.ai is far from being the only solution available when it comes to such tools. While it certainly has its unique selling points and features, it arguably rests within an ecosystem of many different tools each offering their respective capabilities.
Should you find yourself in a situation where you're working to compare various tools in an effort to find a fitting solution for your needs, it would be inappropriate to ignore the abundance of alternatives that exist alongside Zmo.ai.
To assist with this exercise of comparison, to ensure you're making an informed decision, let's venture outside the boundaries of a single tool and explore the wider realm. To give you a more comprehensive picture, let's shine a spotlight on a few other options, those that stand as viable competitors or alternatives., like, Photoroom, Picsart, remove.bg.
Each app comes with its own set of strengths and weaknesses. But what makes Zmo.ai stand out is its user-friendly interface, precision, and professional results.
Video Tutorials Vs. Written Instructions: What Works Best For Me?
Everyone has their own learning style, but we've got you covered either way.
Best Resources for Video and Written Guides
Looking for video tutorials or more detailed written guides? Check out the app's website or YouTube for in-depth tutorials and helpful resources.
Best Practices for Mobile Photo Editing
With knowledge comes power, and mastering the art of background removal is just the beginning.
Lighting, Angles, and Composition
If you are looking to significantly enhance your photography skills, there are a handful of essential elements to keep at the forefront of your mind before you press that all-important shutter button and capture your image.
Think of photography as a creative art; each and every picture you take is a new opportunity to tell a story or capture a fleeting moment. To bring these silent narratives to life, it is crucial to pay attention to a set of specific factors even before you've actually taken your picture.
These components serve as the spine of a compelling photograph, the grounding elements that weave together to create the overall impact of the image. It is therefore of utmost importance that you consider these key aspects with great care and thoughtful scrutiny before you proceed to snap your shot.
Remember, by refining your approach to each frame, by carefully analysing every last detail of the scene before you, and by fine-tuning your understanding of what makes a photograph strikingly captivating, you will be on the path towards markedly improving your photography game. So, before you even think about triggering your camera shutter, make it a habit to deliberate and reflect upon these enthusiastically recommended elements that are essential to creating truly awe-inspiring photographs.
Post-Processing Tips and Tricks
Engaging in the process of photography extends beyond just clicking a button and capturing a moment. It involves utilizing the power of photo editing software to enhance the quality and aesthetics of your images, hence you should embrace the fun of experimentation. Open your chosen photo editing application and begin to dive deep into the plethora of options that are available at your fingertips.
These settings and tools offered by the software can make a world of difference, so experiment with them and witness how they transform your photographs. These settings aren't there just as window dressing; they have the potential to bring your images truly to life. Indulge in the process of tweaking contrast, adjusting brightness, playing with hues and maybe even attempting something else entirely. You have the freedom to experiment with simple or complex changes as much as you'd like until you're satisfied with the result.
There's a certain joy in exploring the unknown and every edit you make can completely change your image, sometimes for the better. Give your creativity free rein, and you should discover new perspectives and interpretations for your images that you might not have been aware of initially.
So as you embark on this journey of image manipulation, keep in mind that the goal here is not just to modify an image, but rather to unlock the true power and potential within it. Don't shy away from playing around with unfamiliar effects or experimenting with settings you haven't tried yet, because that's where the real fun of photo editing lies. Through exploring these varying options and experimenting with a mixture of combinations, you can evoke different feelings, narratives, and aesthetics, thus bringing out the real essence of your photographs. Remember, digital photography isn't a one-step process; it's an art form that encourages continual experimentation and learning.
Wrapping Up: Embrace the World of Background Removal
It's time to make the world your canvas by transforming any picture into a masterpiece.
---
FAQs
Q: Is Zmo.ai really that easy to use?
A: Absolutely! Zmo.ai has been designed to be user-friendly and intuitive.
Q: Does Zmo.ai only remove backgrounds?
A: No, Zmo.ai provides a multitude of photo editing capabilities, background removal is just one of them.
Q: Can I use Zmo.ai on any smartphone?
A: Yes, Zmo.ai is available for both Android and iOS devices.
Q: How does Zmo.ai compare to desktop photo editing software?
A: Zmo.ai offers many of the same features as professional desktop software but in a more convenient mobile format.
Q: Can I share my edited photos directly from Zmo.ai to social media?
A: Yes, Zmo.ai can directly share your edited photos to various social media platforms.