Introduction
In a digital world dominated by visual content, having the right tools to edit and enhance images is crucial for individuals and businesses alike. ZMO.AI is an exceptional AI-powered image editor that offers a wide range of features to transform ordinary images into stunning masterpieces. Whether you are a professional photographer, a social media influencer, or just someone who loves to edit photos, ZMO.AI's intuitive interface and powerful capabilities make it an ideal choice. In this article, we will explore how to use ZMO's AI image editor, highlighting its key features and providing step-by-step guidance.
1. Getting Started with ZMO.AI
Creating an Account
To begin using ZMO's AI image editor, the first step is to create an account on their website. Simply visit [zmo.ai](https://zmo.ai) and sign up by providing your email address and a password. Once you have successfully registered, you'll have access to all the features and capabilities of ZMO.AI.
Uploading Images
After creating an account, you can start editing your images by uploading them to the ZMO.AI platform. Click on the "Upload" button and select the desired images from your computer or cloud storage. ZMO.AI supports various image formats, ensuring compatibility with different file types.
2. Basic Editing Tools
Cropping and Resizing Images
ZMO.AI makes it easy to crop and resize your images to suit your specific needs. To crop an image, select the cropping tool and adjust the frame to define the desired area. You can also choose from predefined aspect ratios for common social media platforms or create custom dimensions. Resizing an image is equally straightforward. Enter the desired width or height values, and ZMO.AI will automatically adjust the other dimension to maintain the image's aspect ratio.
Adjusting Brightness and Contrast
Achieving the perfect lighting and contrast is essential for captivating images. ZMO.AI's image editor provides intuitive sliders to adjust brightness, contrast, highlights, shadows, and other parameters. Experiment with these settings to create the desired mood and emphasize the key elements of your photos.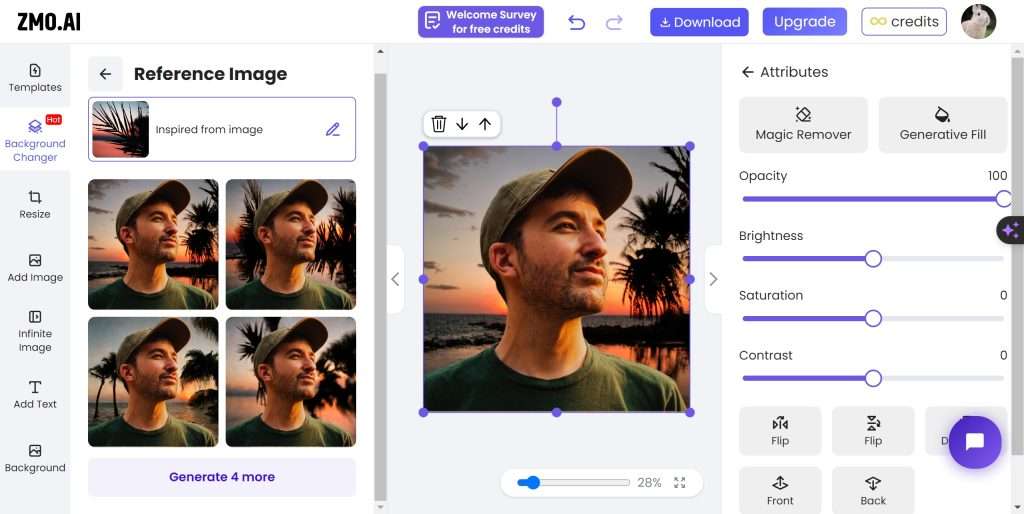 3. Advanced Enhancements
Automatic Image Enhancement
For quick and effortless image enhancements, ZMO.AI offers an automatic enhancement feature. With a single click, the AI-powered editor analyzes your image and applies adjustments to optimize its overall appearance. This feature is particularly helpful when you have multiple images to edit and want to save time while still achieving impressive results.
Removing Unwanted Objects
Sometimes, unwanted objects or people can detract from the visual impact of an image. ZMO.AI's AI image editor simplifies the process of removing such elements. Using advanced algorithms, you can easily select the unwanted objects and let the editor intelligently erase them, leaving no traces behind. This feature is incredibly handy for cleaning up images and creating a more focused composition.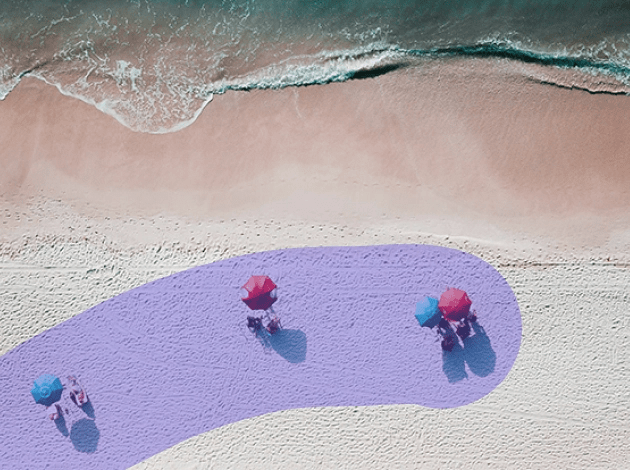 4. Creative Filters and Effects
Applying Filters and Presets
To give your images a distinct look and feel, ZMO.AI's image editor provides a wide range of creative filters and presets. Experiment with various styles, such as vintage, black and white, sepia, or dreamy effects, to add a personal touch to your photos. You can also adjust the intensity of these effects to achieve the desired level of aesthetic enhancement.
Adding Text and Overlays
ZMO.AI's image editor allows you to add text and overlays to your images, enabling you to create engaging visuals for social media, presentations, or personal projects. Choose from a variety of fonts, adjust the text position, size, and color, and add creative overlays such as shapes or icons. This feature unlocks endless possibilities for expressing your creativity.
5. Background Removal and Change
Magic Remove Feature
ZMO.AI's Magic Remove feature is a game-changer when it comes to removing backgrounds from images. With just a few clicks, you can isolate the main subject and remove the background, instantly making your images more versatile and impactful. Whether you want to place your subject on a different background or create transparent images, this feature provides exceptional precision and ease of use.
Background Changer
Beyond removing backgrounds, ZMO.AI's image editor goes a step further by providing a background changer feature. With this tool, you can effortlessly replace the original background with a new image or choose from a selection of preloaded backgrounds. This feature is particularly useful for creating product images, professional headshots, or eye-catching visuals for social media.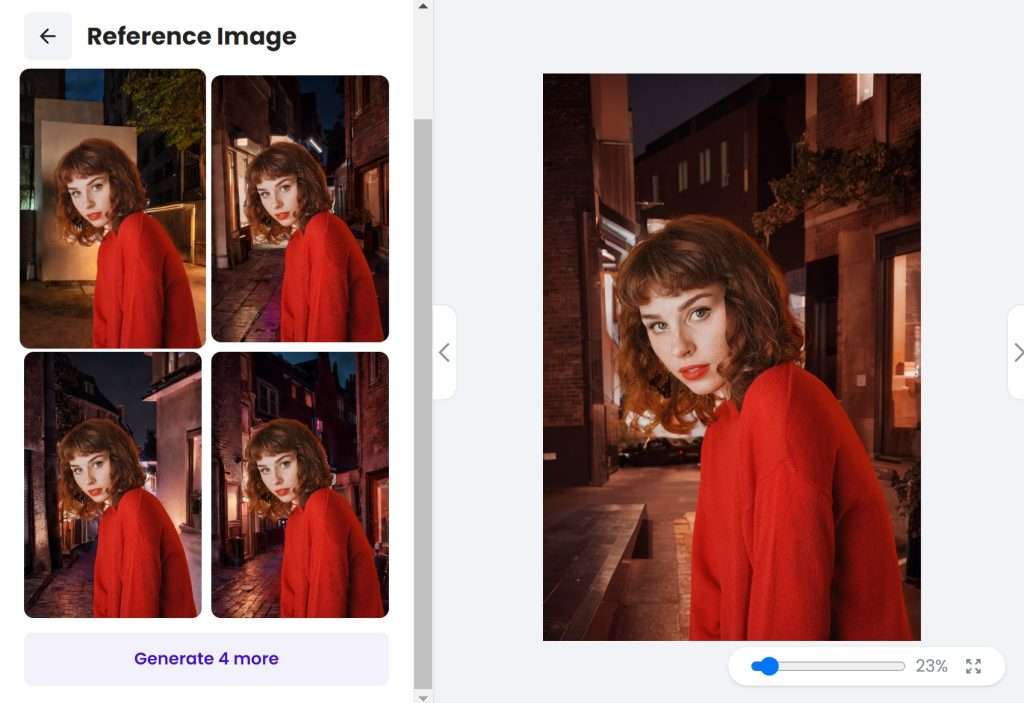 6. Saving and Exporting Your Edited Images
Once you're satisfied with your edits, ZMO.AI allows you to save and export your images in various formats. Whether you need high-resolution files for print or optimized images for web sharing, ZMO.AI provides flexibility. Choose the appropriate format, adjust compression settings if needed, and save your creations to your preferred location or directly share them on social media platforms.
Conclusion
ZMO.AI's AI image editor unleashes your creative potential, providing an intuitive and powerful platform to enhance and transform your images. From basic editing tools to advanced features like background removal and creative filters, ZMO.AI offers a comprehensive solution for all your image editing needs. With its user-friendly interface and impressive AI capabilities, you'll be able to take your photos to the next level and captivate your audience in ways you never thought possible.
FAQs
1. Is ZMO.AI's image editor available for free?
Yes, ZMO.AI offers a free version of its image editor with limited features. However, they also provide a premium subscription plan that unlocks additional capabilities and advanced editing tools.
2. Can I use ZMO.AI's image editor on my mobile device?
Absolutely! ZMO.AI's image editor is available as a mobile app for both iOS and Android devices. You can enjoy the convenience of editing your photos on the go.
3. Does ZMO.AI's image editor support batch processing?
Yes, ZMO.AI allows you to batch process multiple images simultaneously, saving you precious time and effort. This feature is especially useful for photographers and content creators working with large volumes of images.
4. Can I undo changes in ZMO.AI's image editor?
Yes, ZMO.AI provides a comprehensive undo and redo functionality, allowing you to revert any changes you made and start from a previous state. This ensures maximum flexibility and control over your editing process.
5. Is my data secure on ZMO.AI's platform?
ZMO.AI takes data security and privacy seriously. They employ robust measures to protect your personal information and ensure that your images are treated with the utmost confidentiality.