What is the most annoying and endless work for the professional photographer. Yes! It is the photo editing. No matter you are a photograph worker or image editing amateur, it is hard and time waste job for editing. That's why this article want to help you. Have you ever heard the AI photo editor for your work assistance? With the AI development and more research comes out and the AI algorithm is becoming more and more mature. Based on the such research, for now it is wise to choose a AI photo editor for saving time and throw away the intricate tedious work. However, different AI-powered tool or software also offer the various functions for their user. Therefore, in this article we will explore the AI background removing function in this article. What's the user-friendly background changer of the AI photo editor and how to use the AI photo editor with the best performance for the changing background or remove background. I believe that this article may help you!
What is the AI background changer
The AI Background Changer is an advanced tool designed for both professional photographers and hobbyists. It aids in removing and altering backgrounds in photos. This tool, a function in the AI photo editor suite, utilizes machine learning algorithms to automatically identify and manipulate your image's background. To function effectively, it requires training through a machine learning model and a vast dataset for photo recognition. This learning process ensures the addition or removal of elements in the image, optimizing the overall visual appeal.
Three Features Of The Background Changer
There are three benefit for using the background changer, including:
Precise And Accurate Selection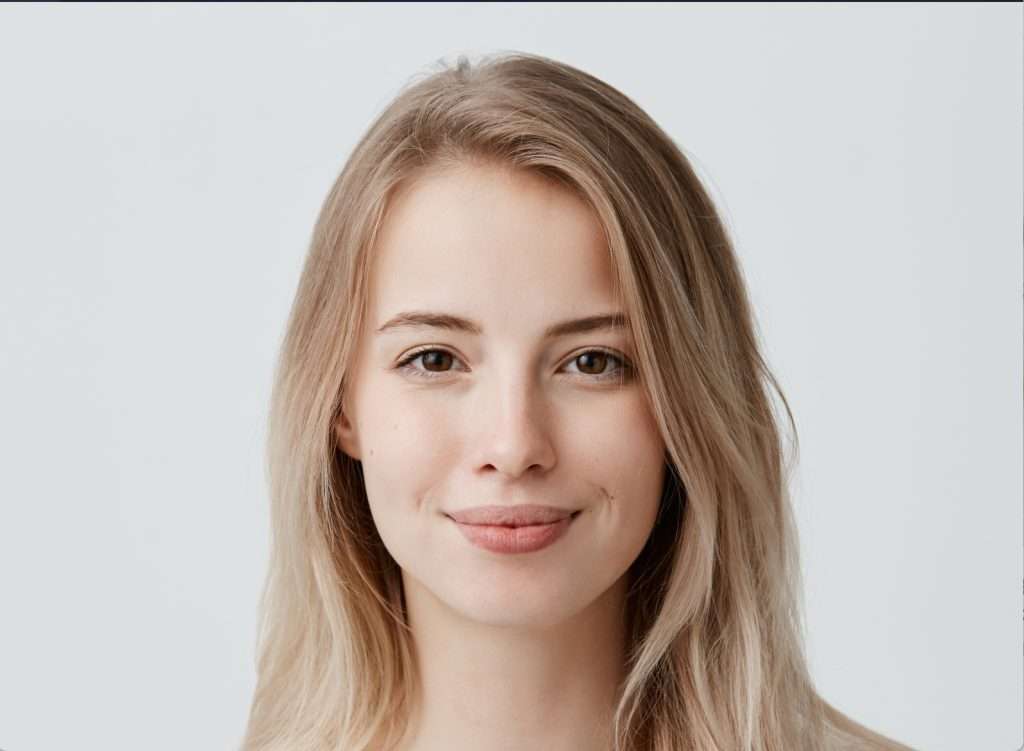 Before Background Removing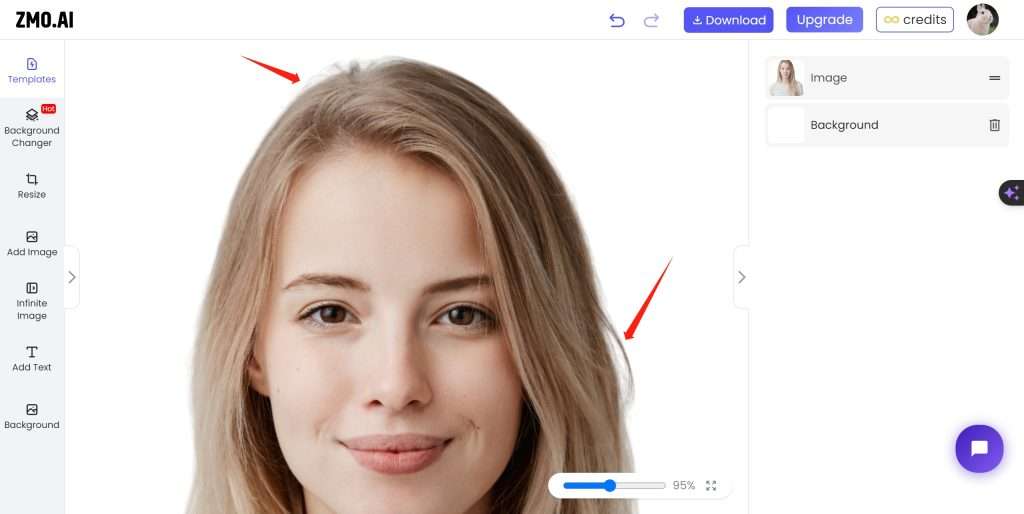 After Background Removing
Using artificial intelligence as the driving force, background removers are designed with advanced algorithms that guarantee exactitude and pinpoint precision. They possess the remarkable capability to identify and distinguish even the minutest and most intricate details that are ensconced within an image. This extraordinary feature enhances the ease of process, making the removal of backgrounds smooth and error-free.
Consider the image showcased above as a prime example of this technology. One can witness how impeccably the picture has been partitioned, resulting in a cutout, the clarity and perfection of which will surely leave you amazed. The fine details of this portrait image have been maintained diligently, capturing every single aspect in its entirety.
Speaking specifically for the woman's hair in the picture – where the complexity lies in capturing each strand perfectly – it has been preserved to the fullest, without any signs of interference or artificial editing. The completion of the task is so perfect that it leaves no room to question the originality of the image.
Adding to this, these dynamic AI-powered tools offer you another advantage. Suppose you wish to incorporate more elements in the picture or plan some alterations, rest assured, the integrity of your image remains untouched. The way these background removers operate ensures that there is no reason to worry about an image turning imperfect. Indeed, they instill a sense of trust in professionals and hobbyists alike by upholding the quality and authenticity of the picture, regardless of the transformations or enhancements chosen to be embarked upon.
More Efficiency Than Manual Edit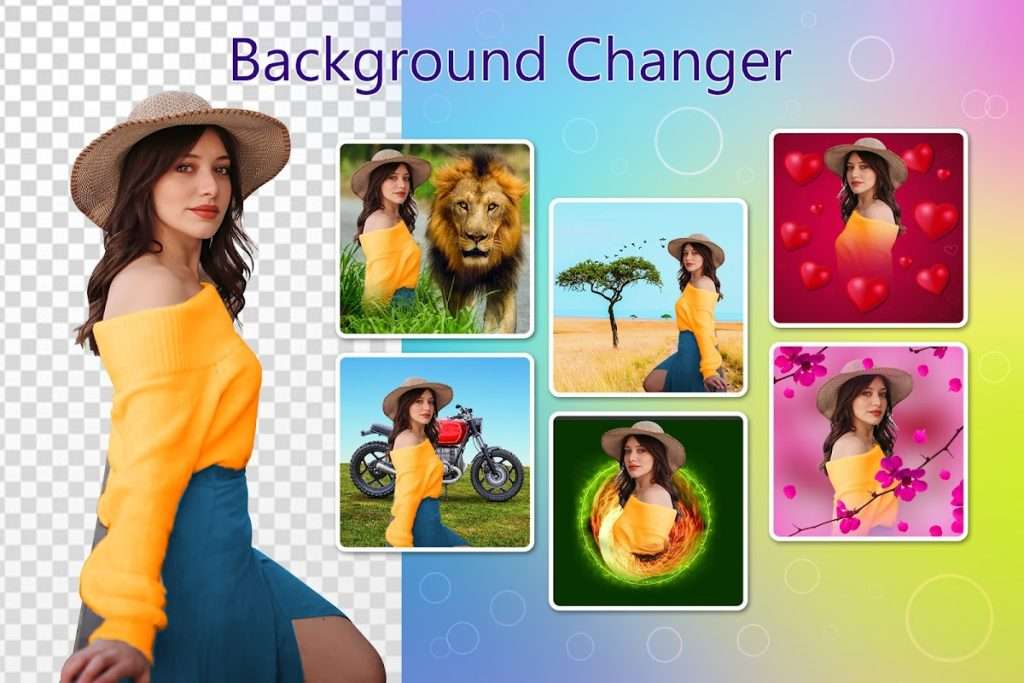 Harnessing the potential of artificial intelligence powered photo editors, one can expediently erase the background from any given image. This innovative technique not only catapults the efficiency levels but also aids in preserving valuable time that was earlier lavished on the painstaking process of manually segregating the foreground from the background in a picture or a graphic element.
Moreover, these AI-infused background removal tools extend an extremely cost-effective and economically viable alternative, eliminating the need to outsource the job to an exorbitantly priced professional graphic designer. This, in turn, significantly curtails your expenditure, thus proving to be a boon for smaller budgets and businesses on a shoestring budget.
In the traditional photo editing realm, it can be a daunting task to proficiently select and edit minute details of an image, particularly intricate facets such as hair which often presents itself as a messy and complex area. The effort required is enormous and the manual process can consume an immense amount of your time which could be better utilized elsewhere.
However, the advent of AI has transformed this landscape. The answer to this pervasive predicament has finally materialized. The AI photo editor's sophisticated feature of background alteration simplifies the task to such a degree that it can be accomplished within a few fleeting seconds.
By integrating artificial intelligence technology with photo editing, the process is now transformed from a time-consuming chore to an effortlessly swift action, setting a new benchmark for efficacy and convenience in the sphere of digital image editing.
Easy Handling Every Situations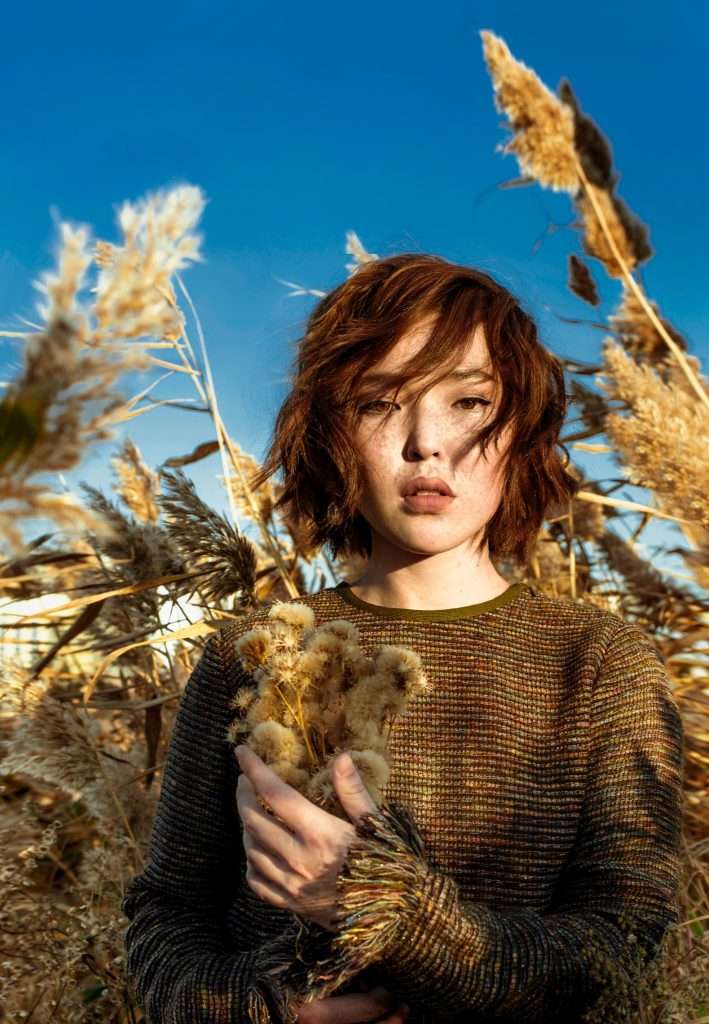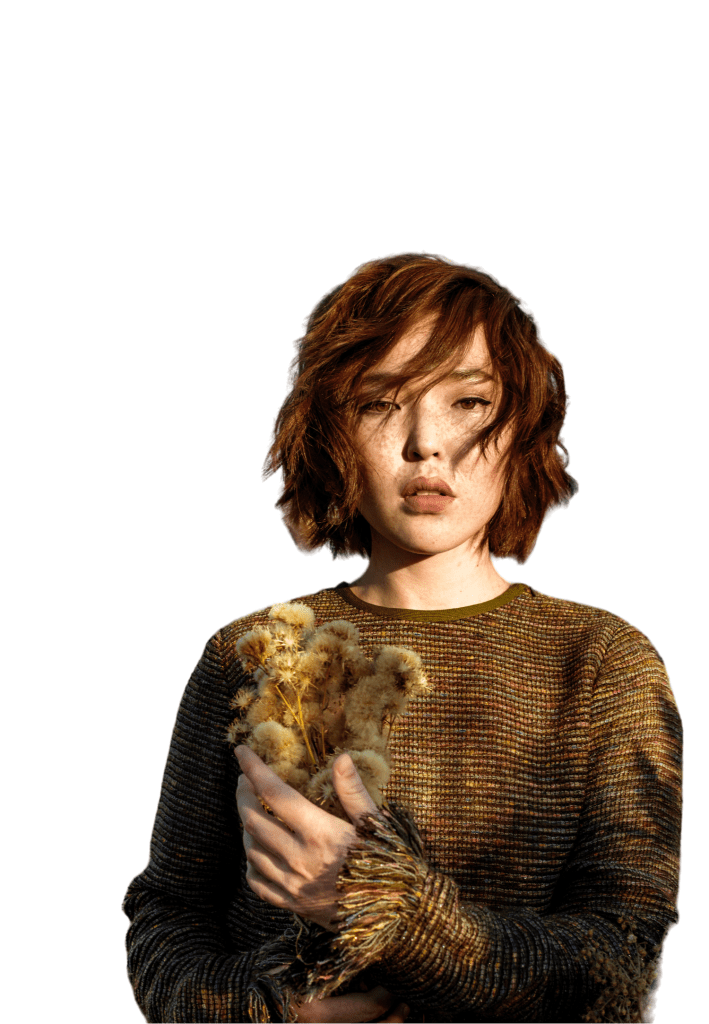 After ZMO Background Removing
Artificial intelligence-based photo editing tools exhibit an exceptional level of proficiency when it comes to grappling with complex backdrops and intricate minutiae within images. They possess an accurate discernment capability that allows these advanced software solutions to correctly identify and effectively separate the main subjects from the potentially perplexing environment they may inhabit in a given photograph.
This extraordinary skill is incredibly important because it ensures the conservation of every minute, sensitive element in the image – details that may seem trivial but indeed contribute to the overall realism of a photograph. Think about individual strands of hair fluttering in the wind or complex patterns intricately weaved into a fabric; these elements matter in the grand scheme of things and AI photo editors are designed to keep them intact.
Moreover, this effective subject isolation from potentially distracting backgrounds and preserving even the finest of details, leads to a production of magnificent, high-quality edited images which are not only aesthetically pleasing but also impressively lifelike. The outcome is always a testament to the realism that artificial intelligence can bring to the realm of photo editing, consistently delivering results that are nothing short of excellent.
Easy Steps To Be Pro With ZMO's AI Photo editor
With ZMO.AI's advanced AI photo editor tools at your disposal, you have access to a diverse array of functionalities for manipulating and creating stunning images. From effortlessly removing unwanted objects to generating captivating artwork and fine-tuning your photos with precision editing options – ZMO.AI has got you covered. The innovative ImgCreator tool empowers you to bring your imagination to life by crafting unique illustrations, anime characters or even intricate 3D designs. Need to extract subjects from backgrounds? No problem! The Remover tool effortlessly eliminates distractions from your photos with just a few clicks. Furthermore, leverage the power of ZMO AI Models to swiftly generate high-quality model images that not only save time but also reduce costs while promoting inclusivity within the fashion industry. Somebody may be doubt that whether background remover of ZMO's AI photo editor is easy use. Now let me to guide you with few steps and you can also be a professional photographer with ZMO's AI photo editor.
If you are a photographer or amateur and you want to edit the photo or change background, ZMO's AI photo editor is your best choice. You can get your acquired photo by AI-empowered algorithm tool. It can automatically remove and transform the background in few seconds with unbelievable speed.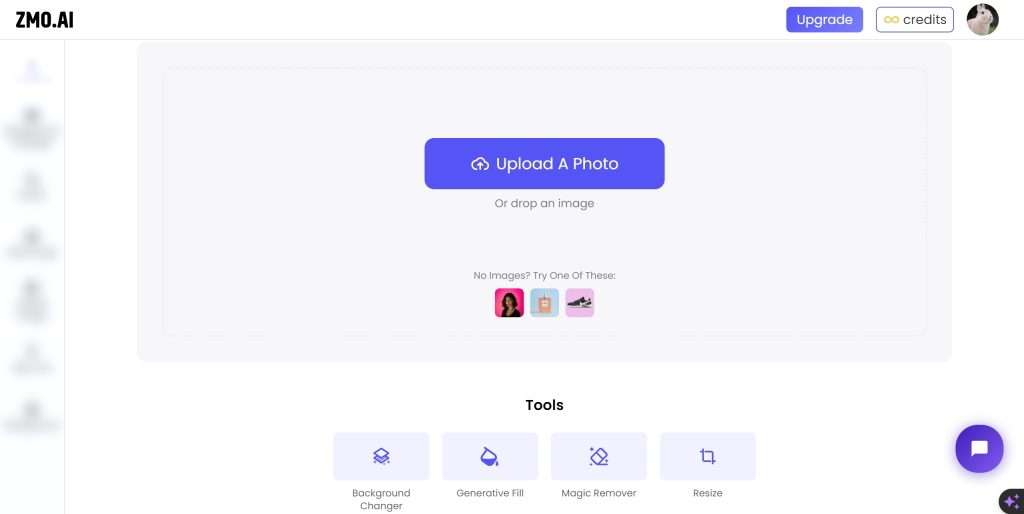 Step 1: Enter The Website And Login
Enter the website of ZMO's AI photo editor. Click the upload a photo button and choose the image that you want to Edit.
Step:2 Automatically Remove and Edit
As the picture shown, the AI photo editor removed background fully automatically. You needn't to have other click to edit the image. But if you want add the new background for this image. Just click the background changer to continue.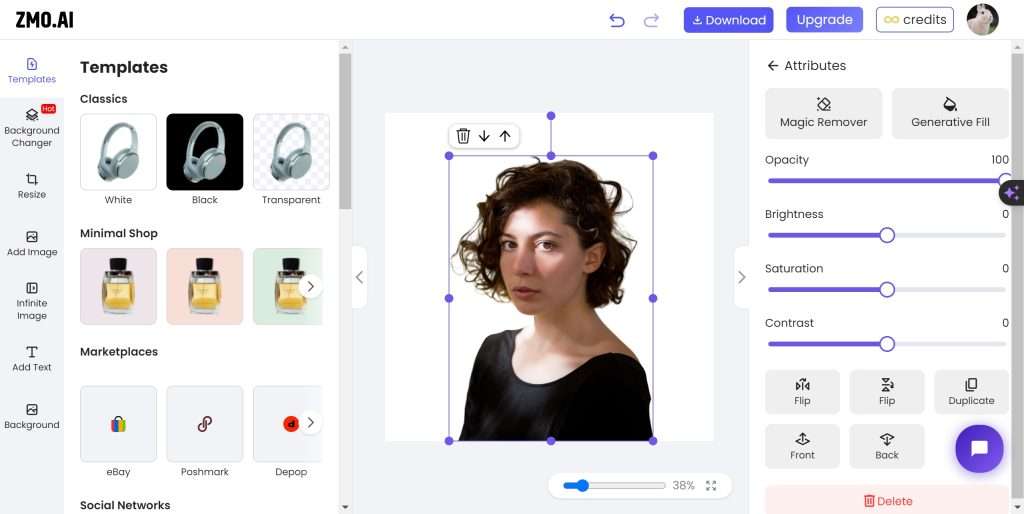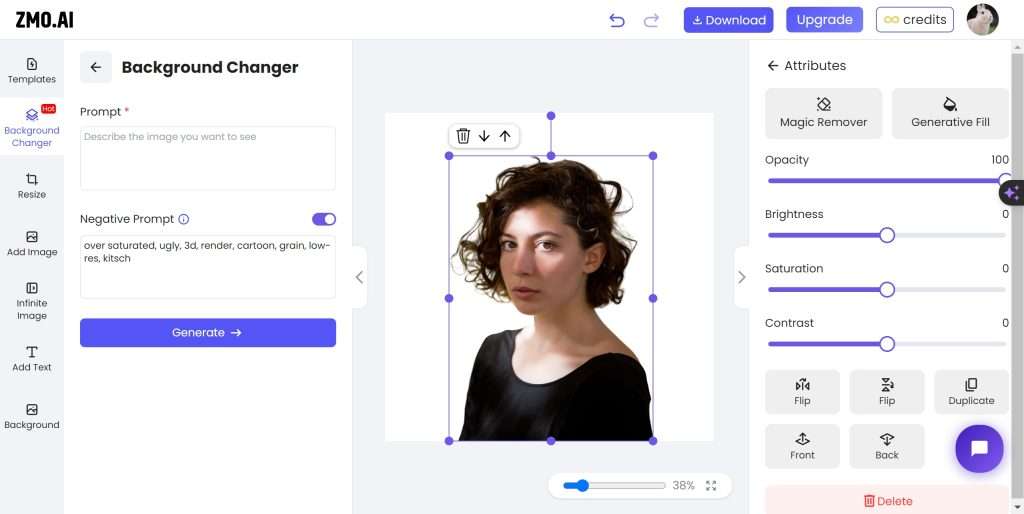 Step 3: Choose your ideal background or describe your imagination background
Besides trending sample, you can also write your imagination background in the prompt. And the AI photo editor can generate your required background. More over, there are 4 different situations for you choose.
Step 4: According your requirement and add some items in the picture
ZMO's AI photo editor also provide the some useful AI-powered function such as generative fill for the image. If you are a photographer, definitely you will need a item added function. ZMO's generative fill can satisfy your requirement perfectly. Send your requirement and generate the image you needed!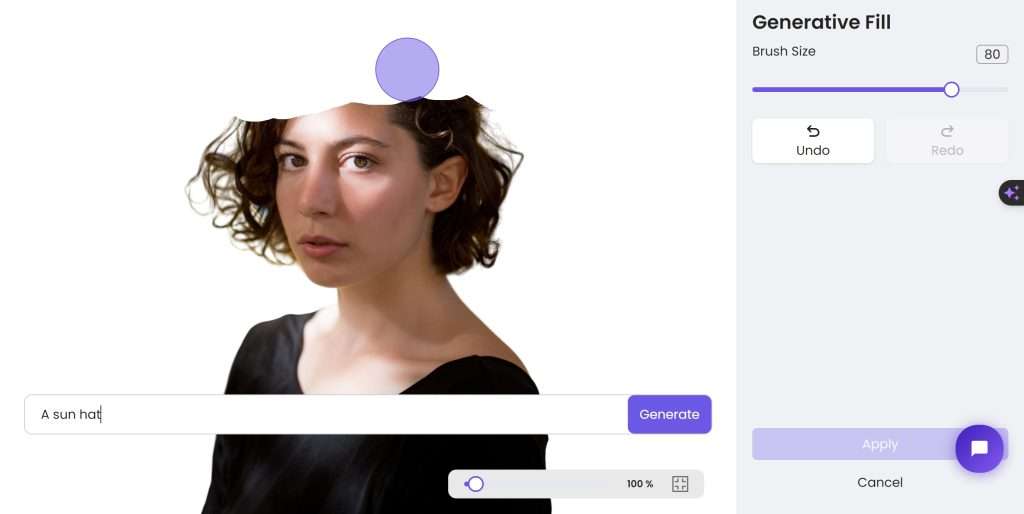 Finish and start to enjoy your image!
All work is finished and just takes 4 steps to generate unique photo with high efficiency. Try to use AI photo editor for your photo editing!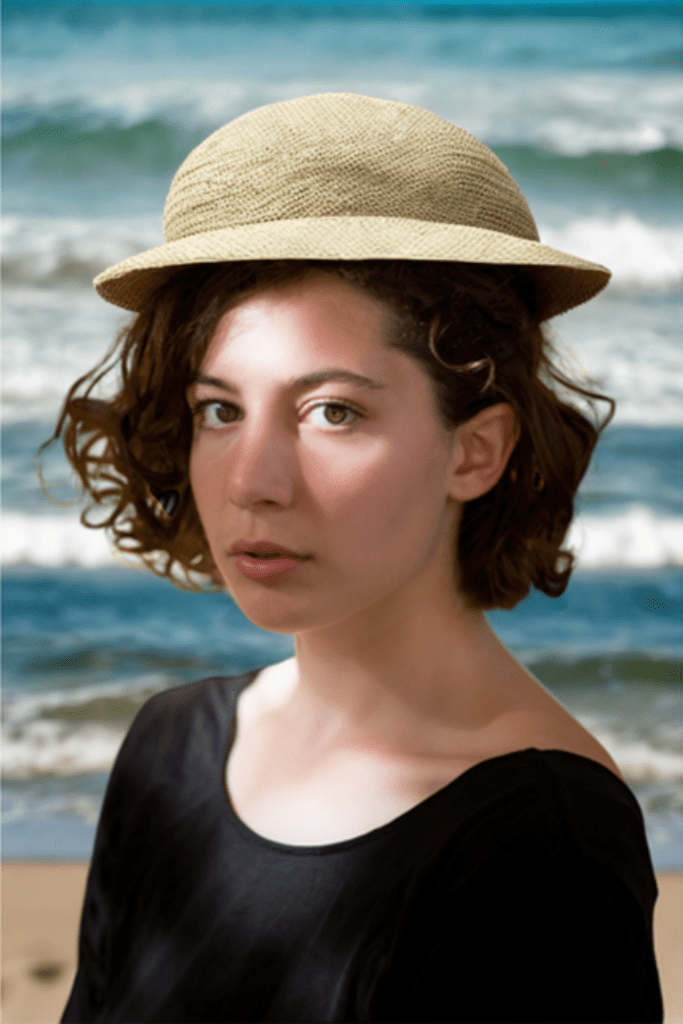 If you are responsible for ecommerce business photo edting. There will be a lot of product image to be edited. With ZMO's AI photo editor, you can easily generate the plenty image with different background and item you needed. So let us set a mission that we need to edit. The mission is that we need to generate a product image and the product need to be stayed in a green leaf scene.
Step 1: Upload your image to edit
As the content said above, ZMO's AI photo editor will identity and remove your image background automatically. In the template function you can find many customize choice for your product image editing. You can choose the sample for your quick editing. In the example display you can easily finish the work. But for this guidance, we will keep exploring and complete the work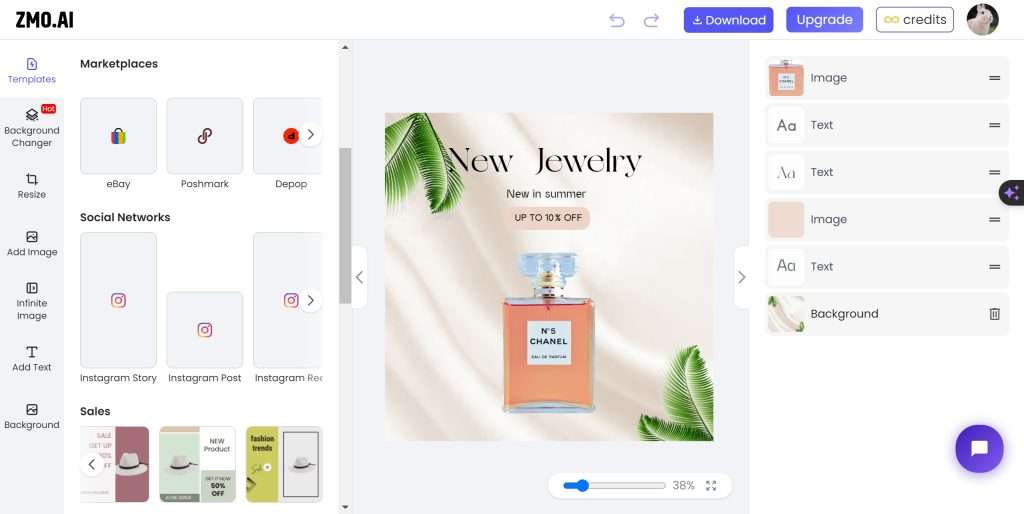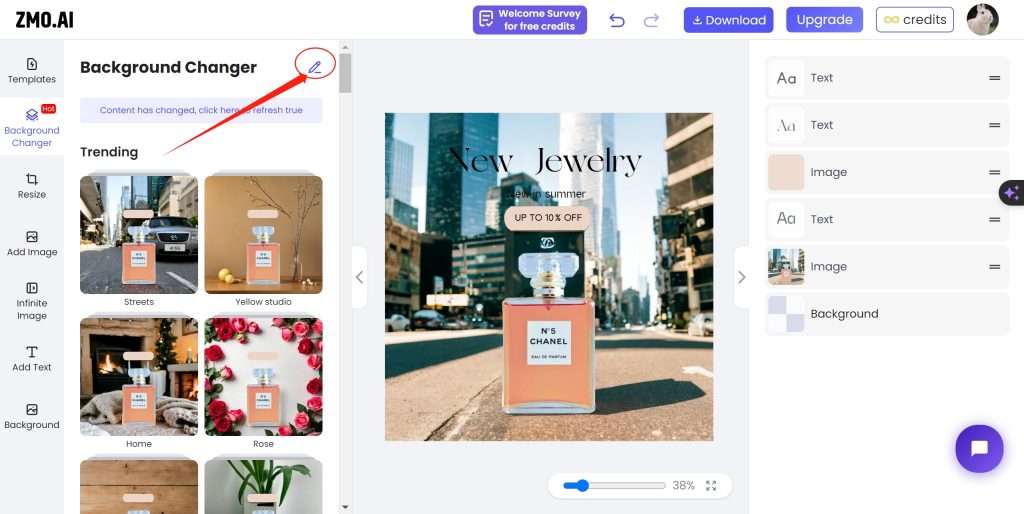 Step 2: Click the background changer to choose or generate the background
What's make the ZMO's AI photo editor special is that ZMO can change the background you want by AI content prompting. You just import the content and AI start to identity your content and generate the image what you want! For now, try to click the circle marking and write "in the forest with green leaf and wait few seconds to wait. 
Only 2 steps to finish the work. Let's start to try to improve your efficiency and speed!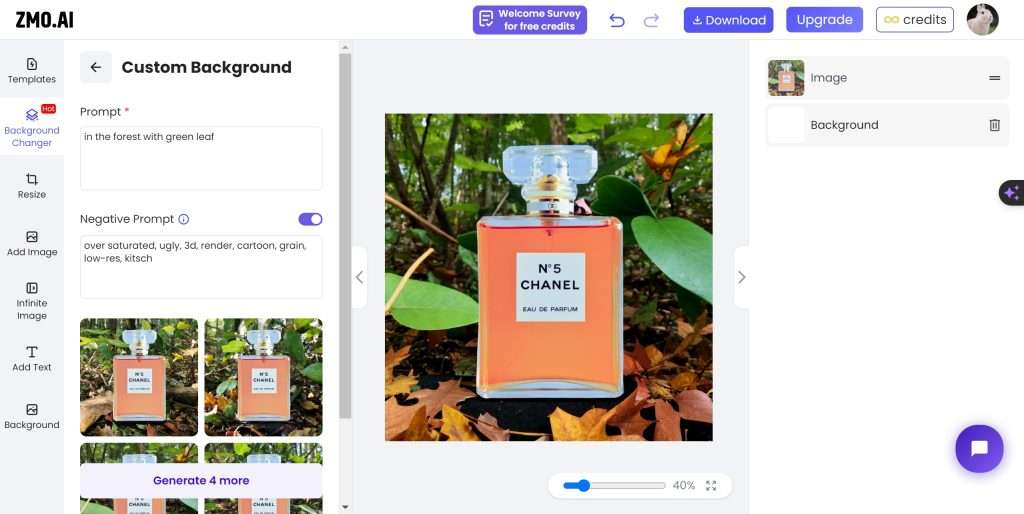 ZMO: The Best AI Photo Editor
For the changing background function. Here's a top 10 list of changing background. Click to learn more information. Not only ZMO' s AI Photo editor has the function of changing background, but also ZMO has sufficient function for users. Therefore, what's make the ZMO so special?
Advanced AI Algorithm
With its advanced AI algorithms, ZMO guarantees precise and accurate results when it comes to removing backgrounds. This powerful AI photo editor effortlessly handles even the most challenging backgrounds and intricate details.
Easy Design interface
Users of all skill levels can easily navigate the user-friendly interface of this free background remover. The intuitive design simplifies the process of removing backgrounds and enhances the overall editing experience, making it accessible for everyone.
Multiple Choice Available
The AI photo editor boasts a user-friendly interface, ensuring that users of all skill levels can easily navigate through its features. With its intuitive design, the background removal process is made simpler, ultimately enhancing the overall editing experience.