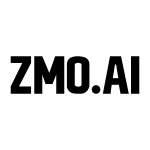 Junbo.Zeng
How Can ImgCreator background changer do?
ImgCreator.ai's AI-powered background changer tool is a versatile and innovative solution designed to enhance personal profiles, product images, and even furniture and pet photos.
This tool utilizes advanced artificial intelligence algorithms to seamlessly and accurately replace backgrounds in images, creating visually appealing and professional-looking results.
Table of Contents
This tool involves AI-driven technology to automatically detect and remove the existing background from an image.
Once the original background is removed, you can choose from a variety of background options or upload your own.
E-commerce businesses and sellers can benefit from the tool by creating consistent and appealing product images. Backgrounds can be changed to match a brand's aesthetic or to highlight product features effectively.
The AI algorithms employed by the tool ensure that the final images maintain high quality and realism. The transitions between the subject and the new background appear seamless and natural.
In this blog post, we're going to show you how ImgCreator.ai changes the photo backgrounds for you.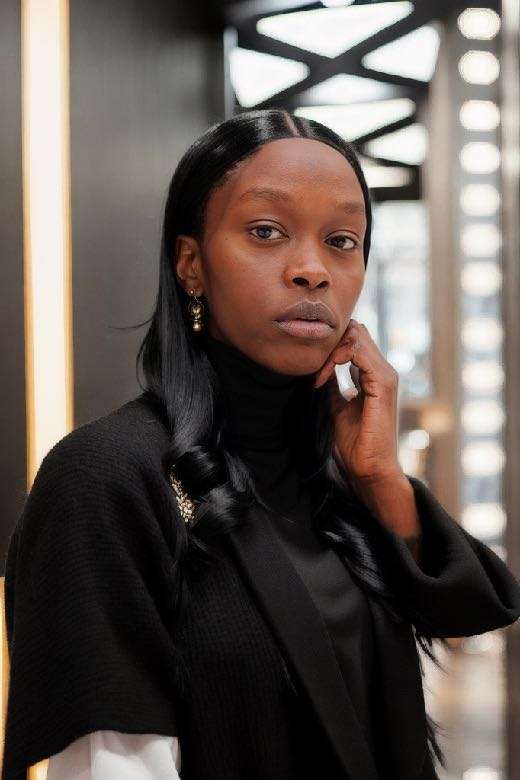 1. How to use the ImgCreator background changer online for free
1. Visit the official website and upload your photos
Price: Free
The first step, apparently, is to visit ImgCreator.ai's official website. You can simply click HERE to go.
Next, upload your photo, and rest assured that ImgCreator.ai will remove the background automatically with the powerful AI tool. (Please note that the backgrounds of all the photos you uploaded will be removed automatically for further editing.)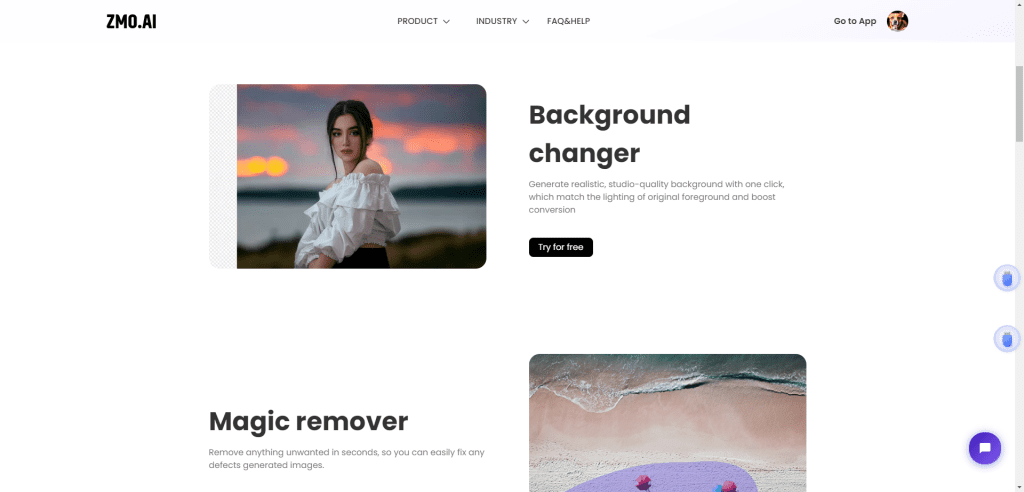 You can download the transparent PNG file as you like. But wait, there's more, please read on.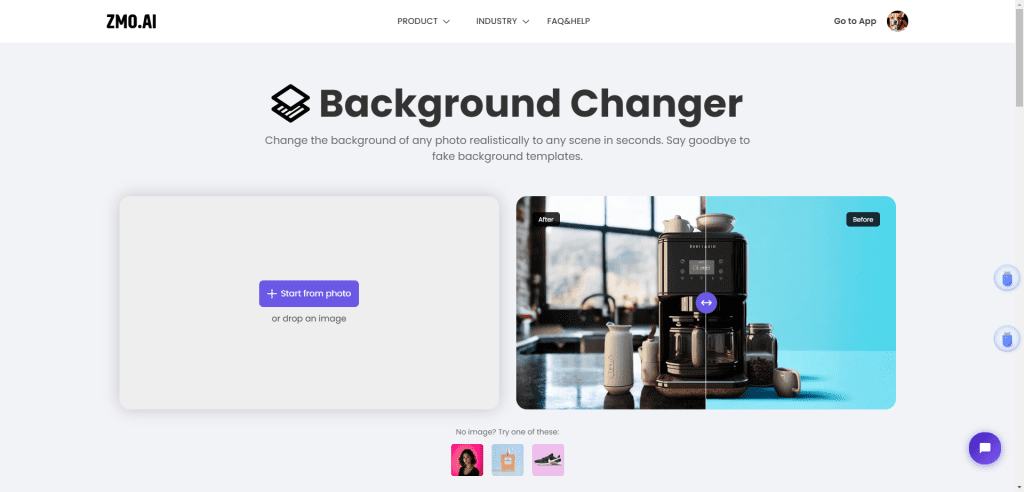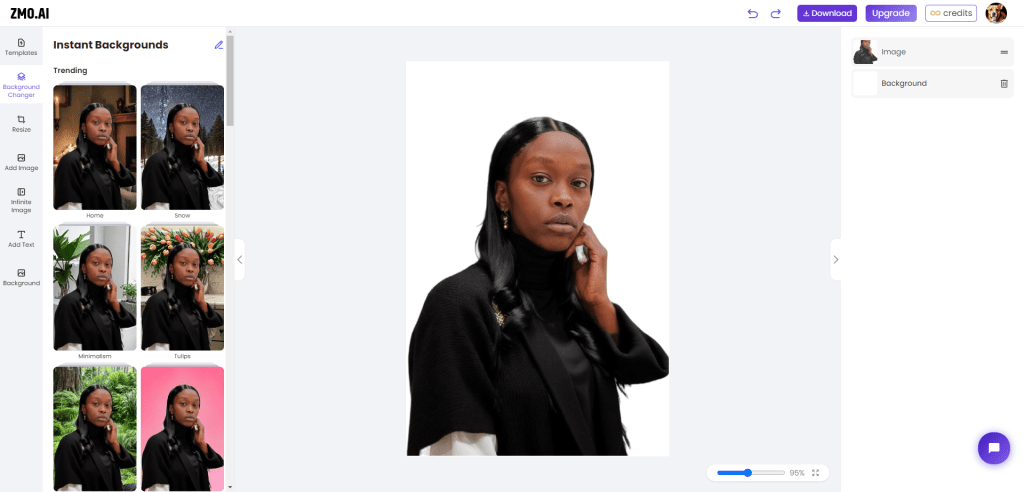 Sometimes, the subject may take too much part of your photo, which makes the photo imbalanced between the foreground and the background. Hence, you can use the right toolbar to adjust your photo subject.
2. How to edit your photo in ImgCreator.ai
If you would like to resize the subject or change its position, you can click on the subject and adjust its size or position as you like.
Let's take a look at the right toolbar. There are many options for you to adjust the photo subject such as Opacity, Brightness, Saturation, and Contrast.
Once done, you can go on and change your photo background. But if it's for e-commerce use, you can just download the white background PNG file. Also, there are many templates for your e-commerce use. Please select Templates from the left panel and choose the one you are satisfied with to apply to your photo.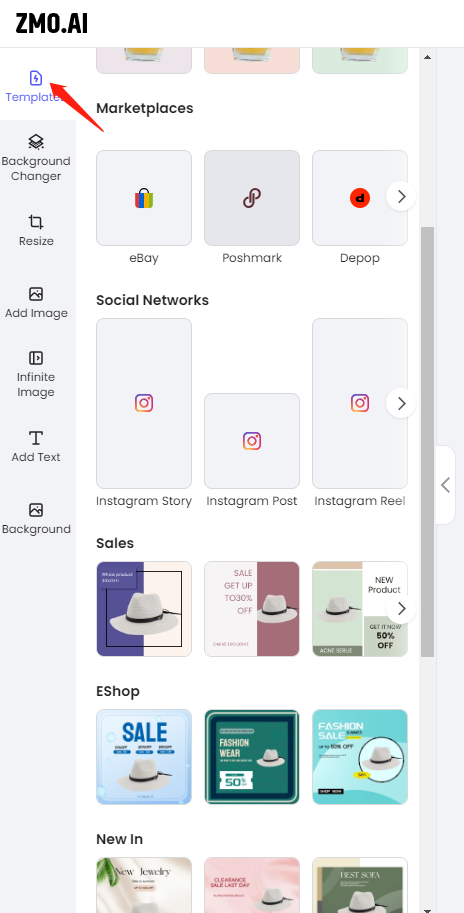 Moreover, ImgCreator provides other options like Background Changer. This one is the most powerful tool on this website.
3. Change your photo background using the provided scenes
First, select Background Changer from the left panel. Since we've resized the photo subject just now and you can see the background scenes are all blurred, you'll have to click the "Content has changed, click here to refresh true…" button.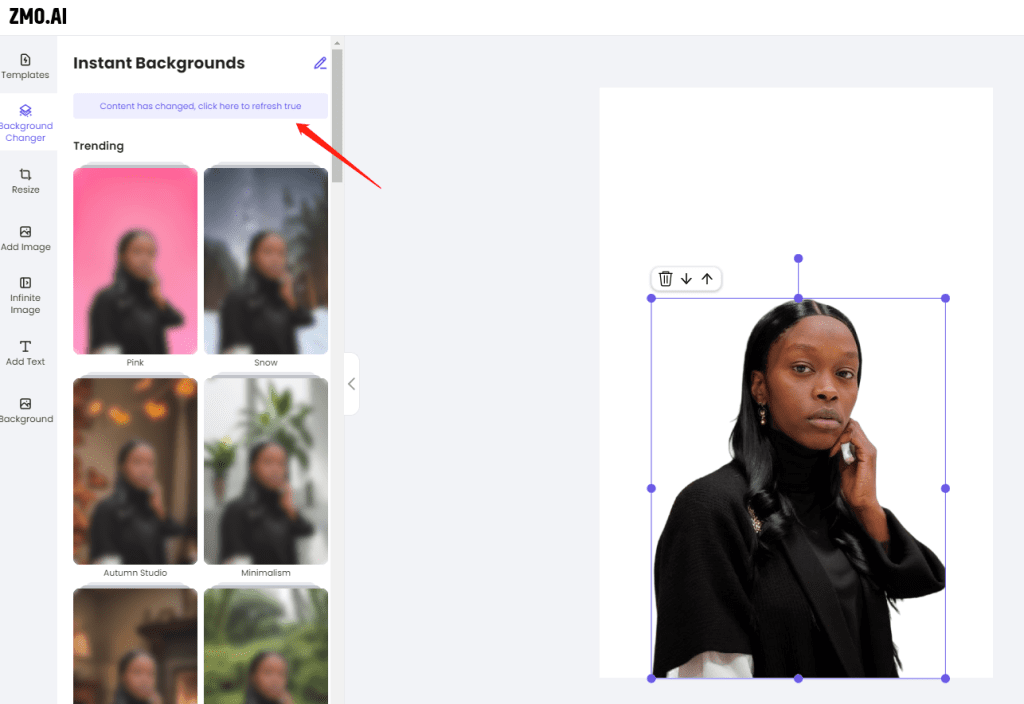 Then, the new scenes will appear to you again. There are plenty of scenes for you to change the photo background for free, especially the trending ones. They look so realistic and natural that no one would realize that these backgrounds actually don't exist.
Click one of the scenes from the left and you'll see four samples for you to edit.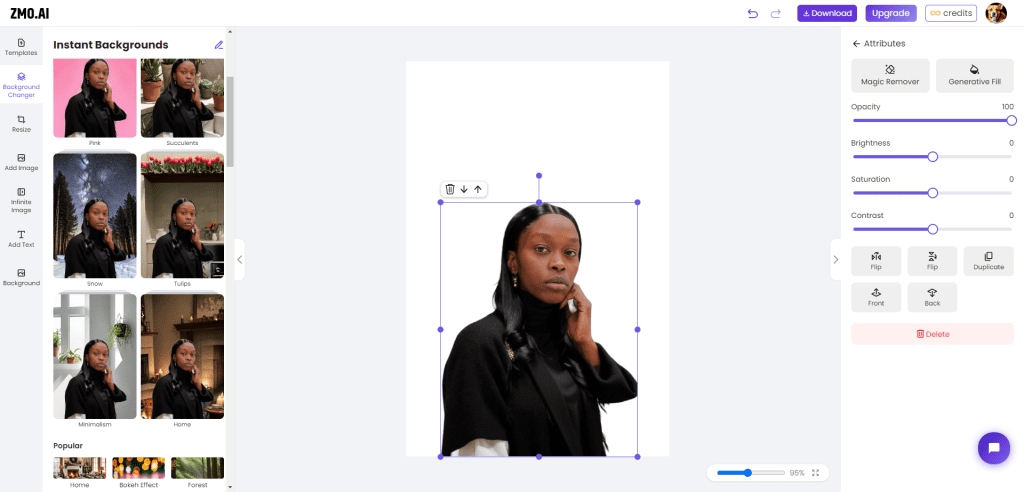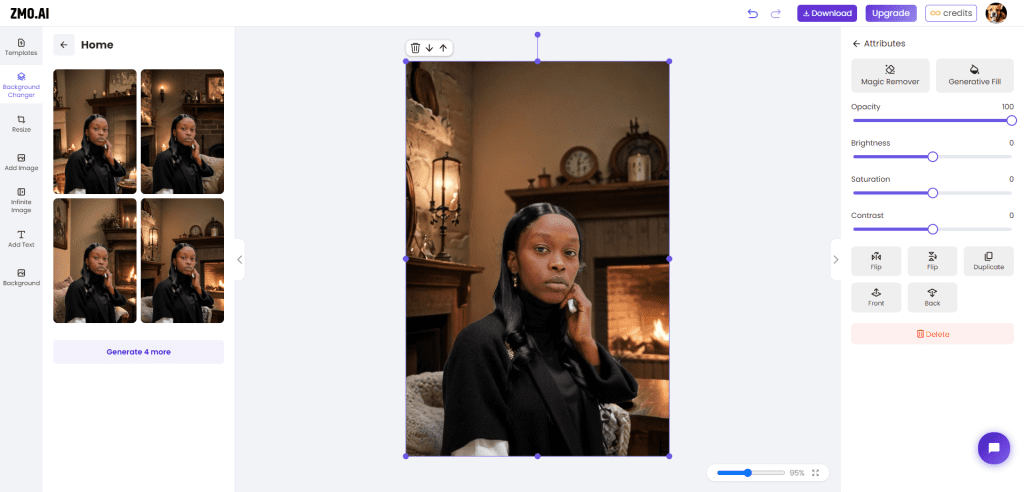 More than that, you can click the "Generate 4 more" button and the AI-powered tool will generate four more backgrounds for you.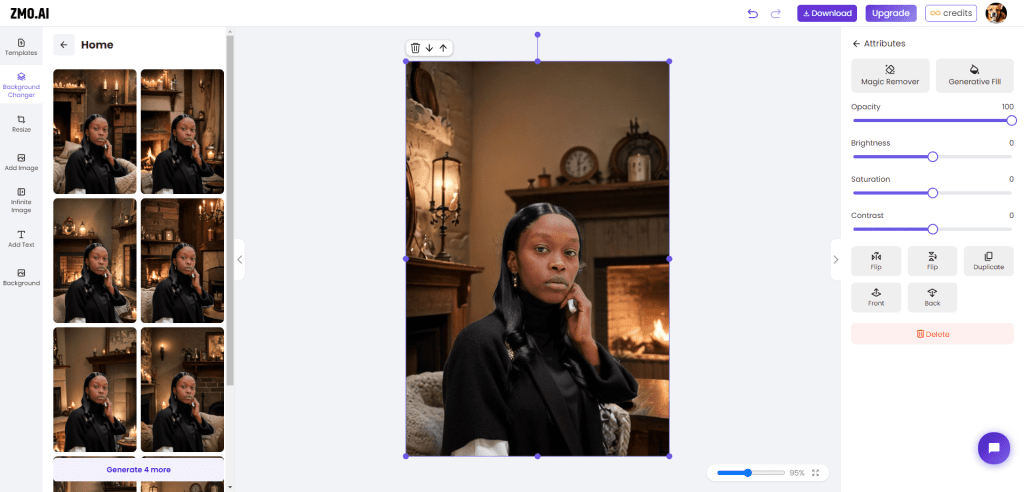 See the difference? The girl is resized to be smaller and the background is still authentic. Click one of the generated results for further editing or you can simply download the photo if you like.
However, there's more. If none of the provided scenes meets your need or requirement, you can use the free-form text input to command AI to generate the scene you desire. And this tool is called Instant Background. Please see the next step.
4. Change your photo background using freeform text input
To start with, you'll have to go back to the Home page.
Then, you'll see the editing icon next to the Instant Background, which allows you to customize your own background.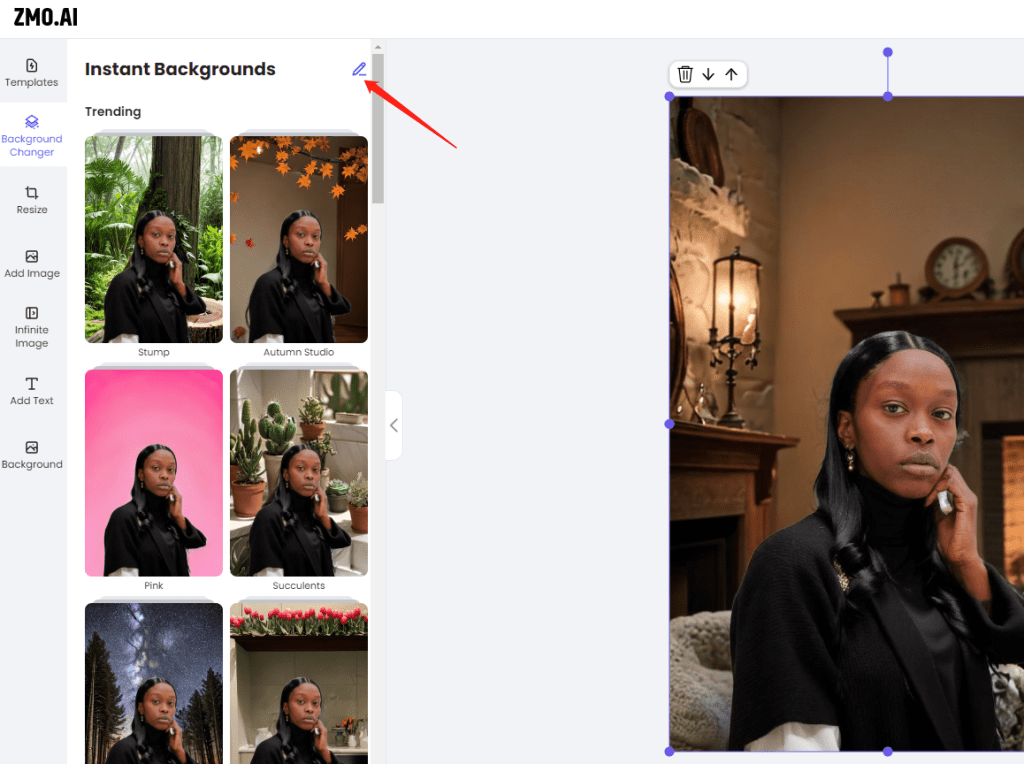 Click the Edit icon and you'll the prompt area, then input your own command following the on-screen instructions.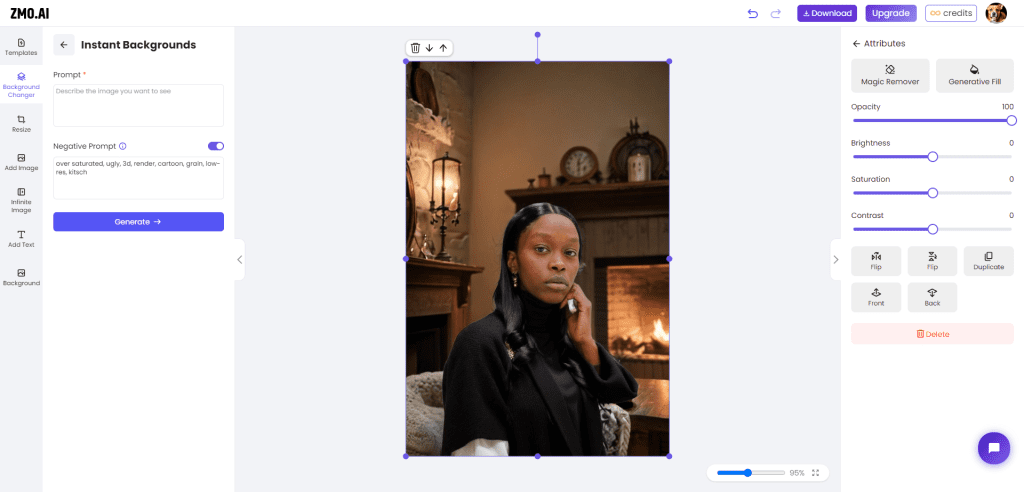 Please note that the negative prompt which commands AI not to generate the unwanted background, is pre-set by us. All you need to do is to input your prompt in the blank space.
You can use this prompt to generate the scene you want:
[Subject] on/in [a place] with [sth.] in the background.
For example, you can type " A girl in a Christmas house with fireplace in the background". Then click Generate.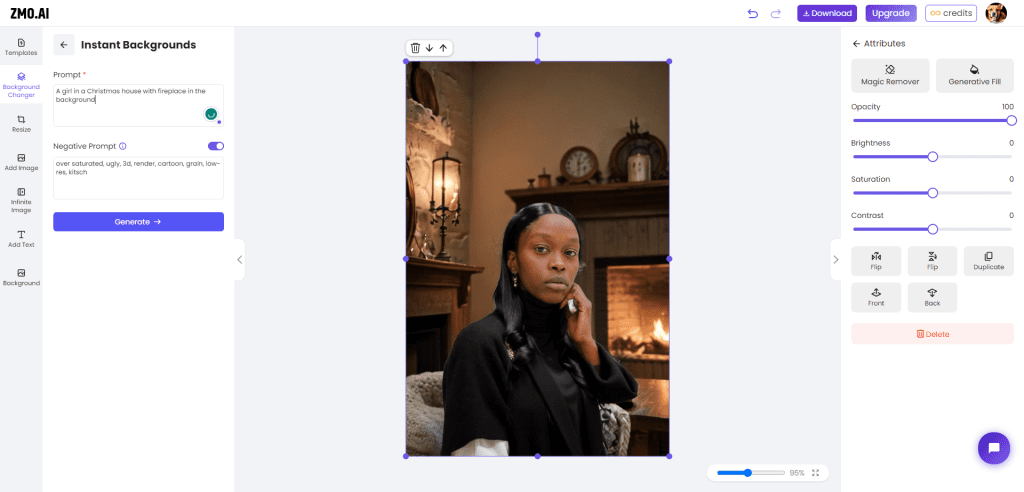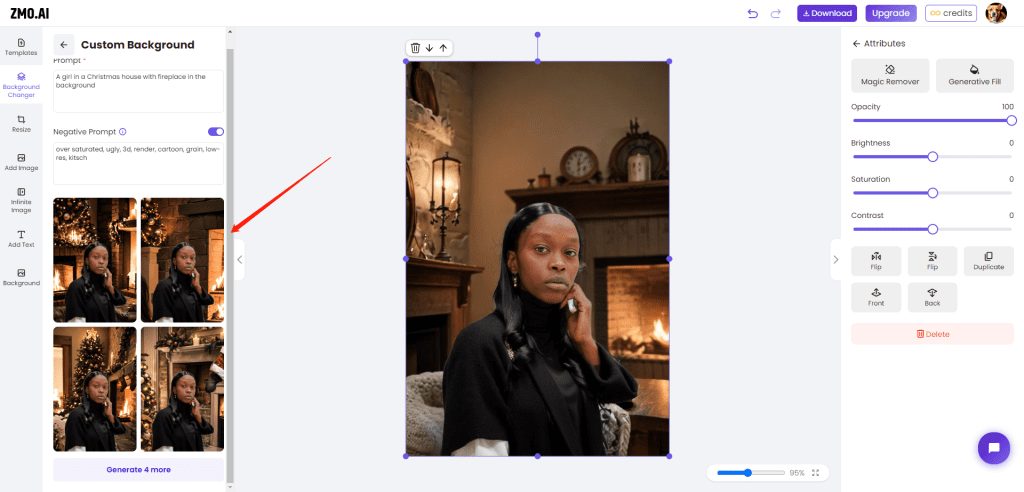 As you can see, AI creates four scenes that match your command. Choose the one you're satisfied with for further editing, or simply download the photo at high resolution for free. Fantastic!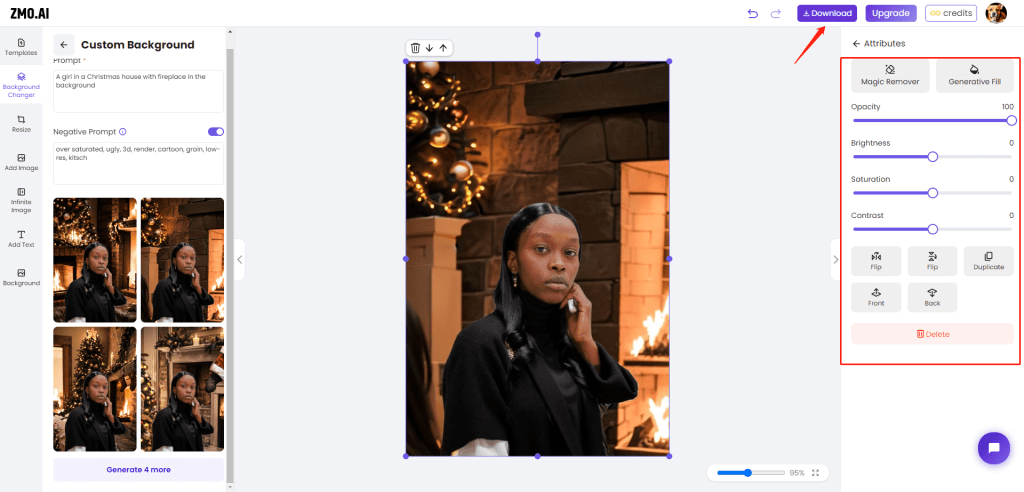 5. What other tools we can use on ImgCreator
From the left sidebar, you can see Resize, Add image, Infinite image, Add text, and Background. Let's go through these tools step by step.
The Resize tool is usually for social media and marketing use. Different social media platforms require different sizes of images. Take, Instagram, for example, it requires a size of 1080*1920 for Instagram Story. You can choose this one if you need to post an Instagram Story photo.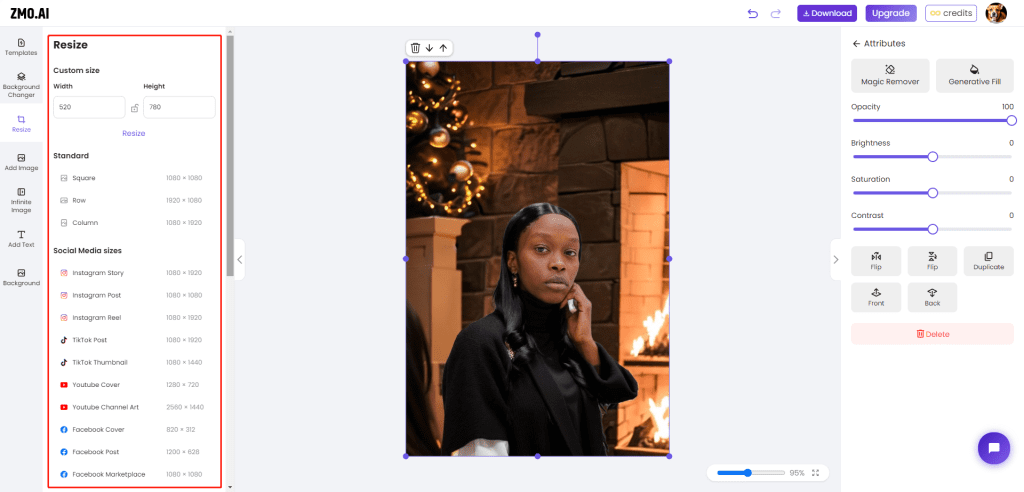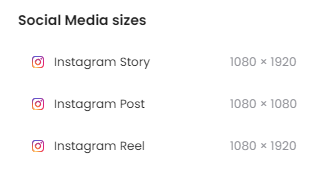 The next one is the Add Image tool. This tool allows you to upload your own background and mix it with the subject together. (Still, we provide a number of background photos for you to use.)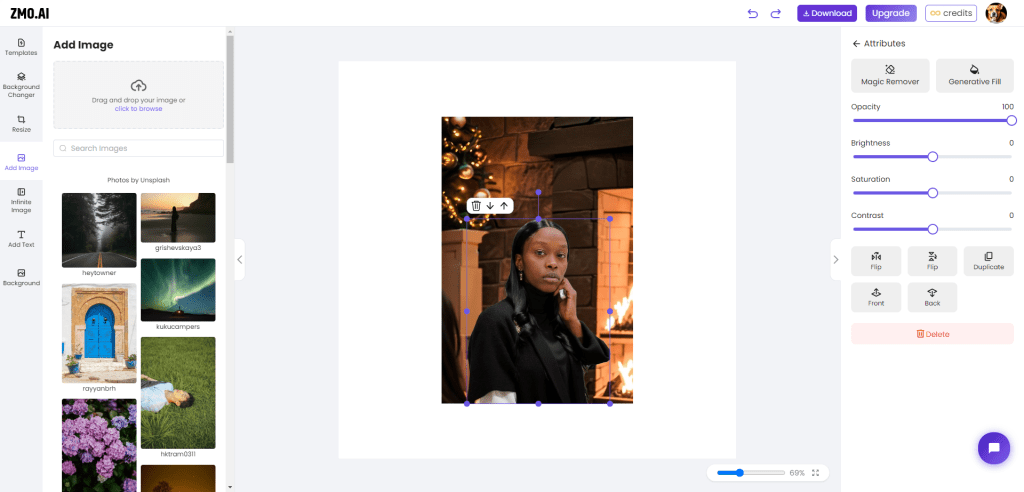 For example, you can click "Click to browse" to upload your own background photo. Then, you might see that the photo covers all the content. This is because the background photo you uploaded is on the front layer. You need to click on it and select "Back" from the right toolbar, and the subject will come to the front layer as the foreground.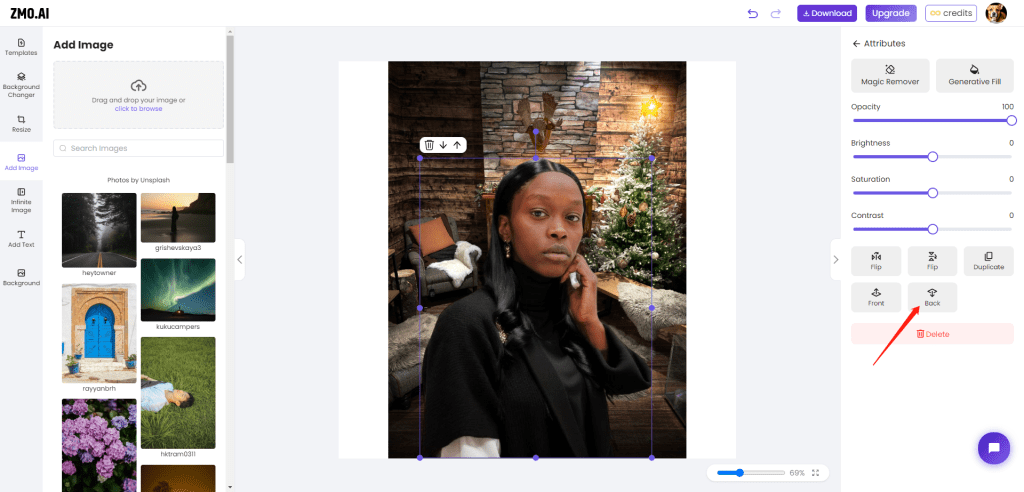 Here comes the Infinite image tool. Remember we have chosen the Instagram Story size just now? Resizing your photo usually expands your canvas, with some blank area. And this Infinite image tool is to fill in all the blank space with your customized commands.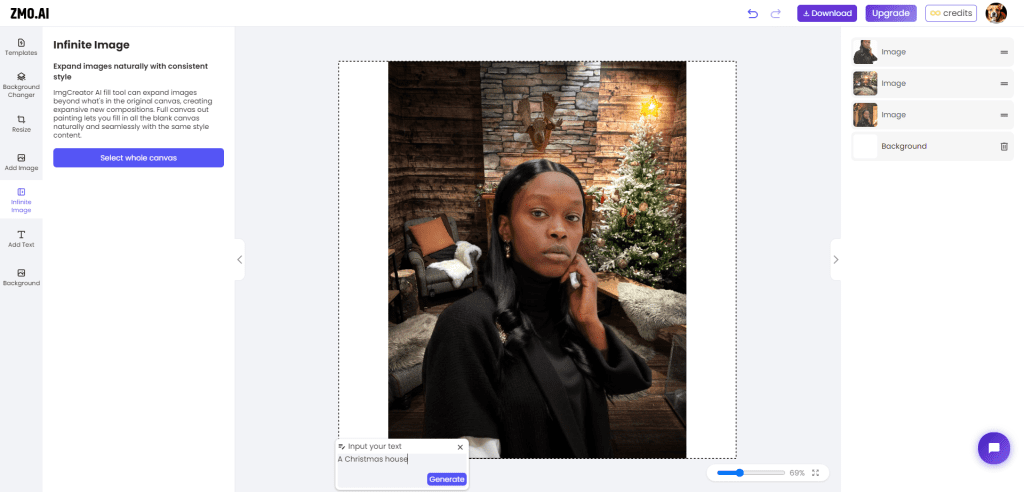 Please select the whole canvas and input your text to fill in the canvas naturally and seamlessly. Check the result.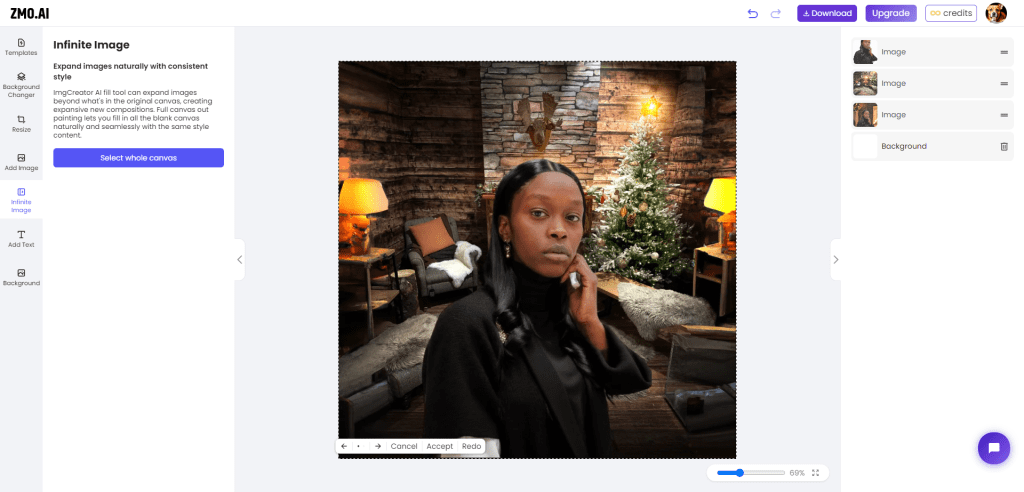 What an amazing painting work. This AI fill tool fills in the blank space with the same style and lighting as the background photo. Great work!
And for the Add Text and Background tools, they're just common tools to add some text to your photo or use another background to fulfill your canvas.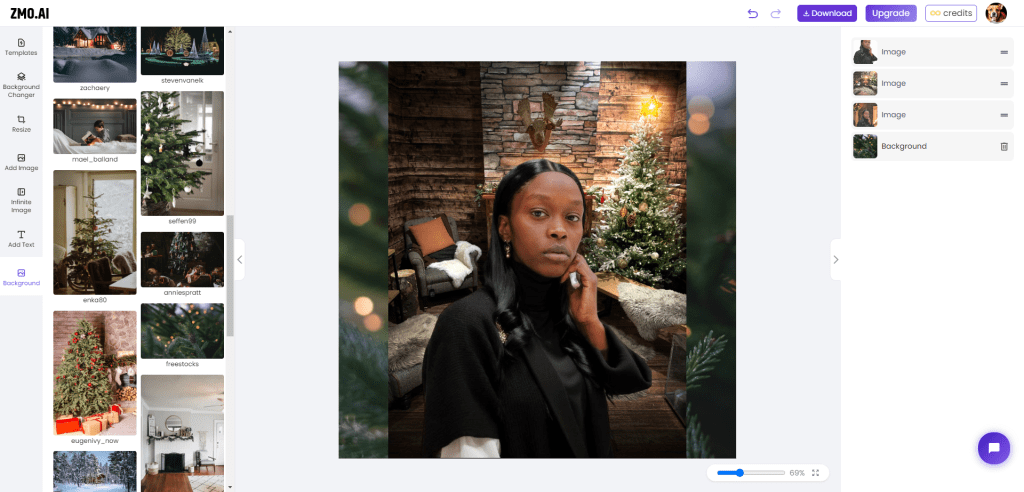 Despite the fact that we provide numerous fonts and backgrounds for you, we don't think most of our users need to use these tools since the Background Changer and Infinite Image tools are so powerful that can meet all your needs.
For e-commerce users or other people who would like to add some text to their photos, there are templates at the very beginning that allow you to add text. You can use the Add Text tool though, if you don't find a perfect font for your photo.
6. How to use ImgCreator on mobile phones
ImgCreator.ai is also available on mobile phones (iOS and Android) for background changing.
You can change your photo backgrounds on your phone, including transparent options and editing features such as text, stickers, filters, etc.
For more information, please check out this blog post.
2. What's the benefit of changing your photo background?
Changing photo backgrounds holds significant importance for profile photos, e-commerce product images, and other photos.
The right background can significantly impact the perception of the subject, be it a person's profile or a product for sale. By utilizing a background changer tool like ImgCreator.ai, you can tailor images to match your desired message, style, or brand, leading to more engaging and impactful visual content.
3. Try ImgCreator for free now
Now start creating your own photo today for your own needs!